November 13, 2014 -
Greg Gabriel
NFP prospect focus: Cedric Ogbuehi and Brandon Scherff
When it comes to the NFL draft, a position that doesn't generate much excitement from the 32 fan bases but does from the front offices is that of offensive linemen. If a club is strong on the offensive and defensive lines and has an adequate quarterback, they will always have a chance in every game they play.
In the 2013 draft, nine offensive linemen were selected in the first round, but last year that number dropped to five. It used to be that the prospect had to be able to play left tackle in order to enjoy premium status, but that's not the case anymore. Quality guards and even a center have been first round picks in recent years. If the scouting department has done a good job in their evaluations, these premium round prospects play early and usually for a long time.
This year two of the better offensive linemen scheduled to enter the 2015 draft include Texas A&M's Cedric Ogbuehi and Iowa's Brandon Schreff. Both play left tackle for their respective schools.
Cedric Ogbuehi – Texas A&M
Assuming he stays healthy the rest of the season, Ogbuehi will be the third straight offensive lineman from Texas A&M who was selected during the first round. Last year Jake Matthews went fifth overall to Atlanta and in 2013 Luke Joeckel went second overall to Jacksonville. Ogbuehi has similar talent to both.
Ogbuehi is a fifth-year senior and a four-year starter. In 2011 and 2012 he started at right guard. In 2013 he was moved to right tackle and this year he is playing at left tackle.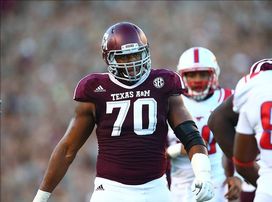 Ogbuehi will be the third-consecutive A&M offensive lineman to hear his name called during the first round of the draft.
Ogbuehi has ideal size at about 6050 -310 with long arms. He has a thick lower body and a very good overall build. He is a top athlete who can run (estimated 5.20 40-yard-dash), has quick feet, excellent balance and the agility and body control to slide, recover and adjust on the move.
Looking at early season tape, I thought Ogbuehi had some trouble with his footwork with the move to the left side. Speed rushers were giving him some problems, but that has since been corrected and he is now playing at a high level.
The Texas A&M offense works for a spread formation and Ogbuehi almost always plays from a two-point stance. He has excellent snap reaction and initial quickness. As a run blocker, Ogbuehi is powerful and can consistently get movement. He is explosive on contact and doesn't stop his feet. In addition, the left tackle shows he can be a nasty run blocker and he consistently looks to finish. It's not unusual to see him staying with the block five yards downfield.
With two years of experience at guard, Ogbuehi can play in space. As a senior he is still asked to pull on occasion and he shows he has the speed and quickness to get out in front of a back and has the athleticism to adjust on the fly to hit a moving target.
In pass protection, Qgbuehi is equally efficient. He sets quickly, has a strong punch, plays with bend and can slide and recover. He is a sound technician who keeps his hands inside and always has a straight back. He has excellent knee bend and is very consistent with his anchor. Ogbuehi plays with an excellent base, outstanding balance and moves with ease. As an athlete, I feel he has better athleticism than both Joeckel and Matthews.
Overall, Ogbuehi has the talent to be the first offensive lineman selected. However, with a third of the season and workouts still remaining, that could change. But Cedric is a quality player who will get drafted high and start early in his career.
Brandon Scherff – Iowa
Scherff is a fifth-year senior and has been a full-time starter at left tackle since his redshirt sophomore year. As a redshirt freshman, Scherff played as a backup at guard but also got some starts. He missed the final five games of the 2012 season with an injury.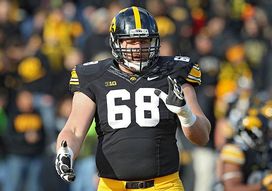 Scherff has the potential to be a Day 1 starter in the National Football League.
Scherff has ideal tackle size at about 6050 – 320. He has a thick frame with long arms, demonstrates excellent balance, plays with a good base and is seldom off his feet. Scherff runs fairly well and I would estimate his 40-time to be in the 5.25-5.30 range which, at 320 pounds, is good. He has good flexibility, plays with very good knee bend and can move his feet.
One thing is certain about offensive linemen from Iowa: They are always well-coached, sound technicians. That can also be said about Scherff, who has a strong punch and good overall hand use.
Iowa plays from a pro-style offense and Scherff is often in a three-point stance. The only time you see him in a two-point is in obvious passing down situations. He has very good snap reaction to go along with good initial quickness. As a run blocker, Scherff gets to his block quickly, has snap in his hips on contact and gets movement. He never stops his feet on contact and looks to gain ground. He is very efficient getting to the second level and adjusting on the move.
As a pass blocker, Scherff can set with quickness, mirror his opponent and anchor. He keeps his feet under him and does a good job with moving laterally, recovering and coming back the other way. In addition, Scherff has good knee bend and doesn't give ground to bull rushers. He has the lateral agility to stop wide speed and takes good angles with his sets. However, on a few plays, Scherff has had some trouble with speed rushers who lineup in a 9 technique.
Overall, Scherff is well-coached, strong, athletic and efficient. While he plays left tackle in college, he may be best suited to play on the right side at the next level. Scherff is a solid prospect who will most likely start as a rookie while enjoying a long career.
Follow Greg on Twitter: @greggabe