November 05, 2014 -
Greg Gabriel
NFP prospect focus: Clemson defense
The 2014 NFL draft featured over 100 players who declared as underclassmen. Many top schools lost excellent players. The 2013 Clemson team was loaded with juniors who were top prospects, but for some reason, only one decided to enter the draft and that was defensive back Bashaud Breeland.
With Vic Beasley, Stephone Anthony and Corey Crawford staying in school, Clemson was able to keep intact a solid and sometimes dominating defense. Beasley and Anthony should both be high picks next spring.
Vic Beasley – Defensive End/Outside Linebacker
Beasley is a fifth-year senior and a three-year starter at defensive end. While he usually plays with his hand in the dirt, he will also line up on his feet and drop into coverage at times.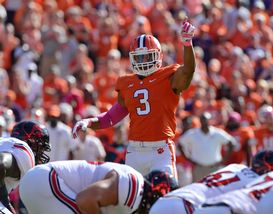 Beasley will hear his name called during the first night of the 2015 NFL draft.
Beasley is not big by defensive end standards. He is listed as being 6020 – 235 and looks all of that. He has a long, lean frame with good upper body bulk and muscularity, but will need to add some size and strength to his lower body. I doubt he will get much bigger than 245 – 250 pounds when he gets to the next level.
Beasley is very athletic with speed and quickness to go along with very good change of direction and body control. He is explosive off the ball and despite his lack of elite size, shows strength and power at the point of attack. He is quick to react and finds the ball. Beasley has very quick hands and usually does a very good job keeping blockers off his body. That wasn't the case in the Florida State game, however, as Beasley had some trouble at times against the run due to double teams.
The best thing Beasley does is rush the passer. Going into the season he had 21 career sacks and through eight games this year he has eight more. At that rate, Beasley will finish his career with well over 30 sacks.
As a pass rusher, he can get off the ball quickly has the body flexibility to get under his opponent on speed rushes and has the moves and change of direction to redirect with counter moves as well. Beasley is also effective as a bull rusher because of his explosiveness. When coming off blocks, he shows excellent closing quickness
Beasley is not as dominant a run defender as he is a pass rusher and that is due to his lack of size. Still, he is consistent and for the most part holds the point, gets off blocks and gets to the ball. He is used in coverage at times and easily has the athleticism to drop quickly and plant and drive on the ball.
Overall, Beasley will most likely be a 3-4 outside linebacker in the NFL. That gives him the best opportunity to be an every down player. Because of his pass rush ability he will carry a premium grade and I have no doubt that he will be drafted in the first round.
Stephone Anthony – Linebacker
Anthony is a fourth-year senior and a three-year starter at Mike linebacker. He played as a rotational player as a true freshman in 2011 and has been the starter ever since. He is a very productive player and led the Clemson defense in tackles last year with 131. Anthony is equally productive this season as he has 49 total tackles including 8.5 tackles for loss and 2.5 sacks through eight games.
Anthony has excellent linebacker size at about 6020 – 247. He is athletic and has very good play speed. I would estimate his speed at being in the 4.65 – 4.67 range. The key to the linebacker position is instincts and Anthony has excellent instincts. He is consistently around the ball and he is a playmaker.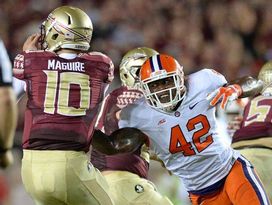 Anthony has the skill set and resume to fly off the board early next spring.
Anthony is a force against the run, showing the skills to shed blocks and get to the ball. He is both strong and explosive with excellent hitting ability. He shows strength at the point of attack and does a very good job filling. While he is effective shedding blocks, Anthony also has the athleticism to elude blocks. He has been used more as a blitzer this year and is very good at timing blitzes and getting off pass blockers.
In coverage, Anthony has a quick drop and easily gets depth. He has the fluidity in his hips to turn and run and the suddenness needed to play man. He moves well in transition showing a quick plant and drive and has good ball skills.
Linebackers have to tackle and Anthony is an excellent tackler. He hits with explosiveness and wraps up. Overall, Anthony can play in a 3-4 or a 4-3 at the next level. He has the size, speed and athleticism to play either Mike or Will in a 4-3 and can also play either inside linebacker position in a 3-4. He has all the traits required to be a very good NFL player. I expect Anthony to be a premium round selection (first or second round).
Corey Crawford – Defensive End
Crawford is a fourth-year senior and a three-year starter. He missed the opening game this season due to a team suspension. He is playing in a rotation this season and not getting the playing time he has received in the past. This shows in his production, as Crawford has only 19 total tackles and one sack through seven games. He also has 5.5 tackles for loss. He had 52 total tackles last year with 3.5 sacks.
Crawford has good 4-3 defensive end size at about 6050 – 275 to go along with good athletic ability, strength and speed. I would estimate that he can run in the 4.75 – 4.80 range.
Crawford has very good balance and is seldom off his feet. He has good initial quickness with a solid first step. He shows good enough strength and power at the point and flashes the ability to shed quickly.
Crawford stays low out of his stance and is able to get penetration and disrupt the run game. He is an all-around player who can defend the run and flashes pass rush ability. While his numbers aren't that good as a pass rusher, he shows he can be disruptive with pressures. Crawford also demonstrates that he can get a push and collapse the pocket.
Overall, I see Crawford as a base left end in a 4-3 scheme. He flashes the athleticism to play outside linebacker in a 3-4, but he doesn't have the pass rush numbers to be consistently effective. There is no doubt that the 3-4 teams will work him out as a linebacker to see if he can play the position.
I thought that Crawford was a better player in 2013 than he has shown to date this season. Because of that, I see him as a late round draft pick with a chance to be a solid backup in the NFL. Obviously, the team drafting him will need to do research about his suspension.
Follow Greg on Twitter: @greggabe