October 31, 2014 -
Greg Gabriel
NFP prospect focus: DeVante Parker & Rashad Greene
In the 2014 NFL Draft we had an exceptionally strong wide receiver class, with 12 wideouts taken in the first two rounds. Many of the receivers who were taken in the second round may very well have been first-round picks during other drafts. I personally gave nine wide receivers first-round grades.
This year, while there are quality receivers led by Alabama's Amari Cooper, the depth isn't quite like it was a year ago. Today we profile two receivers who will be given premium round consideration: DeVante Parker from Louisville and Rashad Green from Florida State.
DeVante Parker – Louisville
Parker is a fourth-year senior who I thought would enter the draft a year ago after a productive 2013 season. He missed the first seven games of this year with a foot injury but has come back to play very well in the last two Louisville games. Against North Carolina State on October 18 he had nine receptions for 132 yards and Thursday night against Florida State caught eight passes for 214 yards, including a 71-yard reception on the game's opening play.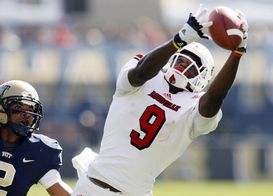 Parker has notched 17 receptions for 346 yards in just two games this season.
Parker is a big, physical receiver (6025 – 215 estimate) who uses his size effectively. He is a good to very good athlete who is smooth and has good, but not great, top-end speed. I would estimate that he will run in the 4.50 range at the combine.
Parker has very good body control, change of direction and flexibility. In his two games this season, Parker looks as though he has improved his route running ability from over a year ago. He shows he can run a precise route with sharp cuts and is able to get separation. A year ago I saw the same thing but I also saw that he would get lazy with some routes and not consistently finish when he wasn't the primary receiver.
Parker has very good hands, showing he can snatch the ball and tuck it away quickly. He also will have some concentration drops, but I haven't seen any this season. In 2013, he had some games with excellent production (FIU, UConn, Eastern Kentucky and Cincinnati) and then some games where he was a non-factor (USF, Memphis and Temple). Being that he missed so many games this year, Parker can't afford to have a poor showing the rest of the season. He has showed excellent consistency in his two games this year.
After the catch, Parker shows he can be a strong runner. While he is not very elusive, he is powerful with a burst. He knows how to use his size when going after a pass and can high-point the ball. He will win most jump balls. While Parker may not time like a burner, he has long speed and can get deep.
Overall, Parker is a talented athlete with the natural traits to be a very good NFL receiver, but he has to continue to play with consistency. He has the talent to start early in his career and develop into a solid No. 2 receiver.
Grade: A 6.7
Rashad Greene – Florida State
The fourth-year senior is a former 4-star recruit who has been productive since he enrolled at Florida State in 2011. Through Thursday night's game at Louisville, Greene has 229 career receptions for 3,318 yards and 26 touchdowns. He also has returned 31 punts for 429 yards and two scores.
Greene has what all NFL clubs covert in their receivers: Speed. I would estimate that he will run somewhere in the high 4.3s or low 4.4s. Greene has excellent body control and a quick burst that allows him to get to full speed very quickly.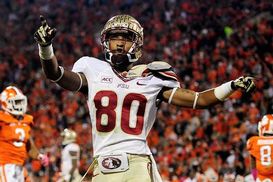 Greene is averaging 7.25 receptions per game this season.
Greene is not a real big guy. He is listed at being 6000 – 180 and looks to be all of that. He has a lean frame, but has good muscular definition with long arms.
As a route runner, Greene is quick off the line and does a good job avoiding jams. He can have some trouble when a bigger corner tries to press him at the line, but for the most part, Greene is able to elude. He runs good routes and shows he can uncover against both man and zone. He has quick feet, can make sharp cuts and is consistently able to get separation when coming out of a cut.
Greene is effective as both a short and deep receiver and is a dangerous runner after the catch. With his speed and burst he is very effective on deeper routes. In the FSU system, Greene is used on a lot of crossing routes and against college defensive backs he gets a number of big plays with his speed. He is an excellent space player.
Greene has good hands and shows he can make the acrobatic catch, but he will also double catch some balls or use his body. While he will have some concentration drops, his after the catch numbers are excellent. Greene has top run instincts to go along with speed and elusiveness. He consistently shows the ability to outrun defenders who have an angle.
As a punt returner, Greene tracks the ball well, cleanly catches it and has the ability to make the first defender miss. He has shown the skills to be an effective returner at the next level.
Overall, Greene has the talent to play early in the NFL. I think he would be most productive in the slot but he has the skills to play outside. Most clubs will also utilize him as a returner. He doesn't have the talent of some of the first-round receivers from a year ago, but he is talented.
Grade: A 6.6
Follow Greg on Twitter: @greggabe