December 27, 2014 -
Greg Gabriel
NFP Prospect Focus: Devin Funchess and Jake Ryan
The University of Michigan did not have a very good season, finishing with a 5-7 record and head coach Brady Hoke being dismissed. Still, like in most years, Michigan has a few players that have a chance to be fairly good NFL players. While I don't see a first round draft pick, there are two players who could go high in the draft.
Jake Ryan – Linebacker
Ryan is a fifth-year senior from Westlake, Ohio. He redshirted as a true freshman in 2010 and then started the last four years. He was originally an outside linebacker but played inside this past season. Coming out of high school, Ryan was a three-star recruit with Michigan being the only BCS school to offer. His other offers were from mostly MAC schools. That being said, he has outplayed his high school rankings.
His production has increased every year with 2014 being his most productive season with 112 total tackles. He missed part of the 2013 season recovering from an ACL tear that occurred during spring practice.
Two things stand out about Ryan's play. He is top competitor who never takes a down off and he has outstanding instincts. As productive as Ryan was this year, his play did fall off the last third of the season. The general feeling is that he wasn't 100% recovered from the ACL injury and physically just wasn't ready to play 12 games at top strength and conditioning. In the first half of the season, he was a playmaking machine. With his top instincts, he is quick to find the ball, can shed blocks quickly and is a very good tackler. He plays an aggressive physical game and is the obvious leader of the Michigan defense on the field.
Athletically, he is good, not great. He does not have great speed, with play speed in the 4.7 range. He has good lateral movement and can clear piles and change direction. He plays faster than he times because of his great instincts. In pass coverage, he gets depth with his drops and almost always has and keeps good positioning. He plays the ball well and shows good ability to plant and drive on the ball.
As good as Ryan is, the medical exam will have a lot of impact on where he gets drafted. If his knee is sound and he has a good combine and private workouts, I can see him going as high as the third round. His size (6030 – 240+) makes him an ideal Mike/inside linebacker. He has the skills to play in either a 3-4 or 4-3 type scheme. Ryan could climb the charts if he runs in the 4.6's and the doctors feel his knee is sound. We will look for a possible upgrade after combine and workout results are known.
Devin Funchess – Tight End/Wide Receiver
Funchess is a third-year junior who has already said that he will enter the draft early. He started five games as a true freshman, made nine starts as a sophomore, and started 11 games this season. Funchess played as a "tight end" his first two years but played wide receiver this past season. He has very good size and will measure in the 6050 – 232 range. He is a very good athlete with top body control and speed. I would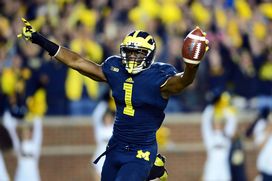 Funchess: Receiver or Tight End?
estimate that he will run in the low 4.5's. He has average strength for the tight end position.
As good as Funchess can run, he is not a quick-twitch speed guy. He is a long strider who gradually gets to top speed. Still, with his body control, he can break down and get in and out of cuts fairly quickly. Going into the 2014 season, it was thought that Funchess could be a potential first round pick. He had an excellent 2013 season, flashing dominating ability. While he was listed as a tight end, he is more of a flexed or move type tight end. While he showed excellent receiving skills, he blocking was average at best. He is more of a wall off/position blocker than a drive blocker. He lacks snap in his hips and doesn't get movement. He is a fairly good route runner from either in line or split out. He is not explosive off the line, but he can get some separation coming out of cuts. With his height and length, he wins most jump balls and uses his size effectively.
In 2014, his production fell off. He had 13 more catches, but his total yardage and yards per catch weren't close to what he did in 2013. He also had a lot more drops this year. In 2013, he showed more of a willingness to compete for the ball in traffic. He really is a better deep receiver than he is a short receiver. He is excellent adjusting to and catching deep balls when his back is to the line of scrimmage.
Overall, Funchess is a bit of an enigma. With his size and athleticism, he should have dominated in 2014 and didn't. Like many underclassmen who know they are leaving early, he may well have been protecting himself from injury. That doesn't sit well with scouts. He will never be an In-line "Y"-type tight end. He has to be used split out. He has the traits to be an excellent NFL player but needs to play a more physical game and compete at a higher level. Talking to scouts, I hear teams like him as high as the second and as low as the fourth. Personally, because of his athletic traits and the fact that it's a lean tight end class, I see him going anywhere form the mid-second to the top of the third. He's an interesting guy to track this spring because of his athletic traits.
Follow Greg on Twitter @greggabe