January 07, 2015 -
Greg Gabriel
NFP Prospect Focus: Dorial Green-Beckham
While it comes as no surprise, Oklahoma wide receiver Dorial Green-Beckham announced yesterday that he will be leaving school early and entering this spring's NFL Draft. Green-Beckham has never played a down for Oklahoma, all his play time was when he was enrolled at Missouri in 2012 and 2013. He was kicked off the Missouri football team last April and transferred to Oklahoma.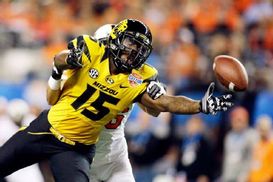 Are Green-Beckham's off-field issues behind him?
While at Missouri, the talented Green–Beckham had numerous run-ins with the law. The first was actually while I was making a school visit to Missouri in the fall of 2012. The night I was there, he had a drug-related arrest. After that original run-in, he had a second drug-related arrest, and the final straw was last spring when he was involved in a domestic violence case at an apartment complex. He was never charged, as the victim would not give full cooperation, but Missouri had enough, and he was dismissed.
During the summer, he transferred to Oklahoma but was not able to play after the NCAA failed to grant him a waiver on their transfer rule. His football activities this past fall were as a receiver on the scout team. Coming out of high school, Green-Beckham was rated as a 5-star recruit and some recruiting services had him rated as the top high school prospect in the country. He choose in-state Missouri over some of the top programs in the country.
Green-Beckham has rare size for a receiver at about 6050 – 230. While he has some tightness in his hips, he still is a very explosive athlete. In high school, he was a top track star and has been credited with running the 100 meters in under 10.60. He also has long jumped better than 23 feet and triple jumped 47'3.75".
While he is very athletic, that didn't always carry over to the football field. As a freshman, he caught 28 passes for 395 yards, but he was not considered a polished route runner. He flashed but showed no consistency. In 2013, as a sophomore, he was much better, catching 59 passes for 883 yards and 12 touchdowns.
While he showed some dominant ability, when you studied the film closely, you saw that he could be lazy with his routes when he wasn't a primary receiver. He would run cuts and didn't consistently finish routes. When he was the primary, you saw a different player but still not a polished route runner. He has very good hands, can adjust to poorly thrown balls and is a strong runner after the catch. He was used often as a vertical receiver and also on bubble screens. While he isn't overly elusive as a runner he can make the first man miss and shows strength and power. He has toughness and will compete for the ball in traffic.
Because of his off field issues, he is a bit of a wild card in the draft. He is extremely talented but not in the same tier as Calvin Johnson. How he gets through the interview process will mean a lot as to where he gets drafted. Clubs will need to feel comfortable that his off-field actions are behind him. If he checks out ok, he can start early in his career as an "X" receiver. He has some natural traits that few have.
Follow Greg on Twitter @greggabe