November 15, 2014 -
Greg Gabriel
NFP prospect focus: Duke Johnson & Mike Davis
As I have stated several times, with over 100 underclassmen having entered the 2014 NFL draft, this season's senior class is extremely thin. Because of that, several current juniors are seriously thinking about entering next April's draft. At the running back position, there are several underclassmen who, at the very least, are trying to find out what their stock is. Two such players are Miami's Duke Johnson and South Carolina's Mike Davis.
Duke Johnson – Miami
Johnson is a third-year junior who has been very productive while at Miami. The former 5-star. recruit was a part time starter and rotational player as a true freshman in 2012. That season he ran for 947 yards while also recording 27 receptions. He was Miami's top kickoff returner as well, averaging 31.8 yards on 28 returns.
Johnson's 2013 season was cut short due to a broken ankle, yet he still rushed for 920 yards in eight games. He returned kickoffs for a 28.3-yard average and caught four passes.
In 2014, Johnson has been Miami's bell cow, with 1,213 yards in nine games to go along with 21 pass receptions, but is not returning kicks this season. The one stat I find interesting is that Johnson is averaging 6.96 yards per carry for his entire collegiate career. You won't see that number very often.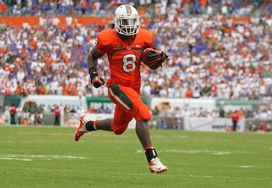 Johnson has run for 1,213 yards and nine touchdowns this season.
Johnson is listed at being 5'9" – 206, but I doubt he will really measure 5'9. When standing next to teammates he is much shorter. I would say that Johnson won't measure much taller than 5'8 at the Combine.
The one thing Johnson has is great quickness and speed. He has exceptional initial quickness and gets to full speed very quickly. I would estimate his speed to be in the mid to low 4.4's.
Johnson plays from both a pro set and a spread. He has no false step and very good initial quickness. Even with all that speed and quickness, he is a patient runner who does an excellent job following and setting up blocks. In addition, Johnson runs with very good lean and has excellent vision/instincts. He is a creative runner who can make a cut in the hole and find a new seam.
He is at his best on off-tackle and outside type runs, but he is also a very good inside runner. While he doesn't have the power to "move the pile," Johnson can consistently get yards after contact.
Once in the open field, Johnson is as good as gone. He not only has speed, but he can make quick cuts and is very elusive. As a receiver, he has very good hands and does a great job adjusting to the ball. He is quick to turn up field after the catch and with his open-field running ability, Johnson is a threat on every reception. He is very effective on screens and wheel routes.
Johnson shows a willingness to pass block, but needs technique work. That is the weakest area of his game.
Overall, I'm not always partial to small backs, but Johnson has some special to him. He is in some ways a cross of two former Oklahoma State greats, Thurman Thomas and Barry Sanders. While he doesn't quite have Sanders great explosive speed and quickness, he isn't far behind.
With backs seldom getting drafted in the first round, I can see Johnson easily going in the early second round. Some clubs may even want to use a late first round on him. He is that good.
Mike Davis - South Carolina
Davis is a third-year junior and a two-year starter for South Carolina. As a freshman he received significant play time as a backup playing in the running back rotation. Even though he is the primary back at South Carolina now, he still rotates at times.
Davis has had good production while at South Carolina. He ran for 275 yards as a freshman, had 1,183 yards in 2013 and has run for 819 yards in nine games this season. He is also a productive pass receiver with 59 career receptions including 22 so far this year.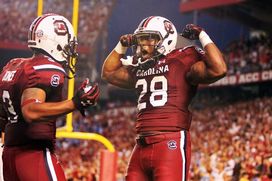 Davis is averaging 5.5 yards per carry over his three years at South Carolina.
While not tall, Davis is a big back. He is listed as being 5090 – 223. He may even be a little heavier than that. Watching tape, I thought he was a little leaner in 2013 and may have lost a little speed with the added weight this season.
South Carolina plays from a spread attack and Davis has good initial quickness. He is a quicker-than-fast type who gets to top speed very quickly. I wouldn't say Davis is a fast guy, but he has quickness, quick feet, good balance and overall body control.
However, Davis isn't going to win any 100-meter dash titles. While he has a burst, I would estimate his speed as being in the low to mid 4.6's. He gets to the hole quickly, stays low and is consistently able to get yards after contact. He is best between the tackles where he shows both power and pick-and-slide ability. He can get the corner turned, but he often needs a block to get it done.
Davis is not overly elusive, but he can make the first man miss. He is more of a one-cut type, but he always makes good decisions when the ball is in his hands.
As a receiver, Davis has soft hands and can adjust to a poorly thrown pass. He does a good job tucking the ball away and getting up field after the catch. He will consistently get the yards that are there and then some with a quick move and his power. As a blocker, Davis is very willing and will hit, but he needs to do a better job positioning himself and using his hands.
Overall, if you wanted to compare Davis to a current NFL back, it may be Eddie Lacy of the Packers. Lacy has a little more size, but they are similar runners and neither has great speed.
If Davis decides to enter the draft, he needs to drop a little weight, tighten his body and hope to gain an extra step of speed. Right now, I see him as no better than a mid-round pick. In saying that, the type of runner that he is usually has success in the NFL. While Davis is not a home run hitter, he can move the chains.
Follow Greg on Twitter: @greggabe