November 28, 2014 -
Greg Gabriel
NFP prospect focus: Gerod Holliman, Louisville
For the better part of the last month I have received numerous requests to write up Louisville safety Gerod Holliman. I normally don't spend too much time on third-year sophomores due to the fact that they have two years of eligibility left. But in this case, I did some checking around and there are some in the agent community who feel there is a good chance that Holliman will declare for next spring's draft.
I spent a good part of my day on Wednesday looking at tape on Holliman and my conclusion is that he would be making a mistake if he entered the upcoming draft. While Holliman's ball skills are outstanding, there is room for a lot of improvement in regards to the rest of his game.
As I mentioned above, Holliman is a third-year sophomore. He is a former 4-star recruit who originally attended Southridge High School in Miami before enrolling at Milford Academy, a prep school, in New York for his final year. He was offered by schools such as Ole Miss, Miami, West Virginia and Cincinnati and wound up choosing Louisville.
As a freshman in 2012, Holliman played in three games before sustaining a shoulder injury and receiving a medical redshirt. In 2013 as a redshirt freshman he played in 11 games with two starts and finished the season with 16 total tackles and three passes broken up. This season Holliman has played in 11 games with eight starts. He has 32 total tackles and 13 interceptions, which is a career for most people.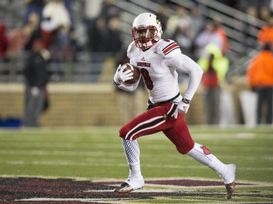 Holliman has notched a staggering 13 interceptions through 10 games this season.
Holliman is listed as being 6010 – 206 but doesn't look that big. Coming out of high school his listed size was 6'0 – 180. I would estimate he is somewhere in between. He has good play speed, but is not a burner. I would estimate Holliman's speed at between 4.50-4.55. He can look faster because he plays the ball so well and gets a good jump on the ball once it's in the air.
Holliman is at his best in coverage. Louisville plays mostly zone with their safeties but he will play in some man coverage as well. Holliman is best in zone, where he consistently gets and keeps good position. He has an excellent feel for zone coverage and the passing game. He tracks the ball well, gets a good jump on it, shows a burst to the sideline and usually has reliable hands. I say usually because he has had some drops, with one being in the Florida State game that may well have sealed a win for Louisville.
In man coverage Holliman doesn't have the suddenness of a corner, but shows he can keep good position. He has a quick pedal, stays low and can turn and run. His transition and ability to break on the ball are good.
Where I see Holliman as being very average is in run support, as he is not physical or aggressive in this phase of the game. He can struggle to take on and shed blocks and is just an average tackler. While he can hit, Holliman seldom wraps up. When in pursuit of run plays he often takes poor angles, sometime to avoid contact.
Overall, while Holliman's ball skills can get him drafted high, I don't see him playing early in his career because of his lack of physical play. In the NFL, safeties have to be tough, aggressive run support players and Holliman isn't. I don't see him as a core special teams players either because of his lack of aggressive play and average tackling.
It will be interesting to see if Holliman actually comes out. It's my opinion that he would be better served by staying in school one more year, getting bigger and stronger and learning to play the game more aggressively.
Follow Greg on Twitter: @greggabe