November 01, 2014 -
Greg Gabriel
NFP prospect focus: Jaelen Strong and Ty Montgomery
On Friday I profiled two receivers from the midwest and south in DeVante Parker and Rashad Greene. Today we're going to take a look at two excellent receivers from the PAC 12 in Arizona State junior Jaelen Strong and Stanford senior Ty Montgomery. These are two excellent wideouts who should hear their names called somewhere during the first two rounds of next April's draft.
Jaelen Strong – Arizona State
Strong is a fourth-year junior and junior college transfer. He originally enrolled at Pierce College in 2011, but sat out that season. He played at Pierce for the 2012 campaign and then transferred to Arizona State.
Strong has played at Arizona State for each of the last two seasons and has been their go-to receiver each year. In 2013 Strong led the team in receiving with 75 catches for 1,112 yards and seven touchdowns. This year through seven games he has 52 receptions for 744 yards and seven scores.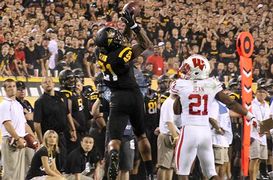 Strong has notched 14 touchdown receptions in his last 21 collegiate outings.
Strong is a big, physical receiver who can be extremely difficult to cover at the college level. He is listed at being 6030 – 215 and he may even be a little heavier than that. He has long arms, is well built and plays with strength and power.
Strong is a good athlete with excellent body control. He has good speed (4.50 play speed) to go along with very good change of direction and flexibility.
Strong lines up both split out and in the slot and Arizona State tries to create mismatches for him. He has good initial quickness and a very good release. Corners who try to jam him fail because of his size and strength. He easily works his way through jams and is able to get into routes quickly. Strong is a good route runner who can break down and get in and out of cuts quickly. He is consistently able to get separation on both short and deep routes.
Strong has excellent hands and consistently catches the ball away from his body. With his body control and flexibility, Strong can make the difficult catch and has the jumping skills to go up and get it. He is excellent at making the back-shoulder catch and does a very good job overall adjusting to the ball in the air.
With his size and strength, Strong competes for the ball in traffic and wins most of if not all the battles. Additionally, he is willing to expose his body and take a hit.
After the catch, Strong is not the most elusive guy, but he has a burst to go along with strength and power. He is difficult to tackle in space and consistently gets yardage after the catch. With his size, Strong is a willing blocker and does an effective job.
Overall, Strong is the second-best receiver I have seen to date this season behind Alabama's Amari Cooper. With big receivers being in vogue in the NFL at the moment, Strong is exactly what many teams are looking for. He has the skills to come in and play right away and after a period of adjustment can become a legitimate No. 1 receiver. Strong's best position is the X, but he can easily play anywhere in most offenses. In trying to compare him to receivers in the league, he is more like a Brandon Marshall than a Calvin Johnson.
Grade: A 6.8
Ty Montgomery – Stanford
Montgomery is a fourth-year senior from Dallas who was a four-star recruit with offers from programs such as UCLA, Georgia and California as well as Stanford. As a freshman, Montgomery played as a backup and had four starts. His sophomore year was the same. However, Montgomery became a full-time starter last year as a junior. He has also been Stanford's primary kickoff returner most of his career and this year added punt return duties to his resume.
To date this season, Montgomery has 49 receptions for 514 yards and three touchdowns. He also has returned kickoffs for a 26.6 yard average and a touchdown. His punt return average is 18.3 yards with two scores. For his career, Montgomery has five returns for touchdowns. In 2013, he totaled 61 catches for 951 yards and ten touchdowns.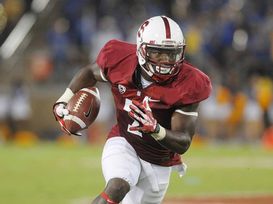 Montgomery is averaging 6.1 receptions per game this season.
Montgomery is a big guy. He is listed at being 6020 – 220. He is built like a running back, but he has very good overall athleticism, good speed and excellent body control. I would estimate his playing speed in the 4.48 range. He has a quick burst to go along with his top end speed.
Montgomery has been Stanford's go-to offensive player for the last two seasons. He lines up both inside in the slot as well as outside. He also has lined up as a running back on a few plays. As a receiver, Montgomery is a good route runner who looks quicker than he is fast. He can get in and out of cuts and shows good ability to get separation. He is effective on shorter passes in space and then his run skills take over. Montgomery is an excellent runner who can make defenders miss and has the strength to get yards after contact.
While he is best as a short to mid-range receiver, he can and does get deep, but lacks the top end speed to be a consistent deep threat. He has very good hands and will compete for the ball in traffic.
As a returner, Montgomery does an excellent job tracking the ball, has very good hands and can consistently make the first defender miss. With his run skills, he is a threat to go the distance on any return.
Overall, what Montgomery times at the Combine will have a lot to do with where he gets drafted. He has the skill set to start early in his career with the slot receiver being his best position. He should have no problem playing outside either. His return skills are such that he can be a No. 1 returner for most teams in the league.
If Montgomery times well, I can see him being drafted as high as the second round and I doubt he slides past the third.
Grade: B 6.6
Follow Greg on Twitter: @greggabe