December 12, 2014 -
Greg Gabriel
NFP Prospect Focus: Jameis Winston
In mid-August, I wrote some preseason preview articles on some of the top players going into the college season. Included in one of those articles was a piece on Florida State quarterback Jameis Winston.
In August and now I believe Jameis Winston is a very talented football player. In saying that, as talented as he is, he has improved in some areas and regressed in others. Before we talk about those areas, let's talk about some of the great natural traits that Winston possesses.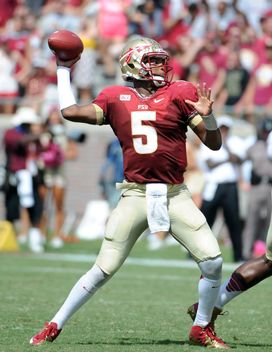 US PRESSWIREAre Winston's off-field issues cause for concern at the next level?
Jameis is a third-year sophomore and a two-year starter. He redshirted as a true freshman in 2012 while Florida State had E.J. Manuel as its quarterback. He became the starter in 2013 and led Florida State to the National Championship as well winning the Heisman Trophy.
He has outstanding size for the position, standing at about 6040 – 235. He has a thick frame to go along with excellent overall strength and athleticism. While he is by no means a burner, he is plenty fast with an estimated speed in the low 4.6's. He also has quick feet to go along with very good change of direction and body control. His overall athleticism is similar to Cam Newton's but he is just not quite as fast as Newton was coming out.
Florida State plays from mostly a spread offense with some snaps from under center. They run and pass from both formations. Winston seems to have a good command of the offense and shows the ability to change plays and protections at the line of scrimmage. He also seems to be a strong leader on the field. Winston can set up quickly from both under center and in the spread. When he takes snaps while in the spread he still drops back some. He has good form and generally stays in balance. He has good mechanics to go along with a quick release. He usually does a good job setting his feet before he throws and seldom over strides into the throw.
While he has a very strong arm, he doesn't consistently drive the ball to his receivers. I have seen a number of plays where he floats the ball. He shows the ability to go through a three man progression and he also can go from a primary receiver to a secondary receiver and back to the primary.
He has shown the ability to make all the throws necessary to play in the NFL. He can throw with touch when he has to and, generally, has shown good accuracy and ball placement. When he is on, he is excellent. He can throw from the pocket or on the run and has the ability to extend and make plays with his feet. He has a good feel for pass rushers, and when he decides to run, he has very good run instincts to go along with power.
When you look at his stats and study game tape, you can see where he has regressed some from his first year as a starter. In 2013 he completed 257 of 384 passes for 4057 yards. His completion percentage was 67% and he threw 40 touchdowns to 10 interceptions. This year he completed 256 of 422 throws for 3559 yards only 24 touchdowns and 17 interceptions.
Winston is taking more chances this year and forcing throws he never did a year ago. From mid-season on this year he has struggled. In a six game span from the Notre Dame game through the Florida game, he threw 12 interceptions. Often, these throws were into double and even triple coverage.
Despite his poor decision making, he has consistently been able to bring his team back form deficits (some huge) and win games. He has not lost a game since he has been a starter. On the field, Winston is very competitive and wants to win. I also think that many of his decision making flaws can be corrected with good coaching.
While Winston has the physical traits to become a very good NFL quarterback, it's the intangibles that are worrisome. His off-field decision making has been poor to say the least, and it's not just one instance, it's been several. Within the next few days, we will get the results of Winston's student conduct hearing and depending on the results, that could bring about other issues.
By the nature of the position, the quarterback is supposed to be the leader and face of the franchise. Winston's off-field actions have given clubs concern as to whether or not he can perform that role. As good as he is on the field, he is extremely immature off, and there is not a doubt in my mind that his off-field issues have brought about the regression in his play this year.
I've been around the NFL for most of my adult life and I know that it only takes one team to "love you". While I wouldn't draft Winston in any round, there will be a few clubs that will take the risk and be willing to draft him high. Come draft day, it will be a classic "risk/reward" type selection. It will be a few years before we know the results.
Follow Greg on Twitter @greggabe