December 11, 2014 -
Greg Gabriel
NFP Prospect Focus: Marcus Mariota
I wrote up Mariota last year but figured he wouldn't enter the 2014 draft, I didn't go in depth with my evaluation. I said then that I felt it was in Mariota's best interest to return to school for at least another year.
Over the course of the last two seasons I have studied 9 games and I feel I have a fairly good handle of his talent level and skill set.
When you think of a QB who plays at Oregon, you would think that with such a fast paced, high scoring offense that they throw the ball a high percentage of the time. That's not the case. Over the last two seasons, Oregon runs the ball close to 60% of the time. This season, they ran the ball 566 times and passed 400. The ratio was similar in 2013.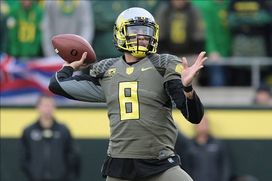 Mariota has thrown for 38 touchdowns and two interceptions this season.
Mariota has excellent quarterback size, He is listed as being 6040 – 219, but he may be more like 6034. He has a well-proportioned, long frame, and he is extremely athletic. He is listed as having been timed at 4.48, and while he is fast, I don't see 4.48 play speed. He is more in the 4.55 range. Still, he has excellent change of direction and body control.
Mariota's stats are excellent. This year he has completed 254 of 372 passes (68%) for 3783 yards, and he has thrown 38 touchdowns to just two interceptions. His numbers last year were similar, but his completion percentage was around 63%. He has rushed for 669 yards this year and 14 touchdowns. He plays in a spread offense and almost never takes snaps from under center. The offense is a zone-option type offense that uses the run to set up the pass. As a runner, he is excellent, and with his size, speed, and open field run instincts, few, if any, quarterbacks can match him. With his quick feet and athleticism, he can keep plays alive and extend them with his feet. In saying that, his feel for pass rushers needs to improve. I charted 2.5 games and he got sacked 10 times in those games. This season, he has been sacked an astonishing 29 times!
It's not easy to get a good read on Marcus as a passer. A good majority of his passes are quick bubble screens, running back screens, swings and slants. These are very high percentage throws, and more often than not, he is throwing to his first read. In most cases, he throws to his first or second read, and in any given game, there are only a few throws where he will go through three reads and come back to his first or second. While he has shown he can do it, it rarely happens in that offense.
Mariota has a bit of a mechanical overhand delivery. His release quickness is average. He is not the type to "see it" and get the ball out of his hand quickly. It's more deliberate. His footwork is average, and at times, gets a bit flat-footed when he makes deeper throws.
While his completion percentage is high, his ball placement is, again, average. Receivers often have to make an adjustment in order to make the catch. In the 2.5 games I charted, he threw only five passes that I would consider pinpoint NFL-tier throws where he had a small window to complete the pass. Most of his throws are to wide open receivers, and ball placement is average and surely not consistent.
Where Mariota struggles is with downfield throws. After 15 yards his accuracy really drops. Again in the games charted, he was 11 of 31 on throws 15 yards and longer. Granted, he has a number of completions for high yardage, but often, those are short passes that turn into long gains because of the run after catch skills of the receiver.
His deep throw accuracy was best in the Oregon State game. He had some excellent throws in that game. Mariota excels in his decision making. He doesn't force throws and does not throw interceptions. He has thrown only six interceptions in the last two years, a stat second to none. He also wins games, and the bottom line is, that's the purpose of playing the game.
With a quarterback, evaluating tape is only half of the equation. To do a thorough job, a school call has to be made where a scout can talk to coaches and support staff about the player. When evaluating a quarterback, the intangibles are at least half of the equation. Is he a leader? Does he want to be a great player? What are his work habits? How does he learn? All of those questions and more have to be answered.
From a physical viewpoint, Mariota is talented, but still far away from being a finished product. He is a work in progress and has mechanical and accuracy flaws that need to be corrected. Can they be fixed? Of course, but history tells us that quarterbacks who struggle with accuracy in college don't get better in the NFL.
The quarterback class this year is not strong. Because of that, Mariota will get drafted high. He will get every opportunity to succeed, and I hope he does. In saying that, he may want to consider doing himself a favor by returning to Oregon and playing another year.
Follow Greg on Twitter @greggabe