January 29, 2015 -
Greg Gabriel
NFP Prospect Focus: Maxx Williams
Williams is a third-year sophomore from the University of Minnesota with two years of college eligibility remaining. After a season filled with big plays, he decided to give up his remaining years of eligibility and enter the 2015 NFL Draft. With this year's tight end class being weak, compared with other years, it could be a wise move on Williams' part.
Williams enrolled at Minnesota in 2012. He was not a highly recruited player as he was a local Minnesota kid who committed to the Gophers in February of his junior year in high school. Rivals had rated him as a 3-star prospect. As a true freshman in 2012 he redshirted for developmental reasons as he was listed as being only 230 pounds. As a redshirt freshman in 2013 he started to come on. He played in all 13 games with seven starts. In the Minnesota offense, they employ a lot of situational substitutions, so even if he didn't start, he got a lot of playing time every game. Williams finished the 2013 season with 25 receptions for 417 yards and five touchdowns. Williams had a breakout year in 2014, starting 10 of 12 games and finishing the season with 36 receptions for 569 yards. He averaged 15.8 YPC and scored eight touchdowns. While his numbers weren't huge, he had almost too many big plays to count.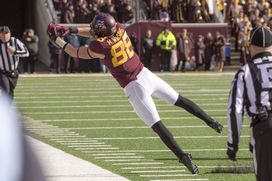 Williams fits the mold of the modern tight end.
In the Minnesota offense, Williams lines up all over. He could be in tight as a conventional "Y" tight end, split out wide, in the slot, lined up as a wing and even at fullback. They tried (and were successful) in putting him into situations that would create a mismatch.
Williams has good size and is very athletic. He is listed at being 6040 – 250. He looks all of that and has very good play speed. Based on the tape I have seen, I would estimate that he runs in the 4.57 – 4.61 range and maybe even a bit faster. He is a fluid athlete with very good flexibility and overall body control.
As a receiver, Williams runs good routes. He gets off the line quickly and is able to break down and get in and out of cuts quickly to gain separation. He is an alert player who does a good job finding the open areas in zone coverages. He knows how to use his size to his advantage and has the ball skills to make the difficult catches. He has excellent hands and has made a number of acrobatic catches. He is effective both short and deep. After the catch, he is an outstanding runner. He has speed, power and, elusiveness. He has a knack for leaping over tacklers in the open field and has done it on numerous occasions.
When put into a position to block, Williams is a consistently good blocker. He shows pop and aggressiveness and consistently looks to finish. Right now, he is a better blocker on the move than he is from an inline positon.
Overall, Williams has to be rated as the top tight end in this year's class, He is in the mold of what teams are looking for in that he can play flexed out and can cause problems for the defense. He is still young and won't turn 21 until just before the draft so he still has room to get a little bigger. While playing inline isn't his best asset, he can do it and can block to the enough level. Still, that would be wasting his talents as being lined up as the "move" tight end would put him into position to make plays. Assuming he works out well at the Combine, Williams should easily go in the first round.
Follow Greg on Twitter @greggabe