October 25, 2014 -
Greg Gabriel
NFP prospect focus: Melvin Gordon
The Big Ten appears loaded with running back prospects this year. Indiana has junior Tevin Coleman, Nebraska has senior Amir Abdullah and Wisconsin may have the most talented runner in junior Melvin Gordon. All three backs have already run for over 1,000 yards in just six or seven games this season. Word among scouts and agents is that both Coleman and Gordon will enter next spring's draft.
Gordon is a fourth-year junior for the Badgers. He was a former 4-star recruit who enrolled in 2011. He was mainly a regional recruit with offers from much of the Big Ten and some Big 12 schools. As a freshman in 2011, Gordon played in only three games before sustaining a groin injury and redshirting. In 2012 he was a backup, but has been the Badgers' main back the last two seasons. While Gordon is the bell cow so to speak, he still plays in a rotation.
In 2013, Gordon ran for 1,609 yards on 206 carries. To date this season he has 132 carries for 1,046 yards and 13 touchdowns through six contests. For his career, he has run for over 3,300 yards.
Wisconsin plays from mostly a pro set with some spread. When in a pro set, Gordon lines up about seven to eight yards deep in the backfield. At times, Wisconsin will align Gordon as a wide receiver and then hand him the ball on a reverse or while he is in motion from a split position.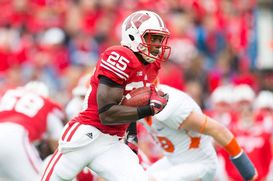 US PRESSWIREGordon has already topped the 1,000-yard mark through just six games this season.
Gordon is not a real big back. He is listed as being 6010 – 213, but I would say that when he is officially measured he will be a little shorter and lighter, but not by much. He has excellent playing speed and I would estimate that he runs in the 4.47 range.
Gordon has excellent snap reaction and initial quickness. He has very quick feet, but still runs with patience and has very good vision/instincts. He is quick to the hole and runs with a good lean, but is still able to read his blocks and find an open seam. Gordon shows quick cut-back and jump-cut skills. He has the burst and speed to take it outside if an inside lane is clogged.
Gordon is a good, but not great inside runner. He has shown more power in 2014 than he showed on the 2013 tape. While he will never move the pile, he can get some yards after contact and seldom gets knocked backwards. He has shown he can get positive yards when the hole or seam isn't there.
Where Gordon excels is outside. With his burst he easily gets to the corner and can outrun pursuit. He gets a number of long runs and is an excellent open field runner with quick cutting ability and loose hips. He can consistently make a defender miss in space.
Where Gordon struggles is in the passing game. While he shows a willingness to pass block, his effectiveness is very average. As a receiver, he can get open but he doesn't have good hands. Gordon has only nine career catches. He lacks soft hands and isn't a natural catcher.
Overall, as talented as Gordon is as a runner, his limitations will hurt him come draft day. He is an "A" level runner, but a "D" level receiver and blocker. For this reason, he may not get drafted until about the third round. Unless he can drastically improve in the passing game, he will never be an every down back in the NFL.
Last year, Andre Williams from Boston College put up great numbers as a runner but had similar problems in the passing game and got drafted in the fourth round. Expect Gordon to drop for the same reasons.
Follow Greg on Twitter: @greggabe