December 20, 2014 -
Greg Gabriel
NFP Prospect Focus: Notre Dame
This year's senior class is not loaded with senior prospects, as compared to other years for two reasons. Last year, three players with eligibility left entered the draft as underclassmen (Louis Nix, Troy Niklas and Stephon Tuitt). Also, the majority of the top players at Notre Dame this season were underclassmen and will be staying in school. The lone exception could be starting left tackle Ronnie Stanley who we profiled earlier. Of the remaining players, no one stands out as a premium prospect, but there are three players who could and should get drafted.
Ben Koyack – Tight End
Koyack is a fourth-year senior for the Irish. He was a part-time starter in 2013 and the primary tight end this year. When compared with recent tight ends at Notre Dame, Koyack isn't nearly as productive, but he does have some draftable traits. In his first three years at Notre Dame, he caught a total of 14 passes for 215 yards and three touchdowns. This year, while his production wasn't great, it was better. Going into their bowl game, he has 29 catches for 310 yards and two touchdowns.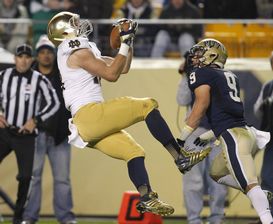 Koyack's production was at its peak in 2014.
Koyack has adequate size for the position. He is listed as being 6050 – 255. He does not have a big frame, and I doubt he will get much bigger than 260. He is a good athlete with good balance and change of direction and overall body control. He lacks really good speed. I would estimate that he will run in the 4.77 – 4.82 range when he is timed.
As a prospect, Koyack is a bit of a tweener. He has average strength and power and is just an average in-line blocker. He lacks the speed teams look for to play as a move tight end. He is a reliable player but lacks a top trait. When he plays in tight, as a "Y", he can get off the ball quickly but lacks explosion on contact. He doesn't get movement and is often stalemated at the point of attack. He is much better when blocking on the move. Here, he has the athleticism to adjust on the move and hit a moving target.
As a receiver, he runs good routes and can uncover versus man or zone coverage. He, again, doesn't have explosive quickness or speed and is just adequate at getting separation. He does have very good hands and does a nice job adjusting to the ball. He will turn up field quickly after the catch and gets what is there, but he is not a dangerous run-after-catch threat.
Because this is not a great tight end class, Koyack may get drafted a little higher than in other years. Still, I don't see him going before the fourth or fifth round. If he is going to have success in the NFL, he needs to get bigger and stronger. If he can't become a better in-line blocker, his career will be short.
Christian Lombard – Guard/Tackle
Lombard is a fifth-year senior and a three-year starter. He has started games at both right guard and right tackle during his career. In 2012, he started every game at right tackle. In 2013, he was moved inside to guard and started seven games before missing the rest of the season with an injury. This year, he began the season at right guard but was moved to tackle midway through the season. He again missed some time due to injury.
Lombard has adequate size. He is listed at 6050 – 311, but looks a little smaller. He does not have top natural girth, and his arms may be a little shorter than what teams would prefer. Still, he has better-than-adequate athleticism and good balance. He is more strong than explosive and is not overly powerful. Lombard has good snap reaction and can get to a block quickly. While he makes good contact, he can be inconsistent with getting movement. He is a tough, tenacious type who goes all out and will consistently look to finish. In space, he takes good angles to linebackers and can adjust on the move. The same can be said for pulls.
In pass protection, Lombard sets quickly and shows a fairly good punch. He has the feet and agility to mirror, but where he can have some problems is with his anchor. While he plays with bend, he just lacks the power to consistently stop good bull rushers.
I see Lombard as a late-round target. I feel he will be better off playing inside at the next level. He is smart and well coached, and that will help him gain the trust of his NFL coach. It would not surprise me if he is moved to center. Looking at his physical traits, that may be the best position for him. His position versatility will help him. Because of the durability issues he has shown the last two seasons, how he gets through the medical will have a determining factor as to where he gets drafted.
Cody Riggs – Corner
Riggs is a fifth-year senior and a transfer form Florida. As a true freshman in 2010, he played in all 13 games with one start. He was also a special team standout. In 2011, he played in all games with 10 starts. In 2012 he played in only two games before suffering a foot fracture and missing the rest of the season. He received a medical redshirt for that season.
In the 2013 season, he was moved to safety and started all games for Florida. He transferred to Notre Dame following his graduation last May. This season, he was a starter at corner but did not play in two games because of another foot injury. It remains to be seen if he will be playing in the Notre Dame Bowl game later this month.
Riggs is an interesting prospect. He does not have great size but he is very tough and competitive. He is listed as being 5090 – 185, but I think he may be closer to 5084. He has a good frame and plays with strength. He is a very good athlete with excellent quickness and explosion. He has very quick feet, is able to stay low in his pedal, and can turn very quickly. His ability to come out of his pedal and break on the ball is outstanding. I would estimate that he runs in the 4.48 – 4.50 range. He is more quick than fast.
In coverage, Riggs is a good man and zone player. He has a good jam and shows he can mirror receivers very well in press coverage. He is also very good in off-man coverage as well as zone. His awareness and anticipation are very good. He plays the ball well and has good hands. Despite his lack of size, Riggs is a tough run support player. He shows he can take on and shed blockers and is a consistent tackler. As an added value, Riggs is a reliable punt returner, who shows he can make the first man miss.
Because he lacks ideal size, some teams will lower his grade. Still, I see Riggs as a mid-rounder who will make a team and produce. I can see him eventually being a starting nickel corner in the right scheme.
Because he has had two significant foot injuries, the medical and his verified measurables will have a lot to say as to where he gets drafted. Assuming everything checks out OK, this kid will play in the NFL.
Follow Greg on Twitter @greggabe