November 19, 2014 -
Greg Gabriel
NFP prospect focus: Randy Gregory & David Cobb
Led by Wisconsin's Melvin Gordon, Indiana's Tevin Coleman and Nebraska's Ameer Abdullah, the Big Ten is loaded with running back prospects this year. Another back who has had a very productive season, but has gone virtually unnoticed compared to the others, is Minnesota senior David Cobb.
On the defensive side of the ball we will talk about Nebraska defensive end Randy Gregory, a fourth-year junior who, if the agent community is correct, will most likely enter next spring's draft.
David Cobb – Minnesota
Cobb is a fourth-year senior who did not play much during his first two seasons at Minnesota. His rushing total in those years was just 65 yards. But he came on strong in 2013, rushing for 1,202 yards with a 5.1 YPC average and seven touchdowns. This year through 10 games, Cobb has recorded 1,350 yards with a 5.3 YPC average and 11 touchdowns. He also has caught ten passes for 100 yards.
Looking at the tape, Cobb appears to be a little leaner and a step faster than he was a year ago. He is listed as being 5110 – 220 and that looks about right. He looked heavier a year ago, most likely in the 230-pound range.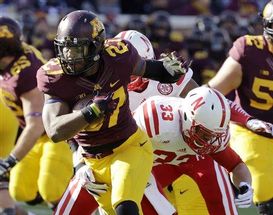 Cobb has run for 1,350 yards through ten games this season.
Cobb doesn't have great long speed. I would estimate his 40 time to be in the 4.60 – 4.63 range. But he is quick and very strong. Cobb is a good athlete with strength, power and balance. He has quick feet with good change of direction and overall body control.
Minnesota runs from a spread formation and some pro type sets, with Cobb getting most of his production between the tackles. He has good initial quickness, but at the same time, is a patient runner who can set up blocks and find the cutback lanes. He runs with good lean and has excellent power. While not a real elusive type, Cobb can make a cut in the hole to find an opening.
Cobb is a physical runner who enjoys contact and tries to punish defenders. He can drive the pile and will consistently get yards after contact. While he gets some production outside, he lacks the top end speed to consistently turn the corner. He is not a breakaway type, but more of a pound it out, move the chains type of runner.
Cobb has good hands and is used mainly as a check-down receiver in the passing game. After the catch he gets what's there, but he isn't the type to turn a short pass into a long gain. Like most college backs, Cobb still needs development in the pass protection area.
Overall, I don't see Cobb as a premium round type of player, but he can and will be an effective NFL running back. His game bodes well for the professional ranks, as teams are always looking for power backs.
Randy Gregory – Nebraska
Gregory is a fourth-year junior and a junior college transfer. He began his career at Arizona Western College in 2011. As a freshman, Gregory recorded 82 total tackles and 9.0 sacks. He missed the 2012 season with a leg injury.
Gregory, who played his high school football in Indiana, originally committed to transfer to Purdue, but had a change of mind and enrolled at Nebraska instead. 2013 was his first season with the Cornhuskers and he had a dominant type season with 65 total tackles, 16 tackles for loss and 9.5 sacks.
This year teams have focused on stopping him and his production is down a little. Through 10 games, Gregory has 37 total tackles, seven tackles for loss and 5.5 sacks.
Gregory has first-round upside, but needs to get bigger.
Gregory plays as a defensive end and lines up at both right and left end. He plays from both a 3-point and 2-point stance. He is a tall, lean guy who measured in the 6054 – 245 area. He has a long frame but does not look overly muscular.
Gregory is best as a pass rusher where he can get off the ball quickly, stay low and burn the edge. He is a very good athlete with very good play speed. He may well run the 40 in the mid-to-high 4.6's. His body control, balance and change of direction are very good.
Gregory will flash as a run defender. He has good instincts and can find the ball, but he lacks the bulk and strength to consistently hold the point and get off blocks. However, with his speed and athleticism he makes a good number of pursuit plays.
Like I said above, Gregoy's value is as a pass rusher. He has an explosive first step and has the flexibility to dip his shoulder and get under his opponent. He uses his hands well as a pass rusher and shows the ability to use moves and redirect his charge. While more of a speed rusher, he flashes the ability to bull rush as well. He is explosive coming off blocks and closing to the quarterback.
Overall, Gregory is a bit of a tweener. He is not quite big enough to play as a 4-3 end in the NFL and lacks experience in pass coverage to play as a 3-4 outside linebacker. He has the frame to easily carry 255-260 and if he can get there, the 4-3 teams will have more interest.
Gregory is easily athletic enough to play in coverage, but he just needs the experience. If he decides to come out, he is a player who will generate a lot of interest. Pass rushers are always rated high and that's what Gregory does best. I can easily see him going to a 3-4 team where his chance of playing right away is probably greater than if he went to a 4-3 team. He will need some time to get bigger and stronger to become a regular in a 4-3, but will be used as a pass rushing specialist while he gets bigger and stronger. I can see him being drafted in the first round and if he comes to the Combine at 255+ pounds, he may go in the top half of the first round. A very interesting prospect, but there are definitely some question marks.
Follow Greg on Twitter: @greggabe