November 08, 2014 -
Greg Gabriel
NFP prospect focus: Shilique Calhoun & Leonard Williams
Over 100 underclassmen entering the draft last spring left this year's senior class a bit light on talent. We won't know until mid-January how many underclassmen will actually enter the 2015 draft, but two who have been rumored to at least be considering leaving school early are USC defensive lineman Leonard Williams and Michigan State defensive end Shilique Calhoun.
Shilique Calhoun - Defensive End - Michigan State
Calhoun is a fourth-year junior and two-year starter for the Spartans. He redshirted his true freshman year in 2011 and played as a backup in 2012. He has been a starter at the wide side defensive end position the past two seasons.
Calhoun has been a productive player for Michigan State, with 37 total tackles and 7.5 sacks in 2013. This year through eight games he has 25 total tackles and six sacks. With Michigan State winning most of their games by a wide margin this season, Calhoun hasn't been seeing a lot of action late in contests.
Calhoun has adequate defensive end size. He is listed at being 6050 – 256, but looks a little heavier. He has long arms and good lower body bulk. As an athlete, he possesses good quickness, play speed, balance and change of direction. His estimated play speed is in the 4.8 range. Calhoun has very good snap reaction to go along with a good first step. He consistently stays low out of his stance and does a good job not exposing his body. He has strength and balance and is almost never off his feet.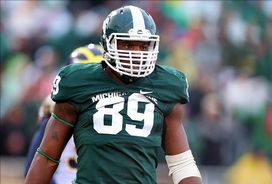 Calhoun has appeared in 35 games over the last three seasons for the Spartans.
Calhoun is a smart, alert and instinctive player. He has quick reactions and is around the ball. He plays sound assignment football and you seldom see him out of position. In addition, Calhoun is very disciplined in his play. When playing read option teams you often see defensive ends lose containment and give up outside plays, but that is not the case with Calhoun.
The one thing I like about Calhoun's play is that he is a consistent competitor. You don't see any "loaf" downs and he plays an aggressive brand of football.
He is a consistent run defender who can use his hands to shed blocks, hold the point and get to the ball. While he isn't as explosive as some rushing the passer, Calhoun is quick off the ball, uses his hands well to shed and is able to put counter moves together. He has a good burst to the quarterback off of blocks.
With Michigan State's complex defense, you will see Calhoun drop into coverage at times and he shows that he can handle coverage in the short zone areas.
Overall, I see Calhoun's best fit as a 4-3 right end at the next level. Many of the 3-4 clubs will work him out as an outside linebacker and if he proves to be athletic enough to play on his feet, it will increase his value for those clubs.
Right now I see Calhoun as having the potential to be drafted as high as the later part of the first round.
Leonard Williams – Defensive End – USC
Williams is a third-year junior and has been a starter since his freshman year. He lines up at either defensive position in the Trojans' 3-4 defense. According to the USC football statistics, Williams has great production, but looking at tape, his production doesn't match up with what the stat sheet says.
Last year, Williams was credited with 74 total tackles, including 13.5 tackles for loss and six sacks. Through nine games this year he has 54 total tackles, seven tackles for loss and four sacks.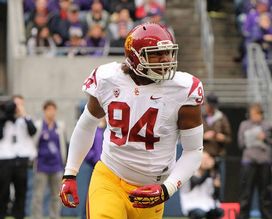 Williams is a freakish athlete, but needs to work on his consistency.
Williams is a big man. He is listed as being 6050 – 300. He has the frame to get a little bigger and it wouldn't surprise me if he plays in the 315 – 330 area when he gets to the NFL. For a big man he is a very good athlete. He is light on his feet, can change direction and is very strong. In addition, Williams has excellent play speed and I estimate he will run under 4.8 at 300+ pounds.
Because of scholarship restrictions, USC doesn't have the depth of other schools. Unlike playing in a rotation like many defensive linemen at other schools, Williams has to play every down and that can wear on him. Still, I don't see an every-down competitor. While Williams will flash making the big play, there are too many downs when he is not a factor.
The one thing Williams lacks is consistent initial quickness. He is often the last of the linemen off the ball. While he shows he can get low and penetrate, he will also play tall, expose his body to blockers and get stalemated.
When he is playing well, Williams can be a dominant run defender. He is quick to shed with good hand use and gets to the ball. However, there are also a number of plays where he seems to have no clue where the ball is and gets wired to a blocker.
I see the same thing as a pass rusher. With only four sacks in nine games, Williams can't be called a dominant pass rusher, but he can and does do a very good job as a bull rusher while collapsing the pocket. At times I see a counter move and a strong burst to the quarterback. While he doesn't get many sacks, he does get a number of pressures.
The one thing Williams does well is chase the ball. He is consistently seen running to the sideline to make plays. He also will drop into coverage at times on zone blitz-type plays.
Overall, Williams is a bit of an enigma. I see and recognize the raw talent, but I am disappointed by his down-after-down competitiveness. I feel he only has fair-to-good overall instincts. His physical tools are better than his ability to key and diagnose.
Because of his natural traits, Williams will get drafted high. There aren't many who have his combination of size, speed and athleticism. I can also see that there is a chance he doesn't play up to the level of where he will get drafted. Williams is young and will be a 21-year-old rookie if he comes out. So there is still time for him to mature and improve on his overall competitive nature.
Follow Greg on Twitter: @greggabe