October 16, 2014 -
Greg Gabriel
NFP prospect focus: Tevin Coleman
When you are a star on a team that doesn't get much national attention, it can be looked at as a surprise when word gets out that the school's most productive player is looking at entering the NFL Draft. Such is the case with Indiana junior running back Tevin Coleman. According to people in the agent community, Coleman is at least investigating whether or not he should enter the NFL Draft next spring.
Coleman is a third-year junior and a two-year starter who came on in 2013 as a sophomore and his outstanding play has continued into the first half of the 2014 season. Through six games, Coleman has carried the ball 120 times for 1,060 yards and 11 touchdowns. His average per carry is an outstanding 8.8 YPC to go along with his 15 receptions for another 134 yards.
Last year as a sophomore, Coleman ran for 958 yards on 131 carries, so over the last 15 games of his career (he missed the final three games of 2013 with an ankle injury), the running back has averaged better than 8.1 yards per carry. While he has not been used as a kickoff returner in 2014, he has returned kicks in the past and has been very productive. In 2012, Coleman averaged 23.6 yards per return including a 96-yard touchdown.
Coleman has excellent size at about 6004 – 210. He has a thick build with long arms and plays with very good strength and power. As an athlete, Coleman has very good play speed. He ran a 10.86 100-meter dash in high school and has a play speed of 4.50. While Coleman is not a burner, he has a burst and you don't see defensive backs gain on him in the open field. He has very good balance to go along with quick feet and change of direction.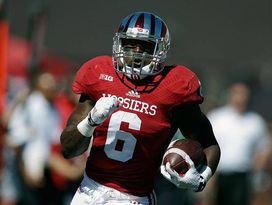 Coleman has notched 23 touchdowns over his last 15 games.
Indiana plays from a spread formation with some pistol mixed into the system. Coleman is quick to the hole but can have a tendency to run a bit tall inside. He is a solid between-the-tackles runner who has very good vision and instincts and makes good decisions. He is not a dance-behind-the-line-of-scrimmage type of back. Instead, Coleman gets to the hole quickly and will occasionally make one cut or a jump cut to find a seam.
While he can run a bit tall inside, Coleman still has explosive power and is very capable of getting the tough yards in short yardage situations. In addition, the Indiana running back always keeps his feet moving after contact. Where Coleman is dangerous is if he sees an open seam thanks to an excellent burst that can cause serious trouble in the open field. While he isn't overly elusive, Coleman can make the first defender miss with a quick cut. However, he has some tightness in the hips and isn't the type to make numerous moves. He is more of a one-cut-and-go type of back.
As a receiver, Coleman is seldom used as a downfield route runner. Indiana uses him more as a check-down or screen receiver. He has good hands, can adjust to the ball and gets turned up field quickly. Once again, Coleman has a quick burst and with his power, he can be a load to tackle in the open field. As a pass blocker, Coleman is willing and shows he can face up and anchor, but like most college backs, he needs technique work.
Overall, Coleman is very productive based on the numbers he has put up through the first six games of 2014. He has a chance to be a 2,000-yard rusher this year and has size, speed and power, but is not overly elusive. He is a good back, but not a special back. With the running back position being devalued the last few years, I don't see Coleman as a first-round type. In order for a back to get drafted in the first round in the current era, he has to have some special to him. Coleman is good, but not special. He is more of a mid-second or early third-round type of guy who has a chance to come in and start as a rookie.
Coleman will need to develop his pass block techniques, but he is also the quick north/south type of runner that produces when he gets to the NFL. This is a solid prospect.
Follow Greg on Twitter: @greggabe