December 06, 2014 -
Greg Gabriel
NFP prospect focus: Tre' Jackson and Cameron Erving
The strength of the Florida State football program in 2014 has been a veteran offensive line and quarterback Jameis Winston, with most of the line having already been thoroughly evaluated by NFL scouts. Here are my thoughts on two of the Seminoles' best big men.
Tre' Jackson – Offensive Guard – Florida State
Jackson is a fourth-year senior who has been starting at right guard since the last game of his freshman year in 2011.
Coming out of high school, Jackson was a two-way player with a 3-star rating. Some schools were recruiting him to play defense while others wanted him as a guard. While he wasn't the most heavily recruited player in the country, Jackson did have offers form schools such as Alabama, Georgia and Miami.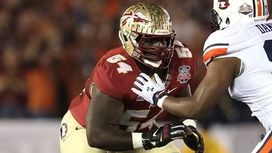 Jackson has been starting for the Seminoles since the end of his freshman year.
Jackson is a big, wide body who stands about 6033-335. He looks heavier this year than he did a year ago and, as a result, doesn't move as well. When you see Jackson run in space, he looks like a 5.45 type. He has good quickness in a tight area, can bend, adjust on the move and move his feet.
Jackson demonstrates good snap reaction and initial quickness. In the run game he gets to his blocks quickly and is strong and powerful on contact. He is able to get movement with drive blocks and does a good job sustaining and finishing. However, Jackson is not quite as effective when getting out to the second level. He flashes, but is inconsistent and does not always take good angles. When used to pull, Jackson shows he can adjust on the move and hit a moving target, but at times his lack of speed in space slows up the play.
As a pass blocker, Jackson again sets quickly and has a good punch. With his strength he is usually able to handle college level opponents. Jackson can bend and anchor and won't give ground. He is an alert player who usually does a good job adjusting to stunts and blitzes.
Overall, I've heard some people compare Jackson to Chance Warmack from Alabama, but I don't see that. Warmack was more athletic and more consistent and physical with his game. Jackson needs to lose some weight to be more effective at the next level. NFL defensive linemen have too much quickness for Jackson to be solid at his present weight. Still, he is a good player and will be a starter early in his career. While Jackson may have carried a first-round grade a year ago, I don't see that now. He is more of a second or maybe even a high third-round type based on his play this season.
Cameron Erving – Offensive Tackle – Florida State
Erving is a fifth-year senior and three-year starter at left tackle for Florida State. Coming out of high school, Erving was rated as a three-star prospect and was recruited as a defensive lineman. He redshirted his freshman year as a defensive tackle before the Florida State staff moved him to the offensive side of the ball in the spring of his redshirt freshman year.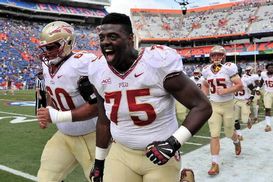 Erving has the frame to add another 10 pounds of muscle.
Erving looks like the prototypical NFL left tackle. He is tall and long, will measure at about 6050-310, is athletic with natural bend and has good balance and change of direction. Erving has a thick lower body but still looks a bit lean in his upper body. He has the frame to easily add 10 pounds to his upper body. While his arms are very long, they are also lean looking.
Erving plays from both a two-point and three-point stance. When he is in a three-point stance it's a right-handed stance. Unfortunately, Erving won't be able to play on the left side in the NFL with a right-handed stance. The odd thing is that when he plays from a two-point stance, Erving is aligned properly with his left foot back while looking very natural with his movement.
Erving shows good initial quickness and sets in a hurry. In the pass game, he has the feet and lateral agility to set and stop wide speed. He is light on his feet and has good recovery quickness to come back the other way against counter moves. While Erving usually shows a good punch, he has a tendency to let his hands get outside the framework of his opponent. This will need to be corrected at the next level.
In the run game, Erving has snap in his hips on contact and is able to generate movement, can get to the second level and make productive blocks. While you don't see him pull much, he is used on screens and does a good job in space.
Overall, Erving is an interesting prospect. Workouts will have a lot to say as to where he gets drafted. The Florida State star will need to change his stance and how he is able to move from a left-handed stance will affect his draft position. The good news is that Erving has the skill set to play on the left side if he can correct this issue. Right now however, Erving lacks the bulk and power to be a top right tackle, but he does have the frame to play at 320+ pounds.
If coaches feel comfortable with Erving after workouts, I can see him being drafted in the middle to late first round as quality left tackles aren't the easiest prospects to discover. At worst, Erving should be a second-round pick.
Follow Greg on Twitter: @greggabe