November 22, 2014 -
Greg Gabriel
NFP prospect focus: Tyler Lockett and La'el Collins
While we have written up a number of juniors who are likely to enter next May's draft, we haven't focused too much of our time just yet on members of the 2014 senior class. Today, however, we do with reports on two outstanding and highly regarded prospects in wide receiver Tyler Lockett and offensive tackle La'el Collins, two long-time starters and extremely productive players for their respective teams.
Tyler Lockett – Wide Receiver – Kansas State
Lockett is a fourth-year senior and a three-year starter for Kansas State. His father is Kevin Lockett, who was the all-time leading receiver in Kansas State history until Tyler broke his record this season. Kevin also enjoyed a seven-year career in the NFL.
Through Thursday night's game, Tyler has 70 receptions for 1,074 yards and six touchdowns this season. For his career, Lockett has caught 213 passes for 3,269 yards and 24 touchdowns. He has also been an accomplished punt and kickoff returner during his career. In four seasons, Lockett has averaged better than 29 yards on kickoff returns and scored four touchdowns. On punt returns his career average is 14.1 yards per return with two scores.
Lockett isn't a big guy, being listed at 5011 – 175, but he has good length and seems to have the frame to carry at least 185 pounds. He is a very good athlete with speed, a burst, change of direction and body control. While he is not a true burner, Lockett is fast enough with an estimated 4.47 speed.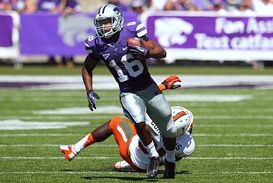 Lockett has notched 213 receptions through 44 collegiate games.
Lockett is very polished as a receiver. He runs excellent routes and can consistently uncover against both man and zone coverages. He has very good initial quickness and can get to full speed in a hurry. In addition, Lockett can set up a defender with moves and shows excellent ability to gain separation coming out of cuts.
He is productive as both a deep and short receiver and isn't shy about competing for balls in traffic. After the catch, Lockett is a very good runner with top run instincts.
While he has very good hands, Lockett can have some concentration drops and that is frustrating. Still, he makes a number of acrobatic-type catches. As a returner, he tracks the ball well and again shows his top run instincts. Lockett can consistently make the first man miss and get upfield.
Overall, Lockett is an interesting prospect. He doesn't have the size that clubs are now looking for at the position, but he is too good and productive to overlook. I see him more as a slot receiver and a returner at the NFL level. He can play outside but needs to get a little bigger and stronger. Ten years ago, he may have been a lock to be a first-round type, but with his size, that may no longer be the case. Still, Lockett has the talent and skill set to play early in his career and I doubt he gets out of the second round.
La'el Collins – Offensive Tackle – LSU
Collins is a fourth-year senior and a three-year starter for LSU. He played as a reserve during his true freshman year and then started at left guard in 2012. In the past two seasons, Collins has been the starter at left tackle for the Tigers.
Collins has excellent offensive lineman size. He is listed as being 6050 – 320. He has terrific bulk with good arm length, but there are mixed opinions as to his athleticism. I see him as a good athlete with average bend. Collins has good feet and shows good quickness and change of direction. However, there are some scouts who feel that he has limitations as far as knee bend and overall athleticism.
LSU plays from both a spread and pro set offense. Collins will line up in either a 2-point or 3-point stance depending on the situation. He has good snap reaction to go along with good initial quickness.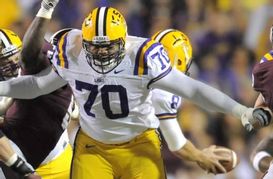 Collins has the upside to hear his name called during the first round.
Collins is a very good run blocker who stays low, keeps his feet moving and is able to generate some push. You seldom see him get stalemated as a run blocker. In addition, Collins has the quickness to get out to linebackers and play in space. His ability to adjust on the move and hit a moving target is above average. He has been used to pull and is better with short pulls than he is with longer pulls.
In pass protection, Collins sets quickly and generally stays in good position. He has a good punch and does a nice job keeping his hands inside. He shows he can slide, recover and anchor, but I have seen him have some difficulty with speed rushers. The reason for this is that he has a tendency to get tall and not play with top bend. He shows he can bend, he just doesn't do it with consistency. It will be interesting to see how Collins looks doing the agility and position drills at the combine.
Overall, Collins has the talent to start early in his career. Where there is a difference in opinion whether he plays tackle or moves inside to guard. He has experience as an underclassman playing inside. With his athleticism, Collins may be best suited to play right tackle, but a team can get by with him on the left side. I would let him show he can't play tackle before I would move him inside to guard.
In saying that, many clubs have played rookie offensive tackles at guard during their first year and then have moved them outside after they gained experience and confidence. That may be what happens with Collins. I see him as a mid to late first-round type while others see him as more of a pure second round selection. We will have a better idea after the combine, as we will know more about his athleticism.
Follow Greg on Twitter: @greggabe