August 18, 2014 -
Greg Gabriel
NFP rookie report
Saturday night's Houston-Atlanta matchup featured two of the first six picks in last May's NFL draft in South Carolina pass rusher Jadeveon Clowney and Texas A&M offensive tackle Jake Matthews. Both players started on Saturday night and played as well, if not better, than what you would expect from a rookie drafted within the top-10 selections.
Jadeveon Clowney
As we all know, the reports on Clowney when he was coming out of South Carolina was that he could be one of the best defensive players to enter the NFL in years. There were also many, including myself, who felt that while Clowney had rare talent, he didn't show it during the 2013 college season. Looking at the tape of Saturday night's game, he played exactly like a first overall pick should play.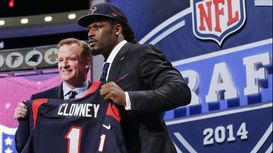 Clowney has already looked every bit as good as advertised.
Clowney only played in the first two series of the game and lined up at both right and left outside linebacker during his brief time on the field. For the most part, he played from a 2-point stance, but there were a few plays when he did put his hand in the dirt.
While Clowney did align "walked off" over a slot receiver a few times, he never dropped into coverage. His primary purpose was to rush the passer. The one thing that stood out to me was the intensity in which the top pick played. Clowney went hard on every down and played a very physical game. From the first snap on he showed that he was going to be a player to be reckoned with. On that first play, Clowney beat veteran tackle Sam Baker on a run blitz and, while he didn't make the tackle, he was at the play.
It was during his second series that Clowney showed that rare gear that made him one of the most dominant college defenders in recent memory. On a run down, he came hard off the edge to hit the Atlanta running back for a four-yard loss. The play was reminiscent of the famous bowl game play Clowney made against Michigan in January of 2013.
On the following play, the South Carolina product clearly beat Baker by using a wide rush while staying low to get under his opponent and sack the quarterback. Baker never had a chance on the play, as Clowney's first step was just too quick. If he makes plays like this early in the regular season, defenses are going to have to account for him in a serious way.
Jake Matthews
Matthews lined up at right tackle and, except for one snap, played what I would say was a very consistent game. He lines up from both a 2-point and 3-point stance and has top snap reaction and initial quickness.
Matthews comes off the ball low and is quick to his block. He consistently ran his feet on contact and was able to generate movement with most of his run blocks. I liked the way he worked combo blocks as well as how he took good angles to the second level.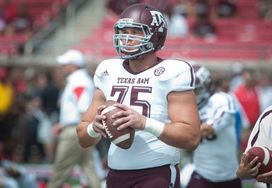 Matthews could be moved to the left side as early as Monday.
Matthews showed excellent balance, consistently stayed in good position and was never off his feet. He keeps his back straight and his feet under him. In pass protection, he sets quickly and, except for one play, aligned himself well versus his opponent. He showed a strong punch and consistently kept his hands inside. Matthews also demonstrated that he could slide and recover against counter moves and keep good positioning.
On his one poor play, Matthews was beat by a blitzing linebacker who was aligned wide. Matthews didn't take a good angle to cut off the rush and his opponent was able to get under him. Since there was a defensive penalty on the play, the sack was nullified, but the fact is he was still beat.
While Matthews flashed the makings of an outstanding right tackle, he will most likely be moved to left tackle as early as Monday. Late in the first half of the aforementioned game, starting left tackle Sam Baker tore his patellar tendon and was lost for the season. There have already been reports that Matthews will be moved over to the left side to replace Baker. From an athletic standpoint, there is no reason why Matthews can't play left tackle, but there will be a learning curve. Matthews played left tackle at Texas A&M last year after spending his first three years at right tackle.
Notes
One other rookie who jumped out at me was Texans running back Alfred Blue. There is competition on the roster to backup Arian Foster and Blue showed he wants the job.
The sixth-round pick from LSU showed speed, quickness and power in his brief appearance. He carried the ball six times for 22 yards and also caught one pass.
I like his quickness to the hole and his burst. Blue has the speed to turn the corner and the power to get yards after contact. As good as he played, if Blue wants the No. 2 running back job, he has to show the coaches that he can be trusted in pass protection. While I didn't see anything to show me he couldn't pass protect, the overall exposure wasn't enough to say he could. It will be interesting to see how he closes out the preseason.
Follow Greg on Twitter: @greggabe