December 13, 2011 -
Barry Dorey
NFP Rookie Report: Bengals-Texans
In Sunday's game between the Texans and the Bengals you had a unique situation because both teams needed wins (the Texans to win their division and the Bengals to stay alive in their playoff hunt) and both teams were starting rookie quarterbacks. The Bengals' Andy Dalton has been starting all year but Houston's T.J. Yates is playing because of injuries to both Matt Schaub and Matt Leinart.
With both clubs having multiple rookies contributing, it was a game I was looking forward to watching. Let's take a look.
T.J. Yates
The remarkable thing about Yates' play is that until Leinart got injured, he got virtually no reps in practice, yet he has come in and won three games. The thing that stands out to me is his poise and competitiveness. When he has had to make plays, he makes them. In Sunday's game he needed to get a touchdown on that final drive for the Texans to win and that's just what he did. He had three third-down completions in that drive to keep it alive. With Houston having such a strong running game, Yates is able to be very productive with play action. He does an excellent job with the run fakes, sets quickly and makes accurate throws. He has good arm strength, throws a catchable ball and has average accuracy. Some throws sail on him when he doesn't set his feet but still he reacts to pressure well and is able to get the ball out of his hands.
Many inexperienced quarterbacks struggle with the 2-minute drill but that's where Yates was at his best. At the end of the first half he got the Texans in position to kick a field goal only to have the kicker miss. Then he had the game-winning drive to close out the game…what more can you ask for? When scouting quarterbacks the one trait that is difficult to scout is the "it" factor. Judging from what I saw on Sunday, Yates has "it!" He gets an "A."
J.J. Watt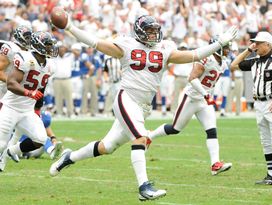 J.J. Watt always plays the game hard.
I have talked about Watt before in this column and nothing much has changed. He is one of the best rookie defensive linemen in the league. He plays both on the right and left sides in Houston's 3-4 scheme and is a consistent player from both sides. Sunday he finished the game with 5 tackles and a hit on the quarterback. He has excellent initial quickness and stays low. He uses his hands well and does an excellent job keeping blockers off his body and shedding. On one play, he got rid of the block quickly, made a quick lateral move to stop Cedric Benson for a loss. The part of his game I like the most is his relentless attitude. He is always playing hard. There is no loaf in him when the ball is going to the other side of the field. As a pass rusher he shows a burst off the edge and has the ability to redirect without losing momentum and close. He has all the tools: size, strength, power, athleticism and speed. He will be a top defensive lineman in the league for years to come. He earns an "A-."
Brooks Reed
Like Watt, I have written about Reed earlier in the season. He is a former college defensive end who is now playing outside linebacker in a 3-4. Like Watt, Reed has a relentless motor. He is best at defending the run and rushing the passer. He lacks experience as a pass defender and isn't asked to do it that often. Sunday, he had another typical game with 3 tackles, 2 TFL's and a pressure.
Reed isn't the smoothest athlete but he is strong and explosive and has learned to play low. He has quick hands to shed and has the instincts to always be around the ball. He makes plays more on willpower than natural athleticism, but his physical play is infectious. He earns a "B+."
Andy Dalton
It's no secret that I like Andy Dalton's potential. Right now he is the second-best rookie quarterback behind Cam Newton and when we look back years from now he will stay in that position as the second-best quarterback in this class. I've watched Dalton at least four times this year and I like the way he has grown as a player. He is a leader on the field and is in command. While the Bengals may have scaled down things early in the season, they are using their full offense now.
Dalton is a better athlete than people gave him credit for coming out. He can run and has good body control. As a passer he can set quickly, extend plays with his feet and has a very quick release. He has good arm strength but not a "cannon" and throws a tight ball. While he has good accuracy, he still makes some poor decisions and will throw into traffic at times. What I like about Dalton is that he shows the ability to come up big when he has to. On Sunday he made the plays necessary for the Bengals to win, only to have the defense let him down giving up the late score. There is not a doubt in my mind, that Dalton will be one of the steadier quarterbacks in the league for the next several years and give the Bengals a quality replacement for Carson Palmer. He earns a "B" for this game.
A.J. Green
Green has been a very consistent player for the Bengals all season, catching 55 passes for 891 yards and 7 touchdowns. Sunday was no different with 5 catches for 59 yards including a key 4th-down catch and a great catch on an underthrown deep ball between two defenders. He also drew an interference penalty on a deep throw.
Green is not what I would call a "burner" but he has good play speed and is very smooth. He has become a very good route runner with the ability to separate on short and deep patterns. He shows very good hands and a rare ability to adjust to the ball and make the difficult catch. His leaping ability and the timing of the leaps is excellent. As a runner after the catch, he is not powerful, but he has a burst to go along with good run instincts. He earns an "A" for his play this week.