August 24, 2014 -
Greg Gabriel
NFP rookie report: Britt, Coyle & Evans
Watching Seattle blast Chicago 34-6 on Friday night, it certainly appears as if the Seahawks are ready to defend their Super Bowl title. Both the offensive and defensive starters dominated while playing a little more than half the game. The offense was playing with rookie Justin Britt starting at right tackle and the defense had fellow rookie Brock Coyle starting at Mike linebacker. Both showed they are ready to contribute in 2014.
Justin Britt – Offensive Tackle
Many draft analysts thought that Seattle reached when they selected Britt in the second round of May's draft. They didn't. If you watched Britt play at Missouri last year, you saw a very steady and consistent player who was tough, strong, had good hand use and could bend. While he played left tackle for Missouri, it was evident that Britt would be a right tackle or guard in the NFL. He just didn't have the lateral movement you want in an NFL left tackle. But otherwise, his game was fine.
On Friday night, Britt got the start at right tackle and except for one series, played fairly well. Most of the night he went up against veteran defensive end Lamarr Houston, who is both athletic and strong.
In the first series, Britt held his own, showing good pass and run block skills. He sometimes was blocking down on run plays and showed the quickness needed to block a player lined up on his inside. During the second series, which was a long Seattle touchdown drive aided by Chicago penalties, Britt struggled. Houston was able to beat him with a speed rush to the outside and also bull rushed him back to the quarterback. Houston, being a savvy veteran, knows how to take advantage of a rookie lineman.
After that second series, Britt settled down and played consistent football. He showed he could get to the second level to make a productive block and he also pulled and adjusted on the move to make a good block. His run blocking and pass blocking were consistent, but there were plays where he looked like he was thinking and not reacting.
Overall, Britt will help the Seahawks and should have a bright future. But once the regular season starts, it wouldn't surprise me if Seattle turned to veteran Eric Winston to hold down the right tackle spot. While Britt has much more upside than Winston, he still doesn't know the nuances of NFL line play. Britt will start the opening game, but if he struggles like he did in the second series against Chicago, Seattle may make the switch.
Brock Coyle – Linebacker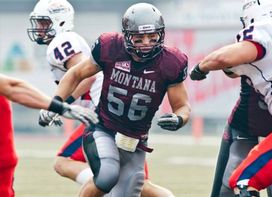 Coyle appeared in 52 games during his four years at Montana.
Coyle is an undrafted free agent who the Seahawks signed following the draft on May 10. As such, he was not supposed to make an impact, but he has been the surprise of the Seattle training camp to date.
Coyle has started all three preseason games at the Mike linebacker position because of a hamstring injury to regular starter Bobby Wagner. In just under a half of play Friday night, Coyle demonstrated why he has been a pleasant surprise.
Coyle has good size at about 6'1 – 242 and is very instinctive. He makes quick decisions and is around the ball. He recorded four tackles in Friday's game before exiting with a minor injury late in the first half.
Coyle only plays in the Seattle base defense. He comes out when the Seahawks go to their sub-package and play with five defensive backs. Against the run, Coyle shows strength at the point, can shed quickly and get to the play. When in coverage, he gets depth with his drops and has good receiver awareness. He can plant and drive on the ball as shown when he broke up a slant pass to Brandon Marshall.
Not only does Coyle play well from scrimmage, but he is a solid special teams player as well. His injury came when covering a kickoff. While undrafted free agents aren't supposed to challenge for roster spots on championship teams like Seattle, that's not the case with Coyle. He should be a lock to make Seattle's roster and will contribute as a rookie.
Mike Evans – Wide Receiver
Evans, who was the seventh overall pick of the first round in May's draft, looked like a high first round pick in Tampa Bay's easy 27-14 win at Buffalo on Saturday.
Playing only the first half, Evans notched three receptions for 44 yards and a touchdown. His first two receptions were on comeback routes where he showed good ability to separate at the top of his route and come back to the ball. On the touchdown, he made a nice double move on the corner to get open by about four yards for an easy score.
On all three receptions, Evans' size was evident. At 6'5 – 230 with speed, he creates problems for defenses. He has the athleticism to get in and out of cuts quickly and does a great job adjusting to the ball. In Saturday's game, Evans high-pointed the ball very well.
After three preseason games, Tampa Bay's offense still isn't in total sync. With a new system and many new players (most of the offensive line, WR, TE, QB) it will still take some time, but once they get rolling, Evans will be a big part of the offense. I expect him to put up big numbers as a rookie.
Follow Greg on Twitter: @greggabe