December 10, 2011 -
Greg Gabriel
NFP Rookie Report: Browns-Steelers
The Cleveland Browns had four rookies with significant playing time in their game Thursday night versus Pittsburgh. They were receiver Greg Little, guard Jason Pinkston, defensive tackle Phil Taylor and defensive end Jabaal Sheard. Let's take a look at their play.
Greg Little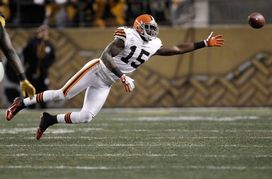 Greg Little had a bad drop Thursday night against the Steelers.
Little lines up in the slot, and he is a big guy with good play speed. He didn't have a very productive night on Thursday with 2 catches for 25 yards. He also had a drop on a 3rd down play. It was a hitch play that would have been about a 15-yard gain. The ball was right there and he plain dropped it. Pro receivers have to make those plays. While he has very good timed speed, he did not play real fast in this game. He looked more like a 4.6 type. He does have a good release and he used his size and strength effectively to get off of the jam. He is just an adequate route runner. Having been a receiver for only two seasons he is still developing his skills. He gets a C for the game; the drop was too costly.
Jason Pinkston
Pinkston lines up at left guard. He is a thick, strong player who competes on every down. While he is just an average athlete for the position, he gets his production because of his intense play. He is best as a drive blocker where he shows he can get under his opponent and get some movement. When he has to get out to the 2nd level he can struggle at times because he lacks the agility and body control to consistently adjust well on the move. In pass pro he usually plays well, showing a strong punch, good hand use and good anchor. He did get bull rushed once where he was driven right back to the quarterback and he didn't recover quickly versus a counter move and gave up a pressure and hit. Overall, Pinkston is blue collar lineman who gives you everything he has. He has some limitations but he is strong and competitive. He will only get better with experience. He gets a B.
Phil Taylor
I wrote up Taylor earlier in the season and I thought back then his play was average. He looked much improved Thursday night. He was only credited with 1 tackle but he played hard and was able to disrupt plays. He starts at the nose tackle position and plays in a rotation. He is quick off the ball and was consistently able to get some penetration in this game. He is strong and explosive and has great balance. He does a good job versus double teams and when he gets penetration he forces the back to make a cut. As a pass rusher, he doesn't have a lot of moves but he consistently gets a good push and forces the quarterback to move. On the negative side he had a personal foul/blow to the head penalty that came at a costly time. When I saw him earlier I didn't see good pursuit hustle. He was just the opposite in this game going from snap to whistle. For his improved play he gets a B. If he had a little more production (tackles) I could easily have given him a B+. He has the traits to be an excellent defensive tackle in the league.
Jabaal Sheard
Sheard lines up at left defensive end. I thought he played well and I was surprised to see that he was only credited with 1 tackle. He is best as a pass rusher, where he gets off the ball quickly and is able to get up field quickly to create pressure. He has good hand use and can dip his inside shoulder to close. For a rookie he has some good counter moves. Like Taylor he had a costly 15-yard penalty (illegal hands to the face). The weak part of his game is defending the run. While he looks strong and explosive when rushing the passer, you don't see that same power versus the run. He gets tall and gives up ground to the blocker. On a stretch play he got hook blocked and pushed inside, giving up contain. On another play he overpursued and the back was able to cut back and pick up significant yardage. Still he plays hard and chases the ball. Most of his weak points can be improved upon with a little more strength and playing experience. With Taylor and Sheard, the Browns have two young defensive linemen with a lot of upside. He gets a B- for this game.