August 26, 2014 -
Greg Gabriel
NFP rookie report: Mack, Martin & James
Today we're going to take a look at three first round rookies, all of whom will be starters in their first year as NFL players. The trio includes Oakland linebacker Khalil Mack, Dallas offensive guard Zack Martin and Miami offensive tackle Ja'Wuan James.
Khalil Mack – Linebacker
Mack was the Raiders' first round pick and the fifth overall selection in last May's draft. Up until a few hours before the draft began, there was talk that Mack could be the first player selected overall. Mack played outside linebacker at the University of Buffalo but was often lined up as a defensive end in pass rush situations.
Mack is currently listed as a linebacker by the Raiders, but in last week's game against Green Bay, he only lined up on his feet for a few plays. Mack played most of the night in a 3-point stance lined up at left defensive end. The only time I saw him on his feet was during the opening few plays of the game.
Playing down, Mack got off to a slow start. He didn't react as quickly as I would have liked and played a bit tentatively. After a series of snaps, he looked much more comfortable and showed us the dominating traits that got him drafted fifth overall.
At 6026 – 252, Mack does not have ideal defensive end size, but he has length and is both strong and explosive. He can generate power through his hips and showed good ability to hold the point of attack while seldom giving up ground. Mack uses his hands well and shows he can 2-gap an opponent.
For the game, Mack finished with five total tackles, including two tackles for a loss, two quarterback pressures and an interception. The interception came on a screen pass in which he read the play quickly and was able to get his hands up and both bat and intercept the ball.
A couple of his tackles occurred when he was able to shed the blocker quickly and burst to the ball. Mack is undersized to play down, but with his length and power is able to hold up. His pass rush pressures came when he was able to use counter moves and burst to the quarterback.
Overall, Mack is an extremely talented player who the Raiders can use in a variety of ways. Being that it has been preseason, I doubt we have seen anywhere near how Oakland plans to use him. I would bet that Mack is going to have a very productive rookie year while being viewed at as a future Pro Bowler by the end of the season.
Zack Martin – Offensive Guard
Martin was a four-year starter at Notre Dame and never missed a start during his career. The Cowboys selected Martin with the 16th overall pick in the first round. If reports are true, Martin was selected by the Cowboys after Stephen Jones snatched a draft card with Johnny Manziel's name on it away from his father, Jerry Jones. Jerry reportedly then had a card turned in with Martin's name attached.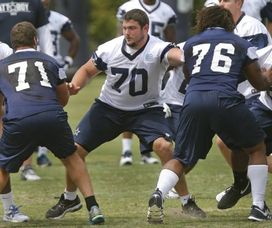 Martin should bolster an offensive line that surrendered just 35 sacks (seventh fewest) in the NFL last season.
Though Martin played tackle his entire collegiate career, the Cowboys immediately installed him as their starting right guard. He has the size and athleticism to flourish at that position.
In the third preseason game against Miami, I thought Martin played very well. He is a consistent run and pass blocker who plays with strength and does an excellent job sustaining his blocks. He shows he can get movement with his run blocks and also get to the second level to make productive blocks. When he pulls, Martin has the quickness to get out in front of backs and can adjust on the move.
When pass protecting, Martin sets quickly, shows a strong punch and has the bend and feet to slide and recover, keeping good position. I did not see him give ground to a bull rush. Though he's just a rookie, Martin plays like a veteran. He doesn't make mistakes and is very patient. He will be an outstanding addition to the Cowboys offensive line.
Ja'wuan James – Offensive Tackle
Just three picks after Dallas made the Martin selection, Miami selected James. Like Martin, James was a four-year starter at Tennessee, playing right tackle his entire career. While Martin was looked at as a sure first-rounder, many draft analysts felt James was more of a second round-type player and Miami reached with this pick because of a strong need at the position. That may or may not be true, but as long as James plays well, it will be considered a solid pick.
James started at right tackle in the matchup with Dallas and played into the third quarter. He has great size for an NFL right tackle at 6060 – 314 and has length and athleticism to go along with good strength and power.
Early in this game, I felt James was a bit inconsistent. While he got off the ball quickly and got to his blocks, he didn't sustain well. There were a couple of plays where he had made the block and had good position, but didn't finish and his man made the tackle. That can be easily corrected with practice and experience.
To be fair, there were also some run blocks where James helped open some huge holes for big gains by the running back. He does a good job running his feet after contact and also was effective with some combo blocks. I thought James' second level blocking was inconsistent as he wasn't able to get to the block repeatedly.
Like the run game, James flashed as a pass blocker. On pass downs he always plays from a 2-point stance and sets quickly. While he can set with good quickness, he doesn't always take good angles to stop wide speed. He also had trouble with some counter moves back to the inside. These problems are all correctable with coaching and playing time and I don't see it as a problem going forward.
James plays with good intensity and tries to be physical. The mistakes he makes are strictly rookie mistakes and he should be a very solid right tackle in a short time. Assuming he stays healthy, James should be a mainstay on the Miami line for years to come.
Follow Greg on Twitter: @greggabe