December 15, 2011 -
Barry Dorey
NFP Rookie Report: Panthers-Falcons
Sunday's game between Atlanta and Carolina was a must-win game for Atlanta for it to stay in the playoff hunt. After falling behind 23-7, the Falcons scored 24 unanswered points in the second half, led by rookie receiver Julio Jones. Jones wasn't the only rookie to get a lot of play time in this game. Carolina, of course, is led by Cam Newton. Other rookies who started were defensive tackle Frank Kearse and offensive tackle Byron Bell. We will take a look at all four players' performances.
Julio Jones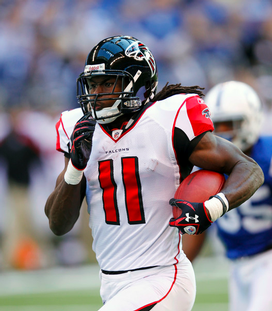 Julio Jones has the talent to become one of the top receivers in the game.
Jones struggled some in the first half, dropping his first attempt on a 3rd down crossing route. He also had a drop of a low throw on a slant, but then came up with two huge plays for touchdowns. Early in the fourth quarter he made a nice adjustment on a throw and then turned and twisted his way into the end zone for a score. Later that quarter on a post route he broke a tackle and sprinted to the end zone for a 75-yard touchdown, giving Atlanta an 8-point lead late in the game.
Jones has the talent to be one of the top receivers in the game. He has great size to go along with speed, body control, toughness and good hands. He has gotten better as a route runner and with his leaping ability and body control he can be tough to cover. Overall, because he had the two big plays, I would love to give him an A+ but he also had the drops. He easily earns an A-.
Byron Bell
Bell, a free agent rookie from New Mexico, got the start at right tackle in this game. He is a huge man at about 6-5 and 335, but probably about 10 pounds overweight. He has good natural strength and flashes power, but is not real explosive. As a run blocker he can get off the ball with fairly good quickness and makes good contact. He doesn't consistently keep his feet moving but because of his size he is able to get productive blocks. He lacks speed in space; when asked to make blocks on linebackers he didn't show the quickness to consistently get there but did show that he could adjust on the move when he was asked to pull a couple of times.
As a pass blocker, he started well, showing good mirror skills and anchor ability but struggled in the second half. Twice he was beaten by outside speed, one time almost causing a safety. He lacks the top lateral quickness needed to play tackle and needs to improve his hand use. He doesn't have an explosive punch and he will drop his hands at times giving up his body. Overall, Bell will be better off playing inside at guard. He lacks the range to play outside. If he loses some weight, gains some strength and power he has a chance to be an adequate NFL guard. He earns a C+.
Frank Kearse
Kearse, an undrafted free agent from Alabama A&M, got the start at nose tackle on Sunday. He is a big naturally strong guy but he lacks top speed and quickness. He started the game well, getting penetration on the opening play and forcing the back to change direction; then a few plays later he showed good lateral pursuit to stop the running back for no gain. Kearse played mostly on run downs but when he had to rush the passer, he did little. He gets tall and lacks technique. He is able to get a push because of his size and natural power but he lacks moves and the ability to redirect quickly.
In the second half I didn't see the spark I saw early in the game. He got tall at the snap and there were a few plays where he got knocked off the line. He plays hard but he just doesn't have the tools to get the job done with any consistency. In my opinion he has some talent but is very raw, he needs to add strength and explosion and get in better condition. For the game he gets a C.
Cam Newton
Newton is having a much better season than I think anyone would have thought five months ago. After his game this week he should surpass Peyton Manning with the most passing yards for a rookie. He is on pace to throw for well over 4,000 yards this season.
As good as his numbers are he still has a lot of room for improvement, and he will get better with game experience. In Sunday's game he started off quickly with some great throws including a touchdown pass. He has a very quick release to go along with excellent arm strength. He made some throws Sunday that very few quarterbacks can make. When he makes a decision, the ball is out of his hand very quickly and he shows some uncanny accuracy and ball placement. He had a couple of throws that were spot on between two defenders. His ability to run helps his passes. On his first TD pass he faked a quarterback draw and then lofted a pass to a wide open Jeremy Shockey deep in the end zone. Shockey never would have been that open if Newton wasn't a threat to run.
While Newton had a strong first half, he struggled in the second half. Carolina had a 16-point lead but then Newton threw two interceptions on passes that should never have been thrown. These picks allowed Atlanta to get back into the game and eventually win. Newton has to learn not to force passes or make poor decisions. There are times when taking a sack can be a good play. In saying that, I have no doubt that Newton will be the next great NFL quarterback. He does some things and has a skill set that few are blessed with. With experience Newton will lead Carolina to a lot of wins. For the game he gets a B- for his poor decision making in the second half.