August 23, 2014 -
Greg Gabriel
NFP rookie report: Pittsburgh Steelers
In most NFL preseason games a club's starters play into the third quarter during the third preseason contest. Many clubs view this matchup as a dress rehearsal, with a game plan and regular season-like substitution. While the game plans are not sophisticated like a regular season game, it still gives the players a regular season-like atmosphere.
Thursday night in Philadelphia, the Eagles starters did not have to play into the third quarter, as Philly totally dominated the Steelers during the first half. Philadelphia's starters had a 17-0 lead at half time, so head coach Chip Kelly gave them the rest of the night off. The Steelers starters did play for a good portion of the third quarter, but were still dominated. The final score was 31-21, but the game wasn't nearly that close. Still, some Pittsburgh rookies showed that they will be able to help the Steelers once the regular season gets underway in two weeks.
Ryan Shazier – Linebacker
Shazier, the Steelers' first round draft choice, starts at inside linebacker and should be a very good addition to the defense. Shazier is a very active player with top instincts and a nose for the ball.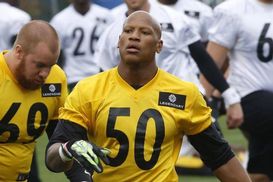 Shazier has the talent to become an early impact player for the Steelers in 2014.
In Thursday's game, the Ohio State product finished with six tackles and one pass broken up. I felt he was best as a pass defender in this game. When playing the run, Shazier was a bit slow to get off blocks and was not a physical force at the line of scrimmage. He was better in pursuit than when plays came right at him. Part of that I feel was because of all the misdirection the Eagles used in their offense. Shazier was not as quick reacting as he usually is.
Pass coverage was a different story. Shazier is very quick with his drops, always gets good depth and was very aware. He shows excellent range in zone and has a very good plant and drive on the ball. He can be physical in coverage and had a nice PBU when literally going through the receiver to force the breakup.
While I didn't watch his special teams play in this game, Shazier has been very good on coverage units in other contests.
Overall, all Shazier needs is a little more strength and bulk and he will be a great fit for the Steelers. He will be one of the more athletic inside linebackers in the league.
Stephon Tuitt – Defensive Tackle
Tuitt did not start, but got plenty of playing time in the defensive line rotation. Early in the game, Tuitt would come in when the Steelers went to their nickel and dime package as a pass rushing defensive tackle. He also got some snaps as a 5-technique in their base defense.
Tuitt plays hard, but I questioned his instincts, especially early on. He was not consistently quick to react, but as he settled down, his reactions got better. Against the run, Tuitt was inconsistent. He gets tall out of his stance and that makes it hard for him to shed blocks. He did make some noise on an off-tackle play, but it was more of a pursuit play than a play at the point of attack. The only good play I saw at the point of attack was when he was lined up at the 1-technique and shed the block quickly to make the play. Of his four tackles, three were in pursuit. Tuitt shows good hustle and runs to the ball, he just has to learn to play lower and not expose his body to blockers.
As a pass rusher, Tuitt did nothing. Again, he gets tall out of his stance and blockers lock him up. With his strength, he generates little push and did not have good hand use and never was able to free himself from a block and close on the passer.
If what I saw Thursday was indicative of how he has played this preseason, than I don't see Tuitt playing on anything other than running downs. He has to learn how to use his hands, shed and close in order to be a serviceable pass rusher. He has the talent, he just needs to develop the technique.
Dri Archer – Wide Receiver/Running Back
Archer was the Steelers' third round pick. He is a small player (5'8 – 175), with great speed and quickness. The Steelers use him in a variety of ways, as a wider receiver (slot or wide), a running back and as a returner.
In this game, Archer only lined up as a back a few times. He did not carry the ball, but was asked to pass block one time. On that play, he showed a willingness and the courage to take on a defensive lineman, but it's asking a lot to have him pass block more than a couple times a game. He is just too small.
Archer did run some routes out of the backfield and his quickness and speed were evident. It can be very difficult for a linebacker to cover him in space. When lined up wide or in the slot, Archer showed a quick release and good route running skills. He is very quick in and out of cuts and can get separation. He has good hands and reacts well to the ball. While he should be a dangerous after-the-catch guy, he really did not get any good opportunities to run in this game. He finished with three catches for 14 yards and also had a kickoff return for 20 yards.
Going forward, Archer has to be a spot player and a return specialist. He can be dangerous if Pittsburgh can get him the ball in the right situations. I would like to see him used as a punt returner.
Follow Greg on Twitter: @greggabe