September 14, 2011 -
Barry Dorey
NFP Week 1 rookie report card
There were some great games to start off the 2011 season this past Sunday and some big rookie performances led by No. 1 overall pick Cam Newton throwing for 422 yards and 2 touchdowns in a 28-21 loss at Arizona. Some other week 1 highlights were Buffalo's total domination of the Chiefs in Kansas City and Rex Grossman starting out strong in a win over the Giants. The media never gives Grossman a break, so for him to play as well as he did may be one of the feel good stories of the week.
For this week's rookie report card we will look at the performances of Newton, Arizona cornerback Patrick Peterson, Atlanta receiver Julio Jones and Chicago tackle Gabe Carimi.
Cam Newton
Newton struggled some in the preseason and looked like a rookie but on Sunday in Arizona he looked like a 3-year vet with a huge performance. He completed 24 of 37 passes for 422 yards, 2 touchdowns and 1 interception. By my count he also had 3 passes dropped.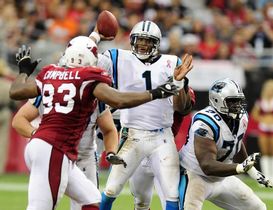 ICONCam Newton had an impressive start under center for Carolina.
In many cases when a club is starting a rookie quarterback at the beginning of a season they have a scaled-down offense and try to play conservatively. That didn't seem to be the case with Newton. He showed a good grasp of the offense and was very poised. Yes, he didn't play perfectly but he made a number of big plays.
He has an extremely strong arm, throws a tight catchable ball and his deep ball accuracy was excellent. Newton, who played in a simplified spread attack at Auburn, played from both under center and in the shotgun. He showed the ability to set up quickly when playing from under center, stay in balance, find the open man and get the ball out of his hand quickly. There were a number of times when he went to secondary receivers and only forced the ball a few times. His touch, ball placement and accuracy were good. He also had an obvious comfort level throwing to Steve Smith, Greg Olsen and Jeremy Shockey — 15 of his 24 completions went to those players.
Because of his size and athleticism Newton is able to make plays with his feet and does a good job throwing with accuracy when on the run. On the downside, he had a chance to tie the game in the closing minute and didn't get it done. He was high on a couple of throws and on 4th down he threw to his check down short of the end zone when Olsen was open in the middle of the end zone.
There are some great Hall of Fame quarterbacks like Dan Marino, John Elway and Troy Aikman who didn't come close to having an opening game like Newton. That's not to say he's going on to have careers like those players but it was a great start for a talented kid. The numbers say he should get an A or A+ but because he had a chance to tie the game and didn't get it done I will be tough on him and give him an "A-." Carolina just may have its quarterback.
Patrick Peterson
Peterson started at right corner for Arizona and had tough time. He also returned punts, and the best thing he did all day was return a 4th quarter punt 89 yards for what proved to be the winning touchdown. As a corner he gave up at least 7 catches, including a 27-yard touchdown to Steve Smith at the end of the first half. He flashed some good man to man cover skills but was often too loose in zone and off giving up catches underneath. On the plus side he is an aggressive, sure tackler.
From an athletic standpoint, Peterson has all the tools. He has great size, can run, turns easily and moves very quickly in transition. He just has to play tighter on his man. As a rookie he may lack confidence but in the NFL that leads to opponents' touchdowns, so he needs to forget about this game and get ready for Washington. For his corner play, Paterson can get no better than a "C" because he gave up too many catches and big plays but he also earns an "A" for his return protection. I'm not giving him an A+ because on a punt that he clearly could have caught, he let it hit the ground and roll to give the Carolina defense a field-position advantage.
Julio Jones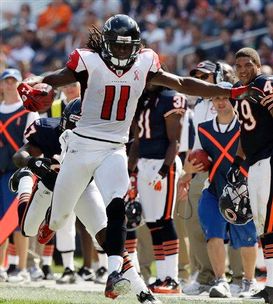 Julio Jones should get plenty of opportunities playing opposite Roddy White.
Looking at the numbers it seems like Jones had a big first day with 5 catches for 71 yards and 1 drop, but much of that production came after the game was in total control of the Bears. Still, Jones is an excellent complement to Roddy White with his size, speed, hands and route running ability. He has excellent strength to fight through jams and gets in and out of cuts quickly. There was one pass he caught in the first half that he should have dropped or knocked down because he caught a tipped ball behind the line of scrimmage and was tackled immediately and the play ended up losing about 4 yards. He also ran a nice route and made a good catch on a post route. In the second half he showed excellent running skills after one catch. As a blocker he is strong and physical and will help the Falcon running game.
Overall, this was a good opening game for Jones. The Bears played an excellent game on defense and took away the deep ball which hurt both Jones and White. Jones only had the one big play but he also didn't really have any poor plays and earns a solid "B."
Gabe Carimi
Over the years the one thing that seems certain in scouting is that when you draft a Wisconsin offensive lineman you are getting a tough, technique-sound player who can play early in his career and play well. That's what the Bears got in Carimi. Sure he made some rookie mistakes, but his overall play was steady and consistent.
Carimi has size and strength to go along with above average athleticism. He is also an excellent competitor. He has good initial quickness to set in pass pro or get to his man in the run game. At this point he is probably a better run blocker than pass blocker but that's not unusual for a rookie. In the run game he is physical, can get to the second level and adjusts well on the move. He has the power to get movement and he finishes. In the pass game he will open his hips and shoulders at times giving up the edge but generally keeps good position, plays with bend and can anchor. He has quick hands and keeps his hands inside. He gave up a pressure and a sack but his overall pass pro in the game was good. He didn't dwell on the sack and came back to play with consistency. Overall, I thought it was a very steady game for the rookie, and with the game experience he will get better every week and will be a very valuable addition to the Bears offense. He gets a well-earned "B."