November 16, 2011 -
Greg Gabriel
NFP Week 10 Rookie Report: Broncos-Chiefs
One of the first-year players I have wanted to look at closely but just haven't had the opportunity is Denver's first-round pick Von Miller from Texas A&M. The other players we will take a look at in this report are Kansas City's Jon Baldwin and Denver's Quinton Carter.
Von Miller – Denver
Miller lines up as an outside linebacker and will also play down in some pass rush situations. Denver drafted him because of his outstanding pass rush skills and to date he has 8 sacks which is excellent for any rookie pass rusher. In Sunday's game he was credited with 7 tackles, 1.5 sacks and 4 hits on the quarterback.
Miller has all the tools to be an outstanding player in the league. He has great size with long arms to go along with very good speed and athleticism. He has excellent change of direction and body control and does a great job staying on his feet. He is a quick reactor who finds the ball and seldom gets himself out of position. With his size, strength and hand use he does a good job shedding blocks, as well as showing the ability to slip blocks. On one play he split to blockers to make a stop on a run play after a short gain. In pass coverage, he gets depth in his drops and shows range and awareness.
To be a complete player he has to be adequate in coverage but the real reason he's there is to rush the passer and he shows outstanding skill in that area. Whether he's in a 2 or 3 point stance, he gets off the ball quickly and has excellent hand use. He also does a very good job dipping his shoulder and getting underneath blockers. He also has the quickness to put together explosive counter moves. His close off blocks is as good as any in the league, but what I really like is his nasty demeanor and physicality. Needless to say, this was a very good game for him and he gets an "A+."
Jon Baldwin – Kansas City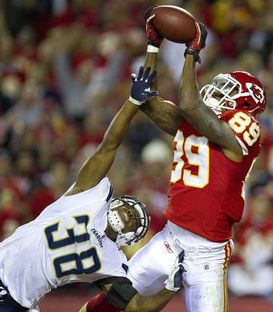 Does Jon Baldwin have the maturity level to succeed in the NFL?
This is the second time I've written Baldwin up this season. As I stated before, he missed the early part of the season with a broken hand. He has played in only 4 games so far with his best game being against San Diego where he had 5 catches for 82 yards and a touchdown. In Sunday's game versus Denver he only had 1 catch for 15 yards. He also showed questionable effort going after a ball that was slightly overthrown on a crossing route. He got one hand on the ball and with more effort could have had the catch. His best play was called back because of off-setting penalties. He went deep along the left sideline and made a remarkable adjustment and catch on a pass that was underthrown. This play alone shows his natural ability. On his lone reception, he caught a short hitch and used his speed, strength and power to pick up an additional 8 yards after the catch. Overall, Baldwin has the skill set to be ranked with the first two receivers taken in the draft (A.J. Green and Julio Jones) but I'm not sure his maturity level is the equal of those two. That was the question going into the draft and is still the question now. Baldwin gets a "B-" for this game.
Quinton Carter – Denver
Carter got the start at safety versus Kansas City and did some nice things. He has good size and strength and showed that in his run support. He is quick to come up and shows good shedding skills along with fairly good tackling skills. The reason I say "fairly good" is because he missed an open field tackle on a running back and also got dragged about 6 yards by Jon Baldwin. Still he does a good job breaking down before he makes his hit. In coverage he did a good job keeping plays in front of him and showed range. In the second half there was a deep pass to Baldwin and he showed his speed as well as taking a good angle to get to the sideline and break up the pass. On another play he showed good transition and close out of his pedal to make a stop on a short pass play. Overall, Carter has the build and physical traits of a strong safety and that is the position he will have the best chance to excel at in the NFL. This was a good game for him and he earns a "B."