November 15, 2011 -
Barry Dorey
NFP Week 10 Rookie Report: Chargers-Raiders
In last Thursday's game between Oakland and San Diego at least five rookies made significant contributions. We will talk about all five.
Denarius Moore – Oakland
Every time I see Moore play he seems to improve. In Thursday's game he caught 5 passes for 123 yards and 2 touchdowns. He also returned 3 punts for 38 yards. As a receiver, his route running has improved. He has a very good release and does an excellent job using moves to avoid being jammed. He is fast and fluid and has a burst going after the ball. He caught a deep ball where he had to accelerate to get to the ball and then made an outstanding catch. On his first touchdown, he had to adjust his route when Carson Palmer had to scramble and did an excellent job breaking open to make the catch for the TD. On his last touchdown, he blew by the defender on a streak play and was easily open for the TD.
As a returner, he can show questionable judgment at times when fielding the ball but his run skills after catching the punt are good. Overall, on route adjustments Moore has shown he has grown as a receiver. He has excellent hands to go along with great speed. He is turning out to be an excellent 5th round pick and should have a bright future with the Raiders. He easily gets an A+ for this game.
Taiwan Jones – Oakland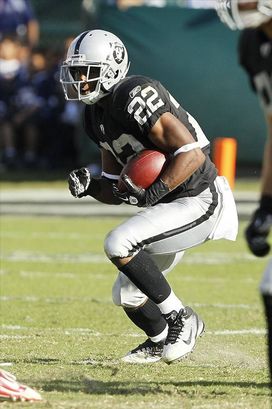 ICONTaiwan Jones is getting more playing time as a backup to Michael Bush with Darren McFadden injured.
With Darren McFadden injured, Jones is getting more playing time as a backup to Michael Bush. Jones doesn't have great size or power but he is bit quick and fast with good run instincts. He is quick to the hole and a good decision maker. He runs low and shows he can break arm tackles but he doesn't have the natural power to move the pile. With his speed and cutting ability he can be dangerous when he is in the open field. As a kick returner he only got one opportunity and didn't show much. He earns a B for the game.
Stefen Wisniewski – Oakland
Wisniewski had been starting at guard but because of an injury to Samson Satele he was moved to center for this game. Wisniewski had experience at both guard and center while at Penn State so making the move was not difficult. Like I have written about Wisniewski in the past, he isn't an exciting player, just a very steady guy who is good at all facets of the game. As the center, he had to make the line calls and seemed to do a good job. He is a strong and physical player who gets off the ball quickly and always looks to finish his blocks. In this game, he was asked to get out in front of the back on screen plays a few times and did a very good job. While he doesn't have great speed, he stays under control to adjust on the move and make a block in space. In both the run and pass game he is very consistent, doesn't give ground and uses his hands well. Overall, I don't know if Wisniewski will ever be a Pro Bowl type, but he should be a very steady pro who the Raiders can win with for years to come. He gets a B+ for this game.
Corey Liuget – San Diego
Liuget rotates at right defensive end in San Diego's 3-4 front. He has excellent size for the position with good athletic ability, speed and long arms. In this game he did not stand out. He shows strength and power at the point of attack and at times was able to get some penetration but really did nothing to excite me. He was credited with 2 tackles. At this point of his career, he is better as a run defender than a pass rusher. He often comes out in passing situations, so I really didn't get much of an opportunity to grade his pass rush skills. As a run defender he does a good job finding the ball and can hold the point but doesn't consistently get off blocks quickly. Overall, I liked Liuget as a college player and this was my first opportunity to watch him as a pro. He looks like a rookie who is going through growing pains. He didn't play badly but didn't do much either. He gets a C+.
Vincent Brown – San Diego
Right now, Brown may be the best rookie on San Diego's roster. At 5-11 and 185 pounds he doesn't have great size but he looks bigger because of his long frame. At the Combine, Brown ran poorly with a time in the 4.7 range. He showed excellent improvement at his pro day, timing in the 4.56 area. He plays faster, looking like a 4.50 type. He is very smooth and fluid with excellent flexibility and body control. In the game he had his best day as a pro with 5 catches for 97 yards and a touchdown. He had another apparent touchdown but was ruled out of bounds when the play was reviewed. On that play he made a leaping catch between 2 defenders that was as spectacular a catch as you will ever see. He showed outstanding concentration on the play. His other TD catch was almost as good. He also had a very good diving catch on a low pass.
Brown shows a very good release and is quick in and out of cuts. Though he dropped one ball in traffic, he showed very good ability to compete for the ball in a crowd. I didn't get a good opportunity to grade his run after catch skills in this game. Overall, Brown has come on the last 2 games with 9 catches. With what he showed Thursday, he should be a big part of San Diego's passing game in the future. This is a talented receiver and earns an "A" for the game.