November 25, 2011 -
Greg Gabriel
NFP Week 11 Rookie Report: Three Smiths
With this week's edition of the Rookie Report, I am able to do something I haven't done in the past and that's write up players for two games instead of the usual one. Because both Baltimore and San Francisco played each other last night I was able to see the last two games of each club. I had the opportunity to write about two players I haven't yet seen this season -- Jimmy Smith of Baltimore and Aldon Smith of the 49ers. I will also write about Torrey Smith, who we have talked about in the past but also played very well the last two weeks.
Torrey Smith – Baltimore
In a tough defensive game, Torrey didn't put up big numbers last night, catching 2 passes for 23 yards; he also drew an interference penalty on a deep ball setting up a score for the Ravens. Last Sunday versus Cincinnati he had a breakout game with 6 catches for 165 yards and a touchdown.
Torrey has shown great improvement since the beginning of the year. His route running is much better and he just seems more comfortable as he gains experience. He has great speed to go along with very good body control. He is very quick getting in and out of cuts and shows an extra gear going after the ball. What I really like is his ability to adjust to the ball in the air. He tracks the ball well and then always catches the ball in his hands. With his speed and run instincts he is very dangerous after the catch. The skill I see where he needs to improve is his downfield blocking. There have been a couple of times in the last two games where a good block would have helped a teammate pick up extra yards. Overall, Torrey Smith is quickly becoming a big time threat for the Ravens offense. He is an excellent complement to Anquan Boldin with his big play potential. With Lee Evans back healthy, the Ravens offense should be able to put up a lot of points the rest of the season. Torrey gets an "A" for his play the last two games.
Jimmy Smith – Baltimore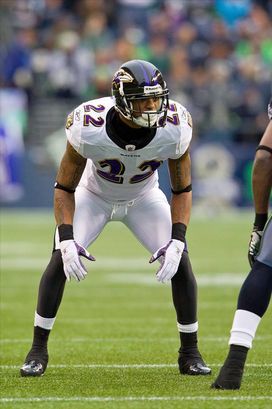 ICONJimmy Smith has worked his way into the lineup as the Ravens' nickel corner.
Jimmy Smith missed most of the first half of the season with an injury, but has since worked his way into the lineup as the Ravens' nickel corner. When the Ravens go to their nickel package, Smith lines up at left corner and Ladarius Webb moves inside to cover the slot receiver. Smith struggled versus Cincinnati, misreading a route and giving up a 49-yard touchdown. He also made a nice play to get an interception but fumbled the ball right back when he didn't secure the ball while running after the pick. In the Bengals game he played a bit too cautious, giving up some plays underneath but I thought his play was more aggressive versus the 49ers. He was much more disciplined in zone coverage, keeping good position and not giving up any big plays. He also showed a good jam to redirect receivers. He is an excellent athlete who stays low in his pedal and can turn quickly. Many tall corners can be a little slow in transition but not Smith; he can come out of his pedal and break on the ball very quickly and without extra steps. In run support he is instinctive, again keeps good position, uses his hands well to shed and is a sure tackler. If I was just grading the Bengals game I would have given Smith a "C" but because his play was much better versus San Francisco he earns a "B" overall.
Aldon Smith – San Francisco
Smith, the 49ers first-round pick, lines up at outside linebacker in their 3-4 scheme. When they go to their sub package, he plays as a defensive end lining up both in a 3 point and 2 point stance. Aldon is not a starter but will get some snaps in their base defense in a rotation with Parys Haralson. To date, Smith has shown excellent pass rush ability with 7.5 sacks in 11 games. He has a very quick first step to go along with excellent speed. He does a nice job dipping his shoulder trying to work under his opponent. With his body control he does a nice job working loop stunts to the inside. He also shows a good bull rush and a counter move to the inside after starting outside. For a rookie he uses his hands well and does a good job keeping blockers off his body. Though he doesn't have great size at 6-4 and 255 pounds, he has speed, power and explosion. He shows good hustle in pursuit to chase plays down.
While he was able to show his pass rush skills last night getting some pressures, there were two plays versus the run that I really liked. Both times he read run quickly, was able to slip blocks and move inside to make the tackle. It's that cat-like quickness that makes him dangerous. Overall, Smith is just scratching the surface as to how good he can be. He's a young player having left college after his junior year. As he gains experience he will keep improving. He gets a "B+" for his play the last 2 weeks.