September 20, 2011 -
Barry Dorey
NFP Week 2 rookie report card
This week, we will take a look at rookies who played a part in two games: Buffalo's 38-35 win over the Raiders and the Dallas Cowboys' 27-24 overtime win at San Francisco. Buffalo really only had one rookie make a significant contribution in its win and that was first-round pick Marcell Dareus. For the Raiders we will take a look at two players, second-round pick Stefen Wisniewski, who starts at guard, and fifth-round pick Denarius Moore, who started at wide receiver. In the Dallas game we will talk about its first-round pick Tyron Smith.
Marcell Dareus
Dareus starts at left end in the Bills base 3-4 defense. When they go to their nickel package he moves inside to left tackle. He played a very steady game with 4 tackles; I had him for a couple quarterback pressures as well. Dareus is an excellent run defender. He is very stout at the point of attack with quick reactions and instincts to find the ball quickly. He displays quick hands to shed blocks and make plays. With his strength and power he is able to get penetration and be disruptive.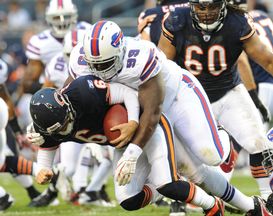 Marcell Dareus should be a fixture on Buffalo's defensive line for years to come.
The thing I really like about him is his competitive nature. He plays at a high intensity level, is physical and doesn't stop until the whistle blows. He hustles in pursuit and made some pursuit plays. As a pass rusher he gets a good push and showed a nice rip move with a redirect to get a pressure. Like most rookies, as he gains playing experience his pass rush skills will improve. He earns a solid A- for this game and I see him as the player that will be the eventual cornerstone of the Buffalo defensive line.
Denarius Moore
Moore got his first start Sunday and came up big. He finished the game with 5 catches for 146 yards (29.2 average per catch) with a TD and 1 rush for 25 yards on a reverse. Moore is a tall, slender receiver with long arms and outstanding speed. He got open deep twice and came up with excellent catches both times. The first was inside of 2 minutes in the first half for a 42-yard gain that set up a Raiders touchdown. The other was his TD catch late in the game that gave the Raiders a short-lived lead. It was a 50-yard play where he made the catch in between two defenders. He also had a 1-handed catch with a nice run after to get a first down. Early in the fourth quarter he showed his speed and run skills with a 25-yard gain on a reverse.
Moore showed strength and quickness getting off the line of scrimmage and excellent body control making sharp cuts and consistently getting separation. He is a good route runner with excellent hands and concentration. If this game is an indication of his talent then the Raiders got a 5th round steal. He easily earns an A+ for his work in this game.
Stefen Wisniewski
Wisniewski, a 2nd round pick, starts at left guard for the Raiders. He won the starting job early in camp and showed why in this game. Wisniewski isn't a spectacular player, just a steady workman-like type who plays with consistency down after down. He is strong and a good technician who can play equally well at the line of scrimmage and in space. He gets off the ball quickly and shows his power on contact. He is able to get movement with his run blocks, stays on his feet and is good getting to the second level. When asked to pull or get out in front of a back on a screen he shows he has the athleticism to adjust on the move to make a solid block. In pass protection he shows good hand use and a good punch, plays with bend and can anchor. While he is a rookie playing in only his second NFL game he looks more like a veteran with his consistency. He earns an A- for his play this game and it's obvious the Raiders got themselves a very good player.
Tyron Smith
Before last April's draft, many of the draftnik publications were questioning Smith's size and mental capacity to play in the NFL. That may have been the case in the draftnik community but surely not in the NFL. Smith was the "hot" offensive lineman going into the draft and ended up being the first one taken when the Cowboys selected him at 9. In Sunday's game versus San Francisco he proved why.
Smith starts at right tackle; he has size and excellent strength. As a run blocker he is very powerful. There had to be at least 5 run blocks where he was able to easily turn and seal off his opponent — you don't see that from many veteran blockers let alone a rookie. He is explosive with excellent leg drive and consistently gets movement. I only counted one run play where a coach may have given him a minus for the play — he was that consistent! He is good in space and easily gets to linebackers and can adjust. In pass protection he may already be one of the most athletic right tackles in the league. He is very quick, has excellent agility and easily recovers when his opponent tries a counter move. He plays with his back straight, has quick hands, a strong punch and good ability to anchor. He's really a natural knee bender. There were a few plays when he "jolted" his opponent with his punch. Like his run block production, I only saw one pass play where you may grade him a minus.
Needless to say Smith earns an "A" and if he keeps playing this way he is going to develop into one of the top tackles in the game. This kid can play!