September 27, 2011 -
Barry Dorey
NFP Week 3 rookie report card
Going into the season, the general thought was that rookies would not be a big factor early this season because of the lockout and lack of offseason practices. That thought has proven to be wrong, and reality is that there are a number of first-year players who have already made significant contributions.
Going into Sunday's games I was planning on evaluating Blaine Gabbert's first NFL start but when the Jacksonville–Carolina game was played in horrible wet conditions I didn't feel it was fair for me to write up that game. With that being said, the games I did view were New England's loss at Buffalo and Pittsburgh's close win at Indianapolis. There are five rookies that we will talk about in those two games: Anthony Castonzo, Drake Nevis, Marcus Gilbert, Nate Solder, and Stevan Ridley.
Marcus Gilbert
Because of an injury to Willie Colon, Gilbert got the call at right tackle for the Steelers. Gilbert was the Steelers second-round pick. He has great size, long arms and good natural strength. His first NFL start wasn't easy, having to go against one of the better pass rushers in the league in Robert Mathis. Mathis may be undersized, but he is very quick and explosive and an excellent technician. Needless to say, Mathis gave Gilbert all he could handle, but in fairness to the rookie he held his own in the battle.
While Gilbert has great natural size and strength, he does not bend that well and can play a bit straight legged. Because of that Mathis was able to get under Gilbert causing him to overextend at times. Gilbert only gave up one sack to Mathis, but he also give up some pressures. He was at his best versus the bull rush where he was able to use his size and natural power to his advantage. In the run game, he can get tall; but again, because of his size was able to get some push. His play in space was inconsistent and he didn't always take good angles to the second level and adjust well to movement. I thought his hand use was just average and there were more than a few times when he didn't keep his hands inside.
In the third quarter, Gilbert left the game with a shoulder injury, but had to return for Pittsburgh's last drive because of an injury to left tackle Jonathon Scott. While he only had to play 3 plays he did show his toughness and did a good job run blocking on the plays. Going into the draft, there were some scouts who questioned Gilbert's toughness. After Sunday I don't see that as a problem; his competitive attitude during the game was good. He earns a "B-."
Anthony Castonzo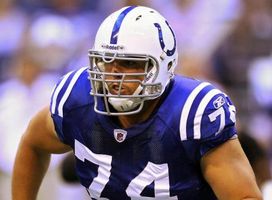 Anthony Castonzo had a tough matchup with James Harrison this past weekend.
Just as Gilbert drew a tough assignment in having to block Mathis, Castonzo had just as difficult of an opponent for most of the game in All-Pro James Harrison. I watched this matchup closely and Castonzo more than held his own for a good part of the game. Castonzo has excellent athletic ability for a tackle; he can move his feet, recover and bend. He also has very good hand use for a young player. Last year when Castonzo was at Boston College, I liked his pass blocking ability but questioned if he had the power to be a consistent run blocker at the NFL level. He proved me wrong Sunday night. In the run game, Castonzo gets off the ball quickly and has good leg drive. There were a few plays when Harrison was able to create a stalemate but overall I felt he did a good job. He also showed good ability to get to the second level.
In pass protection, Castonzo's overall play was good. Harrison was able to bull rush him a few times and push him back but overall I felt Castonzo's ability to anchor was good. For the most part he showed good hand use with a strong punch and was able to keep good position versus counter moves. As good as he was for most of the game, he gave up a sack to Harrison in the 4th quarter where the quarterback fumbled and the Steelers were able to recover it and take it in for a TD. Overall, I like Castonzo's toughness and the way he competes but he did give up the sack that gave the Steelers the lead, so he earns a solid "B."
Drake Nevis
Nevis was the Colts third-round pick from LSU. Though not a starter at defensive tackle he plays in a rotation and plays just about half the defensive snaps. I felt he had a strong game, finishing with 3 tackles and a couple quarterback pressures.
Nevis is a short, stocky player who is more quick than fast and very explosive. He gets off the ball quickly and with his quickness and power is able to get penetration on a consistent basis. He has an all-out motor and competes to the whistle. Nevis has good instincts, finds the ball and does an excellent job holding the point of attack. He seldom gives ground to his opponent. He has quick hands and does a good job keeping blockers off his body. As a pass rusher he doesn't have a lot of moves, but he has good balance, gets a push and is able to get a burst to the quarterback. He earns a "B+" for a very steady game.
Nate Solder
Solder played left tackle in college but is playing right tackle for the Patriots this year. This is not unusual, as many clubs start off rookie tackles on the right side and then move them over to the left side their second year. Solder is tall and long with good bulk and play strength. He has a good base and balance and stays on his feet. He showed good snap reaction and initial quickness doing a good job getting to his blocks. Though he is a tall guy, he plays with good bend and is able to stay low on run blocks. He has adequate power to get some movement with his blocks. Buffalo does not have a lot of speed rushers so Solder didn't have to deal with that, and he showed good overall positioning and hand use while pass blocking. He does give some ground at times versus a bull rush but he shows he can sink his hips and anchor. I thought his overall play was very consistent but he did get called for holding once, negating a long pass play. Overall, I felt Solder played a very steady game and has a bright future for New England. He earns a "B+."
Stevan Ridley
Ridley is a backup running back who only played a few snaps in the first half but got a lot of playing time late in the game and finished the game with 6 carries for 42 yards and 1 reception for 8 yards. Ridley is not a speed guy, but he has good quickness to go along with power. He has good initial quickness and shows good instincts to find an open lane. He runs with good lean and has the power to get yards after contact. He has quick feet and good balance and shows a quick burst after a cut. I didn't get an opportunity to grade his pass blocking but he caught the ball well on his only reception attempt. In a limited exposure he earns a "B".