October 06, 2011 -
Greg Gabriel
NFP Week 4 rookie report card, part II
In the Tampa Bay–Indianapolis game Monday night there were a number of rookies who got significant playing time. In this edition of the rookie report card we will look at some of those players.
Adrian Clayborn – Tampa Bay
Clayborn starts at right end for the Bucs and plays in a rotation but still plays about 75 percent of the snaps He is a bit short for a defensive end at 6-2 and has only 32.5-inch arms but he is both quick and fast. At the Combine he weighed in at 281 and the Bucs list him at 287 but he doesn't look that big; he looks more like a 270-275 pound type. He finished the game with 2 tackles, 1 sack, a tackle for loss and a couple pressures. The best thing Clayborn does is rush the passer. He gets real low in his stance and has an explosive first step. He stays low and shows the ability to dip his inside shoulder to get under his opponent and turn to the quarterback. He plays pass first and can be relentless. More often than not he tries to utilize his speed to rush from the outside but he did show a swim move to counter back inside and has a good bull rush. He also works stunts well with either a linebacker or a defensive tackle. As well as he rushed the passer, he is just average versus the run. There were a few plays where he got knocked 2-3 yards off the ball and he didn't show the ability to consistently shed quickly versus run blocks. At this stage of his career, he thinks pass first, run second. In order to become a dominant defensive end he is going to have to improve his run support. Overall, this is a player with a lot of talent and plenty of upside. I like his pass rush potential and he plays hard. He is going to have to improve his run support. He earns a solid B+.
Da'Quan Bowers- Tampa Bay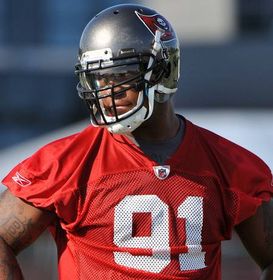 Da'Quan Bowers
Bowers was the Bucs 2nd round pick. A few months before the draft he was looked at as a possible top 5 selection but concerns over a knee surgery dropped him to the 2nd round. That being said, he is still a first round talent. He lines up as a reserve left end but plays in a rotation and plays about 40 percent of the defensive snaps. He has good size at 6-3 and 280 with long arms. Like Clayborn he has speed and explosiveness. He finished this game with 2 tackles and a pass broken up. He also had at least 2 quarterback pressures.
Bowers has good snap reaction to go along with a quick first step. As a pass rusher, he didn't have a sack but he was disruptive. On one bull rush he walked the offensive tackle right back to the quarterback forcing a bad throw. He also showed a quick outside in move to create pressure. I liked the way he played the run also. He was consistently able to get penetration and on one play he came from the backside to stop the back for little or no gain. While at Clemson, some scouts had concerns about Bowers' motor. Some said that he played hot and cold. I did not see evidence of that at all Monday night; he played hard every down he was in the game. Overall, Bowers has a bright future. With Clayborn and Michael Bennett to go along with Bowers the Bucs have a strong defensive end trio. Because of his strength and power, it wouldn't surprise me if the Bucs moved Bowers inside to tackle for pass rush situations. He could be an inside force. He earns a solid B for the game.
Mason Foster – Tampa Bay
Most clubs would be happy if they could hit consistent doubles with their premium draft choices (first 3 rounds). Tampa Bay may have hit 3 home runs and at worst a homer and 2 triples with their top 3 picks this year. Mason Foster, the Bucs 3rd round pick, is a starter at MIKE linebacker and through the first four games has been very productive. He has 26 tackles, 2 sacks and a forced fumble. At 6-1 and 245 he isn't the biggest MLB, but he has top instincts, hustles to the ball and is an excellent tackler. The one thing that impressed me was how good a blitzer he is. While he didn't have any sacks, he does an excellent job timing his blitzes and can get off blocks. He shows a good burst off of blocks to the quarterback.
When playing the run, he is a quick reactor, can shed on the move, keep his feet through trash and get to the ball. He plays the game with a nasty disposition. In pass coverage, he shows the ability to drop quickly and has good receiver awareness. Once the ball is in the air he has the skills to drive on the ball quickly. Overall, this is an impressive player who will only get better as he gains experience. He gets a B+.
Ben Ijalana – Indianapolis
Ijalana was the Colts 2nd round pick. He is not a starter but because first round pick Anthony Castonzo got injured early in the game, Ijalana had to fill in at left tackle. Ijalana played left tackle in college but may be more suited to play guard in the NFL. He lacks ideal tackle height at 6-3 but he has extremely long arms (36 inches) which help him make up for his lack of height. He has a thick build and plays with strength and power. The best thing I thought he did Monday night was run block. He gets off the ball quickly and shows excellent snap on contact. He stays low with good leg drive and was able to get movement. He is athletic and shows the ability to get to the second level and make a productive block. In pass pro he more than held his own most of the time but there were a few plays where he struggled some with wide speed. He showed a strong punch and the ability to anchor versus a bull rush. He has quick feet and can recover quickly back to the inside. Overall, Ijalana was playing at a consistent B level before he injured his left knee midway through the fourth quarter. Unfortunately the injury was a season-ending injury. Going forward, I see Ijalana as a guard in the Colts offense and he has the traits to be a top level guard in the league.