October 04, 2011 -
Barry Dorey
NFP Week 4 rookie report card
This week I was able to view a number of games so there will be two editions of the Week 4 Rookie Report. First up will be Atlanta at Seattle and then Detroit at Dallas.
Doug Baldwin – Seattle
Baldwin is a rookie free agent from Stanford and has been very productive thus far for the Seahawks. He has caught 12 passes for 194 yards and a touchdown. In Sunday's game he caught 5 passes for 84 yards and also had a drop. Baldwin has adequate size and speed but is very quick with excellent body control. He can get in and out of cuts quickly to gain separation. He has soft hands and does a great job adjusting to the ball and shows courage competing for the ball in traffic. He had a couple of outstanding catches in this game. He is an alert player who does a good job finding open areas and shows good run skills after the catch. Overall, Baldwin looks like he can become a good slot receiver in the Seattle offense and earns an A- for the game.
James Carpenter- Seattle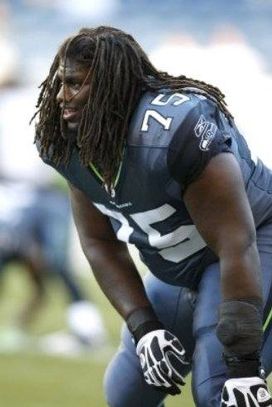 James Carpenter starts at RT for the Seahawks.
Carpenter starts at right tackle. He was the Seahawks first-round pick from Alabama. He has excellent size to go along with good athletic ability, balance and strength. His overall play was pretty good in this game but he did have some trouble with wide speed a few times. When this happens he tends to lunge and overextend some, losing balance. When he keeps good position he shows a strong punch and can control his opponent. He is not always quick to recover when his opponent tries a counter move and he did give up a pressure when his opponent showed a good bull rush. In the run game he shows good pop and works to sustain. He flashes the ability to turn and seal his opponent. Overall, I liked the way he played in this game. He has all the physical tools to be a good pro. He earns a B+
Julio Jones – Atlanta
This was Jones' best game to date as a pro. When I wrote him up after the Bears game I stated that while he had production in the game, much of it was after the game was decided. That was not the case in this game. He was a big part of the Atlanta offense with 11 catches for 127 yards. Jones has great size and excellent play speed to go along with a physical style of play. He has soft hands and consistently catches the ball away from his body. His body control is excellent and he is fluid getting in and out of cuts. After the catch he looks like a big running back with power and elusiveness. He is used both as a short and deep receiver and is an excellent compliment to Roddy White. He had one catch on a deep fly route where he made the catch with the DB all over him. In the run game he is a physical blocker and is always looking to make a block. He easily earns a A+ for this game and the best is still to come.
Jacquizz Rodgers – Atlanta
Rodgers plays as a backup and got 6 carries for 25 yards and 1 reception for 10 yards. Rodgers is a small back who lacks power. He is more quick than fast and needs some space to be effective. He is quick to the hole and has good instincts but usually goes down with the first tackler and does not have the power to get much yardage after contact. He can be effective as a receiver because he has good hands and a burst after the catch. His one catch came on a check down pass to the flat. I did not really see him used as a blocker and he lacks the size to be effective. Overall, he is a true specialist. He has to be used as a situational player, not a rotational player. While he may be effective for Atlanta this is not the type of back that I would draft. He earns a C+ for the game. Except for a 10-yard gain on one running play he did little else.
Titus Young – Detroit
Many readers have asked about Young, and Sunday's game was the first real chance I had to watch him. He didn't start out very well, with a drop on a crossing route in the first half but as did the whole Detroit team, he had a strong second half. He finished the game with 3 catches for 41 yards. The Lions play with a lot of two tight end, two wide receiver formations but when they go to three wide receivers Young is the player to go in. He is quick off the ball and an adequate route runner who can make quick cuts to get separation. He is used a lot on crossing routes and had a great catch with a good run on a high ball over the middle. He also made a nice catch on a comeback route. Two of the three receptions he made were leaping catches of high passes. As a runner, he doesn't have much power, but he gets to full speed quickly and with his burst can be dangerous. Overall, this is a talented player, he is still a bit raw as far a route running but he has speed, hands and courage. He should be an excellent addition to Detroit's offense. He earns a solid B+
Bill Nagy – Dallas
Dallas has had to deal with some injury problems on its offensive line and because of that Nagy got the start at guard against Detroit. Nagy was the Cowboys seventh-round pick from Wisconsin. Like most Wisconsin linemen he has been well coached. Nagy lacks ideal size but he is a tough kid with strength and competitiveness. In the run game, he gets off the ball quickly and shows some pop on contact but often got stalemated in this game. He doesn't consistently run his feet after contact. He takes good angles to the second level but lacks ideal quickness to always get to the block. This was also apparent on some pulls where he was unable to get in front of the back. In pass protection he was alert and showed good hand use. He plays with adequate knee bend and was able to anchor. He was fairly productive more because of his competitiveness than talent. Overall, Nagy didn't play badly but he has limitations. As he gains more play time, clubs will find his weaknesses and attack them. I see him as an adequate backup but not a player you want to be an every game starter. He earns a C+.
Tyron Smith – Dallas
I wrote up Smith a few weeks ago and until the last Dallas drive of the game he played similar to how he played the first time I saw him. Smith is very strong and can be physical. He has good hand use and can be a powerful run blocker. In pass protection he has a good punch, excellent range and can mirror. On Dallas' last drive, he didn't have his feet set when Willie Young tried to bull rush him and the result was Young ran right through Smith and got a sack. Outside of that play, Smith played a very consistent game. In my opinion he will be a future Pro Bowl type player. He earns a B only because the sack basically took away any chance of Dallas being able to tie or win the game.