October 12, 2011 -
Greg Gabriel
NFP Week 5 rookie report card, part II
Week 5 saw two of the highly drafted rookie quarterbacks play against each other. Blaine Gabbert of Jacksonville faced Andy Dalton of Cincinnati in Jacksonville. In fairness to both players the game was played in less than perfect conditions with on and off rain and strong winds but the conditions were the same for both and Dalton won not only the game but the competition between him and Gabbert. Let's break down their play as well as the play of Cincinnati rookie receiver A.J. Green.
Andy Dalton
Looking at the stats, Dalton didn't have a great day, completing 21 of 33 for 179 yards, 2 touchdowns and 1 interception. At times he looked frustrated and made some poor decisions, but overall, he showed a lot of poise and made plays when it counted. His two touchdown throws came on third and long situations and on the game-winning drive he hit tight end Jermaine Gresham for a 9-yard gain on a 4th and 6.
Dalton doesn't have a great arm but he throws a tight ball and is accurate. With 5 regular season games under his belt he looks more confident each outing. In this game he was under pressure most of the game yet stayed calm and was able to find an open target. He is good at going through a progression and doesn't stay with his primary receiver. He did force a few throws and was lucky they weren't intercepted. On the interception he threw, he underthrew his receiver on a deep route and the ball was picked. The wind did have something to do with the ball being underthrown.
While Dalton is a good athlete, he is not a threat to make many plays with his feet but he can keep a play alive. He seems to be in command and is allowed to audible at the line of scrimmage. Overall, I have watched Dalton play a number of times over the last 3 seasons and I always like what I see. While there are others who have better physical traits, he is a leader and a playmaker. With experience, he will be a consistent winning quarterback in the league. For this game he gets a B+ because he came up with big plays when he had to and won the game.
A.J. Green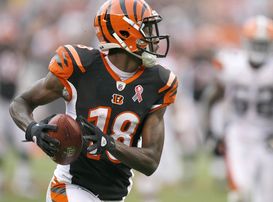 A.J. Green caught 5 passes for 90 yards and a touchdown on Sunday.
Green was the Bengals first-round pick and the 4th pick overall in the draft. As I have stated many times, I personally liked Julio Jones a little better because he was a better athlete and played a more physical game but that's not to say that I disliked Green. Green is a great talent, is tall, long and athletic with above-average speed. He is quick off the line and does a good job avoiding or working through a jam. He is a good route runner who has excellent body control and can get in and out of cuts quickly. He is tough and courageous and has no trouble competing for the ball in traffic. He is productive both short and deep and is a good runner after the catch. In this game, he was targeted 8 times catching 5 for 90 yards and a touchdown. On the touchdown play, he ran a nice double move route to break open deep and then adjusted well to the ball. He also went up between two defenders on a slant route to make a catch. The only thing I haven't seen from him so far this year is good blocking skills. I'm not saying he isn't a good blocker. I just haven't seen him do it. Overall, I think that Green is on the way to becoming and excellent NFL receiver. In 5 games he has 24 catches and 3 touchdowns, putting him in position to have some top rookie numbers. He gets an A- for this game.
Blaine Gabbert</strong>
As many of you already know, I have never been a big Gabbert fan. I agree that he is talented and should turn out to be a good pro, but I felt he was overhyped and was not the 10th best player in the draft. That being said, Jacksonville felt he was and pulled the trigger.
Gabbert has great size, very good speed and has excellent arm strength. I felt and still feel that he is not as good an athlete as his numbers say. To me he is a bit of a straight liner. Also, when doing tape on Gabbert I found he didn't have top instincts and wasn't a quick thinker on his feet. There is nothing he has done to date to make me change my mind.
On Sunday and from what I have seen so far this season, he plays best from the shotgun where he can see the field better. I think that I some throws he has predetermined reads and tries to get the ball to that receiver quickly. He has shown that he can do this well. Where I feel he struggles is when he has to go to secondary receivers, he is not real quick to find the open secondary receivers. When he has to go to these receivers he will force the ball at times or his accuracy is off. In the four games he has played he has only completed 49 percent of his passes. In Sunday's game he was 15 of 28 for 221 yards and 1 touchdown. The touchdown pass was a good throw and accounted for 74 of his passing yards but it was also a blown coverage by the Bengals and there was not a defender within 17 yards of the receiver.
He did a good job finding a check down on a couple of scrambles and got the ball out quickly but he also misfired on some short passes where receivers were open. He can have a tendency to hurry his throws when pressured. Except for the touchdown throw, the Jags were pretty much unable to move the ball in the second half and that is why they lost. Much of that has to go on Gabbert.
Overall, I know I'm being hard on him and I know that he has done some nice things. But at the same time, Cam Newton has put up unbelievable numbers with less talent surrounding him. Why is that? Gabbert should develop into a good pro but I don't think he will ever be a top quarterback in the league. There have been many QBs that have had great physical traits but haven't been able to get it done. Over the next few years we will find out if Gabbert is one of them.