October 18, 2011 -
Barry Dorey
NFP Week 6 rookie report: Breaking down Ponder
In this first of two editions of the rookie report card, I will look at the performances of Christian Ponder of Minnesota, J.J. Watt and Brooks Reed of Houston, and Torrey Smith of Baltimore.
Christian Ponder – Minnesota
In the Vikings loss Sunday to the Bears, Ponder got his first taste of regular season NFL action playing the entire 4th quarter. Granted, it was not the most ideal situation to make a debut, but he made the most of it and I thought played well. He faced a lot of pressure from the Bears front 7 and handled the pressure well. He finished the game completing 9 of 17 passes for 99 yards. He showed arm strength that was better than I thought he had while at Florida St. He made quick reads, got the ball out of his hand quickly and for the most part was accurate. What I liked the most about his game was his poise under pressure and his ability to keep plays alive with his feet. There were more than a few times when he was able to step up in the pocket while under pressure, find the open man and deliver the ball with accuracy. With his speed and athleticism he was able to escape pressure and either keep a play alive or make positive yards with his run skills. He has excellent speed and athleticism for a quarterback.
Overall, it was an impressive debut for Ponder. In fact, he played so well that he may get an opportunity to play in future games earlier than expected. It will be interesting to see if in the coming weeks he gets more reps in practice, a sure sign that they are willing to play him. He gets an A- for his play versus the Bears.
Torrey Smith – Baltimore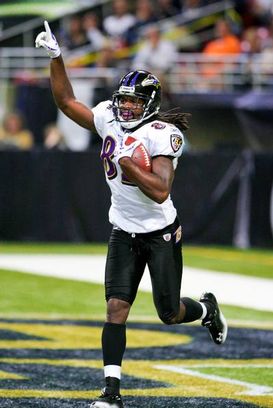 ICONTorrey Smith caught 3 passes for 84 yards in the team's 29-14 win this past weekend.
Smith, the Ravens 2nd round pick, had a productive game Sunday against Houston. He caught 3 passes for 84 yards in the team's 29-14 win. He had another catch for an apparent touchdown but it was ruled that both feet did not hit inbounds. Smith has outstanding size for a receiver at 6-0 and 205 pounds. He timed 4.42 at the combine and many thought he would run even a little faster. He has a good frame and plays with strength. The one concern that some scouts had was he had small hands and was a body catcher at times. That was not evident in Sunday's game. Each of his 3 receptions was cleanly caught in his hands and two of the catches were made after an outstanding adjustment to the ball. Smith showed the ability to get separation on all his routes, showing good body control and a quick burst out of his break. I was unable to grade his run after catch skills. As a blocker he showed a good willingness.
Overall, with veteran receiver Lee Evans injured, Smith is proving to be a good complement to Anquan Boldin, as he has 9 catches for 237 yards in the last 3 games. While I doubt he will ever be a number 1 receiver, he surely has the tools to be an excellent number 2 and a consistent deep threat. He gets an A- for his play Sunday.
J.J. Watt – Houston
Watt is a starter and plays both defensive end positions in the Texans 3-4 defensive scheme. He has excellent size for a 5-technique player at 6-5 and 290 pounds with long arms, strength, power and a frame to easily get to 300–305. He plays in a rotation but still gets more than half the defensive snaps. The one trait I loved about Watt when he was in college was how he played the game. He showed a non-stop motor on every play. He has carried that over to the NFL and there is never a play when Watt isn't hustling. He has good instincts to find the ball and the strength and power to hold the point. He gets off the ball quickly and usually gets some penetration but will get tall at times. He has strong 2 gap skills with quick hands and can control a blocker. As a pass rusher he shows a good edge rush and has the body control to come back with a counter move. When he stays low he gets an excellent bull rush with his push. Overall, Watt is a perfect fit for Houston's defensive scheme. He is still a young player and is only beginning to scratch the surface of how good he can be. I look for him to be a dominant defensive lineman in the league for years to come. He earns a B+ for his play Sunday,
Brooks Reed – Houston
Reed lines up at outside linebacker in Houston's 3-4 defense. Like Watt, he plays both sides. He also will put his hand on the ground and be used as a defensive end in some pass rush situations. He has good size for a 3-4 OLB at 6-2 and 264 pounds and excellent straight line speed. He timed under 4.7 at the Combine.
Like Watt, Reed plays hard every down. He is instinctive and quick to find the ball. He has an aggressive style of play and makes plays. He finished Sunday's game with 6 tackles (3 solo), 2 QB pressures, a hit on the QB and a broken up pass. He is not the most fluid athlete, he has some tightness in his hips and looks to be a bit mechanical but he overcomes that with his aggressive style of play. He is not used in coverage that much but shows he can get depth in his drops and has awareness. He is best playing along the line of scrimmage and attacking. When rushing the passer he shows quick hands and can dip his shoulder to get under his opponent and turn the corner. He can be relentless when used as a pass rusher. Overall, Reed is an ideal rush outside linebacker in a 3-4. Pass coverage will never be his forte, but used the right way he should become a feared edge pass rusher. He earns a B+.