October 20, 2011 -
Barry Dorey
NFP Week 6 rookie report card: Dolphins-Jets
In this edition we will look at the play of Daniel Thomas, Mike Pouncey and Clyde Gates of the Dolphins and Kendrick Ellis of the Jets.
Daniel Thomas – Miami
Thomas was the Dolphins 2nd round pick out of Kansas State. He is a big back with quickness and power. While his stats were just average in the game versus the Jets, he played better than his stats would indicate. He finished the game with 15 carries for 47 yards and caught 1 pass for 12 yards.
Thomas is a quick starter with good lean. He has good vision and instincts and makes good decisions with the ball in his hands. He runs with good lean and has the balance and power to get yards after contact. The one thing I liked is he never stops his feet and is always looking to get extra yards. He can make a cut in the hole and has the quick feet and hips to make defenders miss. In the pass game he shows good hands and gets up field quickly after the catch. He is a willing blocker who will face up and is aware to pick up blitzes. Overall, I like Thomas' game. He looks like he will be a productive back for the Dolphins in the future. He earns a B.
Mike Pouncey – Miami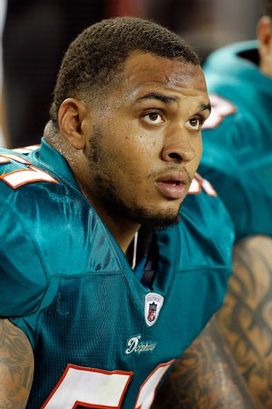 Dolphins center Mike Pouncey
Pouncey was the Dolphins first round pick out of Florida and stars at center. He has good size, strength and power. He is athletic with speed and the ability to move his feet and bend. He plays well both in tight and in space. In the Jets game he was best as a pass blocker. He sets quickly and plays with a good base. He keeps his hands up, has a strong punch and can recoil and punch again quickly. He is strong in both the upper and lower body, plays with good knee bend and can anchor. He does a good job helping out other linemen when free. In the run game he is a tenacious blocker who consistently works to finish. Though he is strong and kept his feet moving he was inconsistent at getting movement in the Jets game. The Jets have a big defensive line and they can be very difficult to move off the ball. He did a good job getting out to linebackers and showed on a screen pass that he could play in space, adjust on the move and make a productive block. Though Pouncey is good, he is not as good as his brother in Pittsburgh. Still, he should be a player the Dolphins can win with and should have a productive career. He earns a B+.
Clyde Gates – Miami
Gates is an over-aged rookie from Abilene Christian. He was one of the fastest receivers at the combine and has very good body control but is still raw. Gates plays as a backup and had 3 passes thrown his way in the game with no catches. He dropped a ball on a 3rd down out route in the first quarter. The other two passes were deep routes that were overthrown.
Gates has average strength and wasn't consistent getting off a jam. With his speed and body control he showed the ability to come out of cuts quickly. He also returned kickoffs, returning 4 kicks for 87 yards. He showed speed as a returner but average instincts and he lacks top power. I think he can be an adequate returner in the league but I didn't see any special ability. He earns a C+ for this game.
Kendrick Ellis – New York Jets
Ellis got his first taste of regular season NFL action in the Miami game. He had not played in the Jets previous games. Ellis is a huge man with very good natural strength and power. He has some quickness but he is a short strider and doesn't show much play speed. He lined up at both end positions in the Jets 3-4 and played mostly on run downs. He is a good run defender who finds the ball and can shed blocks quickly. Because of his size and power he is very difficult to move off the ball and can easily handle two blockers. He has a quick first step and was consistently able to get penetration and disrupt some Miami run plays. He finished the game with 3 tackles in a limited role. He only had a few opportunities to rush the passer and showed only a bull rush. Though his pass rush skills are limited, he is able to sink the pocket. Overall, used in the right way, Ellis can be a force. I don't see him as a fulltime player at this time but he can be very productive as a role player. He earns a B.