October 27, 2011 -
Barry Dorey
NFP Week 7 rookie report card: Raiders-Chiefs
In part 2 of our weekly series on rookie play I will look at some of the rookies who played this past weekend for Jacksonville, Oakland and Kansas City. Like the Cleveland-Seattle game, the Baltimore at Jacksonville contest was a defensive struggle with neither offense able to move the ball very well. In the Kansas City – Oakland game, Carson Palmer made his Raiders debut only because Kyle Boller struggled in the first half throwing three interceptions. With only having three days of practice, Palmer also struggled.
In both games there were a number of rookies who got significant playing time.
Blaine Gabbert – Jacksonville
Yes I know Jacksonville won the game, but it wasn't because of the play of Gabbert. He had a very average day, completing 9 of 20 passes for only 93 yards with no touchdowns or interceptions. For the season, Gabbert has completed 48.3 percent of his passes with 4 touchdowns and 2 interceptions. I will agree that he has all the physical tools; he's tall and athletic with a very strong arm. He has a good release and has shown the ability to make some nice throws. I have watched Gabbert in three games now and since the Carolina game was in a heavy rain I tend to throw that game out. A lot of the problems I saw on tape of Gabbert last year at Missouri I still see now. All a team has to do is pressure him up the middle and he rattles. He lacks patience, doesn't know how to step up in the pocket and struggles going through a progression. His accuracy is average at best. He will make a few great throws but too often his passes aren't close. I understand he is a rookie and he is going through growing pains but so is Andy Dalton and Cam Newton and their production is far superior. I look for a rookie to grow with every game and I haven't seen that with Gabbert. I can't give him more than a C+ for this game.
Will Rackley – Jacksonville
Last spring before the draft I wrote an article about Rackley's talent. I said that he was a dominant FCS tackle who will have to play inside at the NFL level. With that being said, I was looking forward to watching Rackley play this year. After watching his play versus Baltimore I will say that he is playing better than I thought he would this early in his career. I watched every play Monday night and I only saw two plays where I would say he deserved a minus grade. On one pull he didn't locate his block nor did he adjust well, on the other he was knocked back a couple yards on a run play in the red zone. Take away those two plays and he was impressive.
Rackley is a powerful man with snap on contact. Baltimore has an outstanding defensive line yet Rackley more than held his own. He was able to get movement with his run blocks, showed ability to play in space on pulls and mirrored and anchored in pass protection. He has excellent balance and stays on his feet and he consistently looks to finish his blocks. What's nice to see is how physical and competitive he is. I think it's fair to say that he may be the best small-school guard to come into the league since Jahri Evans, and he may turn out just as good! He earns an A-.
DeMarcus Van Dyke – Oakland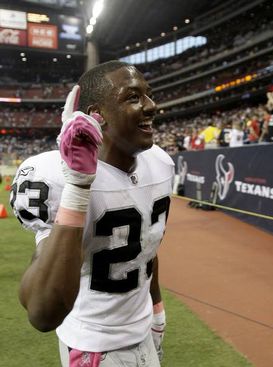 Oakland's DeMarcus Van Dyke has the tools to be a top NFL CB.
Van Dyke starts at right corner for the Raiders. From a speed and athletic point of view he has everything a scout looks for in a corner. He is extremely fast with loose hips, a quick pedal and fluid movement in transition. He can line up and play press or play off and show good mirror ability. He flashes good hitting ability on receivers and wraps when he tackles. What I didn't like is he is very average in run support. In Sunday's game versus Kansas City there were more than just a few times when he was more passive than aggressive against the run. He had opportunities to come up quickly and lay a hit on the runner and didn't do it. Still, he had 4 tackles in the game but could have had more. I like his mirror skills in coverage, but I question his ball skills. He had an interception on an overthrown ball, but there were a couple of plays where he was late to react to the ball in the air and gave up completions on passes he could have broken up. I know I am being hard on him but this is a talented player who has the tools to be a top corner in the league. To be a top player at that position, you have to have strong mental discipline. I question if Van Dyke has that yet.
Based on what I have seen so far, Van Dyke is having a good rookie season and his overall play Sunday was fairly good, he just has to develop down after down consistency and make the plays he is capable of making. He gets a B but was capable of getting an A in this game.
Taiwan Jones – Oakland
Jones was a 4th round pick from Eastern Washington. He doesn't have great size at 5-11 and 195 pounds but he has excellent speed and quickness. Before the draft, there were some clubs who felt he could be a good corner, but the Raiders see his future at running back. With his lack of top size and power he may never be a fulltime back but he has the traits to be a very good change of pace type back with some home run ability.
In Sunday's game he ran the ball 3 times for 18 yards and caught 1 pass for 30 yards and had a drop on a crossing route. He gained 14 yards on one stretch play showing the burst to get the corner turned. While he has excellent speed, he runs a bit tentative. It's not that he isn't physical but more because he just doesn't trust what he sees. That seemed to be the case on both his 30-yard reception on a screen and the outside run. While he had very good gains on both plays with his speed, with quicker reactions he could have had more. On the dropped pass he looked to run before he secured the ball. Coming from a small school background, Jones is still a work in progress. He needs to add some bulk and become a more confident runner. For this game he gets a B- because he left some yardage on the field and had the dropped pass. With experience and confidence, I look for Jones to be an important part of the Raiders offense in the future.
Jon Baldwin – Kansas City
Baldwin broke his thumb during the preseason in a fight with a teammate and wasn't able to play until this past Sunday. He doesn't start but plays in some of KC's 3 and 4 wide receiver packages. On Sunday he lined up in the slot most of the time. He was thrown to 5 times and caught 1 for 14 yards; he also had 1 drop. On his catch he lined up in the slot and ran a short hitch, catching the ball about 4 yards short of the first down. He turned quickly to get up field and used his size and power to get the first down. He was open once on a deep crossing route but the quarterback didn't see him. On his dropped pass the ball was thrown slightly behind him but he should have caught it. All told, his route running was adequate. He uses his size effectively and has a good burst out of cuts. Overall, it's hard to grade a player when he only has 1 catch but I did watch his route running. He has the size, speed and athleticism to be a productive receiver in the NFL. He has been hurt by the missed time but now that he's ready to go he has to step up to the plate and hit so to speak. He earns a B- for his play.