October 25, 2011 -
Greg Gabriel
NFP Week 7 rookie report: Seahawks-Browns
If you like offensive football, Seattle at Cleveland was not the game to watch this past weekend. In a game that saw some excellent defensive play, Cleveland held on to win 6-3. The good news for the Cleveland offense was that it was able to hold on to the ball for almost 43 minutes. The bad news was they couldn't complete drives and get into the end zone and they also had two field goal attempts blocked. Still, their defense was outstanding as was Seattle's.
The game saw a number of rookies get significant playing time. Let's take a look at some of them.
Greg Little – Cleveland
Little was a 2nd round draft choice form North Carolina. He missed all of the 2010 college season because of an NCAA suspension. While at North Carolina he played both running back and receiver, so with the missed season and having played two positions he is still raw.
He has great size and better than average play speed. He looks more like a big running back than a receiver. In this game he was used mostly on short out routes from the slot and a few crossing routes. He was thrown to 7 times, catching 5 for 31 yards and also had a drop. Except for the drop he showed very good hands, showing the ability to snatch the ball away from his body. Once he gets the ball in his hands, he is like a running back with a burst and power. On one crossing route, he caught the ball in traffic 3 yards short of the first down marker and was able to run through two tacklers to get the first down. As a route runner, he is still raw, but has the body control and athleticism to make sharp cuts and get some separation. I only saw one route where he was used somewhat deep so I can't grade that part of his game. Overall, Little did all that was asked of him in this game. He caught the ball well and got some yardage after the catch. As a blocker he is willing and fairly productive. His lone poor play was the drop on a very catchable ball. He earns a B+.
Jason Pinkston – Cleveland
Pinkston was a 5th round pick for the Browns from Pittsburgh. He starts at left guard and plays well. In Sunday's game he got off to a slow start, getting shed quickly a few times by his opponent who made the play. But after that he settled down and played consistently. Pinkston is big and strong and an all-out competitor. He doesn't always get off the ball as quickly as he should but when he makes contact he is able to generate some movement and he consistently looks to finish. I only saw him in space a coupe of times, making a productive block on a short pull one time, but on another play he was not able to get out in front of the back an a short swing pass. In pass protection, he is able to mirror, bend his knees and anchor. He utilizes good hand placement and has the feet and recovery to stay in front of his opponent. The one thing that stood out to me was his physical play in both the pass and run game. Overall, while Pinkston is not a great athlete, he is a tough kid who overcomes his physical limitations with strength, toughness and all-out play. He gets a B+.
Philip Taylor – Cleveland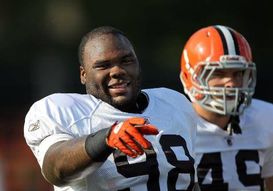 Philip Taylor needs to play with more quickness so he can make plays as well as be disruptive.
Taylor, the Browns top pick, starts at left tackle in the Browns 4-3 scheme. While most of the Cleveland defense played very well, Taylor didn't make a play. He wasn't credited with any tackles in the game, nor did I see him have any pass rush pressures. Right now he is used as mainly a run down player and comes out in obvious passing situations. As a run defender, he has good initial quickness and does a good job occupying blockers; he just doesn't consistently get off blocks quickly and lacks the range and speed to make plays in pursuit. With his bulk and power he is hard to move off the line of scrimmage and he does get some penetration to disrupt plays. He just didn't make any plays versus Seattle. As a pass rusher, he did not show any moves, just the power to get a push and collapse the pocket some. Overall, Taylor is a big wide body who because of his size and power is disruptive because he's so hard to move. He needs to play with more quickness so he can make plays as well as be disruptive. I can't give him better than a C+ for this game. I just didn't see enough.
Jabaal Sheard – Cleveland
Sheard was the Browns 2nd round pick out of Pitt. He starts at left defensive end and while fellow rookie Phil Taylor didn't make any plays, Sheard did! He was credited with 3 tackles, but also had a sack, another pressure and a hit on the quarterback. He is not a real big guy at 6-3 and 265, but he has sub 4.7 speed and can be a force off the edge. His sack came against rookie James Carpenter using a club/rip move and an excellent burst to the quarterback. Sheard is quick off the ball and usually stays low. He got tall a few times in the run game and was pushed off the ball but otherwise played with good pad level, had good hand use and played contain well. With his speed and quickness he can consistently get some penetration. Sheard plays with enthusiasm and can be physical. He has quick hands and good hand use to disengage blocks. As a pass rusher he has the speed to burn the edge but also has the body control to use counter moves and come back inside. He goes all out on every pass rush attempt. Overall, this was an impressive game for Sheard. If he continues to play like this he will be a force to be reckoned with as he gains experience. He gets an A- for the game.
James Carpenter – Seattle
Carpenter starts at right tackle and struggled early in this game. In the first series he had two false start penalties and then later in the quarter he gave up a sack to Jabaal Sheard. From a size standpoint, Carpenter has what you look for. He is a huge man at 6-4 and 320 with long arms. While he has the physical tools, he may lack some mental. He is not a quick reactor and there were a few times in pass protection when he blocked down and gave up the edge. When playing in space he doesn't always take good angles to his block. On the plus side, he can come off the ball with power and when he stays low he will get some movement. In pass pro, he plays with good bend and doesn't give ground and has fairly good hand use. Overall, since I have already written up Carpenter earlier in the season I won't say much other than he didn't play as well as he did early on and that was mainly because of mental errors and giving up a sack. For this game he gets a C+.
John Moffitt – Seattle
Moffitt starts at right guard and plays a very steady game. He gave up a hit on the quarterback early when he didn't recover to a counter move but otherwise his run blocking and pass blocking were solid. He isn't flashy, just steady. Moffitt has size and strength to go along with average athleticism. Like many Wisconsin linemen he has been well coached and is physical. In the run game he keeps his feet moving on contact and works to get movement. When getting to the 2nd level he can adjust on the move, stay in control and make good contact. In pass protection he is alert for stunts, has a strong punch, keeps a good base and can mirror. He plays with good knee bend and anchors well. Overall, while he may never be an All Pro, he is a workmanlike player you can win with. He is the type that barring injury will have a long productive career in the league. He earns a solid B.