November 01, 2011 -
Greg Gabriel
NFP Week 8 rookie report card: The QB's
I'm going to do something a little different this week. Instead of looking at most of the rookies in a few games, I am going to look at the play of some of the rookie quarterbacks in their games Sunday. I will also take a look at Tim Tebow's play in his game versus Detroit. The national media spends so much time on Tebow that I felt it was a relevant subject.
Cam Newton – Carolina
In short, Newton is playing far better than any scout or coach could have imagined six months ago. The numbers he has put up are more than amazing. I have never questioned Newton's talent but I have questioned his character. At this time he seems like a model citizen and what surprises me is he already seems to be a vocal leader for the Panthers team. That is something that can be very difficult to do for a rookie.
Newton has put up numbers this year that are second to none when comparing him with past rookie quarterbacks. Before the season is over he will own most rookie passing records. In 8 games he has thrown for just under 2,400 yards, 11 touchdowns and 9 interceptions. Yes, the Panthers' record isn't very good, but players like Troy Aikman and John Elway didn't win as rookies either. Carolina still needs to upgrade their talent especially on defense for them to be contenders in the NFC South. This will happen. Just give Ron Rivera and Marty Hurney some time.
Sunday's game versus Minnesota was not Newton's best. He fumbled twice while being sacked, both of which led to Vikings scores. Protecting the football is imperative to winning in the NFL -- especially in your own end. Despite the mistakes, he still threw 3 touchdown passes and led the Panthers on a late drive that set up what should have been the tying field goal only to have the kicker miss. In that drive Newton threw a great pass on a 4th and 14 play to keep the play alive.
What has surprised me about Newton so far this year is his accuracy especially on deeper balls and his poise. He has a touch that few have. His game day demeanor is also excellent and he doesn't seem to get rattled. He is a top competitor and goes all out to win. The game is important to him.
Overall, there is not a doubt in my mind the Newton will be one of the top quarterbacks in the league in the near future. Sunday's game was average because of the fumbles but he still gets a B because of the touchdown passes. The best is yet to come.
Christian Ponder – Minnesota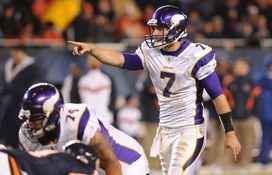 Christian Ponder has held his own as the Minnesota starter.
Right off the bat, I'm going to say that I was wrong about Ponder. I questioned if he was really a first-round pick and from what I have seen in his first three outings he deserved to be a top pick.
The Vikings are keeping this simple for Ponder and not asking him to do to much. They are also playing into his strengths, giving him an opportunity to roll out and make some plays with his feet. He is a better athlete than I gave him credit for in the spring and has a stronger arm. He is also playing with poise though he does give up too early on some plays. The one thing that I like is that he is utilizing Adrian Peterson more than the other Viking quarterbacks have. He has become a threat as a check down receiver…as he should.
Ponder has an excellent throwing motion, throws a tight ball and shows some touch. Despite his lack of experience he does a fairly good job coming off the primary receiver and finding a secondary receiver. He has a quick release and is accurate. His numbers for Sunday were 18 of 28 for 236 yards and 1 touchdown. What's more important is he didn't throw any interceptions.
Overall, Ponder is giving the Vikings the spark they needed. As he gains experience, the Vikings will once again become a power in the NFC North. He earns a B+.
Andy Dalton – Cincinnati
To be fair, I didn't see all of the Cincinnati - Seattle game but I saw enough to know Andy Dalton is going to be one fine NFL quarterback. He was the 5th quarterback taken in last April's draft but when it's all said and done, he will turn out to be better than some of the quarterbacks taken ahead of him. Dalton doesn't have the great arm and is not as athletic as some but he is very smart, poised and confident. He was a consistent winner in college and will be the same in the NFL. He has the "it" factor.
Sunday's game was not his best completing 18 of 29 for 168 yards, 2 touchdowns and 2 interceptions. Dalton played a strong first half throwing his 2 TD passes. He had some struggles though in the 2nd half throwing the interceptions on consecutive series and both led to Seattle scores.
What I like about Dalton is he plays within himself. He knows what his strengths are and tires to play within those strengths. Yes, he will try and force some balls, but I have sen a steady improvement in his game as the season has gone on. What the Bengals try to do is keep things simple for him and have him "manage" the game. As the old saying goes, don't ask him to win the game…just don't lose it.
Overall, this was an average game for Dalton. He has looked better in other games but the Bengals won in a tough road environment and that's what counts! Dalton earns a B.
Tim Tebow – Denver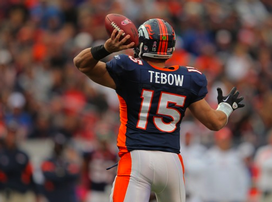 Tim Tebow hasn't been able to quiet the naysayers.
There has been a lot written about Tebow the last few weeks…in fact too much has been written. I think the powers that be in Denver felt they had to give him a chance…and they have. I don't feel any differently than I have for the last three years about Tebow.
He is not an NFL quarterback.
At Florida he had great talent around him and was in a system that played to his strengths. It was a very quarterback-friendly scheme and with the offensive line and skill position players he had, it made it almost difficult not to be successful. While Tebow was at Florida they had arguably the best college talent in the country. While many of the spread formations systems used in college are successful at the college level, they can't be used in the NFL. The overall talent on defense is too good, so he has to play in a different style of offense. While he was able to get by with poor mechanics in college, he can't get by in the NFL. He gets exposed! He does not read defenses well, he lacks accuracy and he is too impatient to let plays develop. All things that are needed to be a good NFL quarterback. Denver has adjusted its offense to try and call plays to Tebow's strengths, using the shotgun more and having some run/pass options.
It's not Tebow's fault he was drafted in the first round…it's Denver's (the prior football administration). The expectations were too high and he will never be able to live up to them. I actually feel bad for the kid because he is in this situation through no fault of his own. The best thing Denver could do is sit him down so he doesn't have to go through the painful embarrassment any longer. If he wants to be an NFL player it's going to have to be at another position. His confidence and competitive nature are such that he may have a chance to succeed at another position. What that position is I don't know…that's up to the Denver coaching staff.