November 08, 2011 -
Barry Dorey
NFP Week 9 rookie report: Second-year QBs
Last week when I wrote a post on some of the rookie quarterbacks (and Tim Tebow), a reader suggested that I write up how the second-year quarterbacks are playing. I thought that was a great idea, so here is a look at Sam Bradford and Colt McCoy.
Sam Bradford – St. Louis
I have watched Bradford in two games, including the Rams' overtime loss to Arizona on Sunday. He has played in six of eight games, missing two with an ankle injury.
Last year, Bradford started off strong but seemed to level off the final quarter of the season. With this being his second year I thought that he would take a step but through the halfway point of the season that hasn't happened. Granted he is playing in a new offense under a new coordinator with some new receivers and he didn't have an offseason to get acclimated to that offense. But still, his play should be better.
He's completing only 54 percent of his passes with only 3 touchdowns and 3 interceptions. In fairness, his completion percentage the last two games has been in the 64 percent area. What I have seen is he plays well in stretches but has not played consistently. He hasn't come up with the big play when they need it.
Looking at his mechanics, there isn't much to complain about. He has a quick, compact delivery, throws a tight ball and has plenty of arm strength. I have seen him force some balls and he doesn't have enough patience in the pocket. While he doesn't have great mobility, it's even a little less now as he recovers from the ankle sprain. Another factor in the equation is the offensive line, which was supposed to be a strong point of the offense has also been inconsistent. Through eight games the St. Louis quarterbacks have already been sacked 31 times. The run game has just come on in the last two games. Overall, with the Rams being only 1-7 through 8 games, the season is a disappointment. Many including me thought the Rams would challenge for the NFC West title; now it's going to be hard for them to get out of the NFC West cellar. You have to say Bradford has been part of the disappointment.
Colt McCoy – Cleveland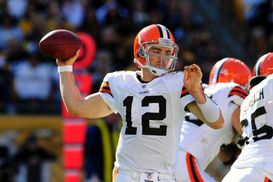 ICONColt McCoy has not had a lot of help from his wide receivers.
The play of the Browns and McCoy has been similar to the Rams — a disappointment. There are some similarities as to the reasons why. The Browns have a new head coach and a new offensive system and there was no offseason to install the offense. The Browns are playing a little better than the Rams but not much, having lost four out of their last five games. Like Bradford, McCoy was expected to take a step but has been disappointing.
As a rookie, McCoy completed 61 percent of his passes and this year his completion percentage has dropped to 57.5 percent. In today's NFL that is not an acceptable number. The Browns wide receivers have been disappointing also. In 2009 they drafted Mohamed Massaquoi and Brian Robiskie; with this being their third year a lot was expected. Massaquoi flashed but Robiskie was so disappointing he was waived a week ago. This year's draft pick Greg Little has been put in a big role but he is raw and not really ready. He played both running back and receiver at North Carolina and missed the entire 2010 season, so he is a long ways away from being a consistent contributor.
I have seen two of the Browns' last three games and there are things to like about McCoy. He has good instincts, has a very quick release, a strong arm, is extremely tough and a strong leader. He just hasn't come up with enough big plays. Part of the reason is the inconsistency of the receivers. Also, the running game has been less than expected with the injuries to Peyton Hillis and Montario Hardesty. Overall, I feel the Browns will come on the 2nd half of the season as they adapt to the offense but they have a ways to go.
Bears-Eagles
Last night the Bears may have played their best game against an Eagles team that was playing well of late. The Bears offensive line that has received a lot of criticism this year has come on over the last three games and that is helping Jay Cutler play consistent football. What also helped Cutler was having Earl Bennett back in the lineup.
Since Cutler came to the Bears he had two receivers he felt he could consistently rely on: Greg Olsen and Bennett. With Olsen being traded during the preseason and Bennett being injured since game two, Cutler has not had what he considers a go-to guy. With Bennett back in the lineup last night you could see the difference. Bennett caught 5 passes for 95 yards and a touchdown with every catch being a big play. While Bennett isn't a burner, he is very reliable. He can get open versus man and zone, is very sure handed and is excellent after the catch. In the coming weeks, look for Bennett to put up some big numbers and for the offense to show continued improvement. The Bears, who looked dead in the water a month ago, just may be peaking at the right time. It may be too late to overtake Green Bay for the North title but the Bears could be a dangerous wild card team. It will make for an interesting second half of the season.