February 22, 2014 -
Greg Gabriel
Notes from Indianapolis
I have said and written many times over the last few years that the prospects who are invited to the NFL Combine are expected to do well. The agent community has spent millions of dollars sending these players to performance schools during 6-8 week period prior to the Combine preparing them for their ultimate tryout. It has always been my opinion that the surprises of the Combine are not the kids who do well, but the kids who don't perform as expected. It's not about the players who experience a rise in stock, it's about the prospects who suffer a hit.
There were some players heading into the 2014 Combine who were thought to be premium round prospects, but after their performances on Saturday, that may no longer be the case. The good thing for these prospects is that they still have an opportunity to "wow" scouts and coaches at their respective Pro Days in March and April. Many kids at the Combine will not run a 40-yard dash at their Pro Day because there is nothing more to prove in that department. However, for the players who produce questionable times in Indy, the Pro Day offers a chance for a make-up test.
Here are some players who surprised me with less than impressive workouts.
Cyrus Kouandjio, OL, Alabama: Going into the weekend, many thought Kouandjio was the fourth or fifth best tackle in this year's draft class. But his Combine workout was average, to say the least. On tape, the Crimson Tide product looks and plays athletic. But in Indianapolis, Kouandjio looked slow and tight. He showed no explosive movement and was tight in the hips.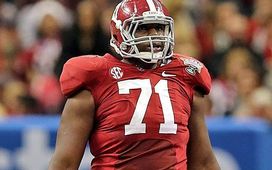 Several teams failed Kouandjio during the medical portion of the Combine.
A few hours after his workout, word spread that Kouandjio had failed some club's physical examinations because of an arthritic knee. The fact that this news leaked was a surprise. Clubs seldom, if ever, release medical information. In addition, the results from these tests are sometimes not ready until at least 48 hours following the medical examination.
It is not unusual for some clubs to fail a player while other clubs pass him based off of the same information. When a player has an arthritic condition, what is looked at is his potential longevity in the league. Cyrus played at Alabama and didn't miss time, so the main concern will focus on how long the medical staffs feel that Kouandjio can play at a high level in the NFL. If there are clubs that feel he can give them at least five good seasons, I don't think his stock will drop that much come draft day.
Don't be surprised to see Kouandjio's agent feed the press some favorable medical reports. It's all part of the process. We will know the real result come May.
David Yankey, OL, Stanford: On tape, Yankey is a very good player, showing quickness, agility and balance. Unfortunately, we didn't see any of that during his workout. Like Kouandjio, Yankey looked slow. He also was upright in drills and his change of direction was average. There was no quick twitch to his performance. Scouts will now go back and look at more tape to see if they missed something.
Jace Amaro, TE, Texas Tech: After watching tape, I thought Amaro could possible give North Carolina's Eric Ebron a run for his money as the first tight end selected in May. Amaro came in at a surprising 265 pounds (played in the neighborhood of 255 last fall) and ran a slow 4.74 40-yard dash. On tape, Amaro catches everything. But that wasn't the case in Indy. Look for Amaro to drop about 10 pounds and re-run his 40 at the Texas Tech Pro Day.
Troy Niklas, TE, Notre Dame: Niklas didn't run the 40 because he felt he wasn't 100 percent. When players opt out of the 40 because of hamstring or groin injuries, they are usually just trying to fool NFL personnel. These kids have a better chance of pulling a muscle during drills than they do while running the 40 because of all the stop-and-go involved in drill work. Niklas' drill work was average and for a guy who was a surprise draft entry, the Fighting Irish tight end better hope that he has a lights out workout at Notre Dame. If he doesn't, then Niklas made a big mistake leaving school.
The Standouts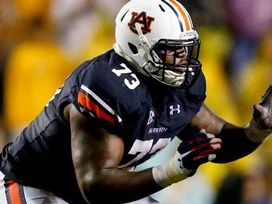 Robinson's performance has him moving up draft boards.
I have believed for a long time that offensive tackles Greg Robinson (Auburn), Jake Matthews (Texas A&M) and Taylor Lewan (Michigan) were all better football players than the three tackles who went one, two and four in last year's draft (Eric Fisher, Luke Joeckel and Lane Johnson). I have also said that because of the strength of this year's draft class, all three of these guys may not get drafted as high as the tackles last year. That still may be the case, but all three made a strong case to be drafted in the top 10-12 picks with their workouts.
The one who stood out the most was Robinson because of the movement he showed for such a huge man. Robinson is 6-5 and 332 pounds, yet he moves like a defensive end. When you look at his technique, he isn't as advanced as the others, but his upside is scary.
Last year I made a school call at Michigan the day before I went to Central Michigan. Figuring that Lewan was going to come out last year, I did a lot of tape work. In my opinion, Lewan was a better player in 2012 than Eric Fisher, but I thought Fisher was a slightly better athlete. After watching Lewan work out in Indianapolis, he can give Fisher a run for his money as far as athleticism.
Some other linemen who jumped out at me and looked better than expected were Joel Bitonio from Nevada, Jon Halapio from Florida and Seantreal Henderson from Miami. Henderson has the tools to be a very good NFL tackle. The problem, however, is his football character. Many question if Henderson really loves the game and wants to be a top player. Too often on tape he just goes through the motions. Henderson's workout says he should go in the late first or early second round. His play and attitude say he goes late. Every club will have a very interesting discussion on when or even if to draft Henderson. He is a classic boom or bust type pick.
Follow Greg on Twitter: @greggabe