October 04, 2014 -
Greg Gabriel
Now the college season truly begins
A few years ago while I was scouting in the Mid-Atlantic area, I made a school call to a prominent member of the ACC. In talking to the head coach who I have known for years, he told me that when preparing his team, he breaks the season up into two stages. The first stage is referred to as the preseason and was called such because it featured nothing but matchups against non-conference foes. The second stage was the regular season, which consisted strictly of conference play.
During the first stage, the majority of the matchups come against opponents that should be defeated. Perhaps there is one tough showdown, but for the most part, the schedule was made to prepare the team for conference play.
Except for a few games, many schools in the Power-5 conferences schedule matchups in a similar manner. Yes, I know there are some schools (ex: Georgia) that almost always have a tough preseason schedule. But for the most part, when you look at many schools that are now rated in the top-25, the first four games on their schedules are generally much easier games than what the conference schedule offers.
The point I'm getting to here is that there probably shouldn't be a top-25 college poll until conference play begins in October. Just look at Oregon's game Thursday night to prove my point.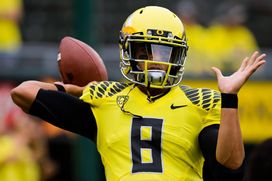 Were Marcus Mariota and the Ducks that good to begin with?
For the last month, all we've heard about is how great Oregon was and that they were a lock to be in the final four playoffs come January. But was Oregon really that good? Look at who they played in their first four games: Wyoming and South Dakota were nothing but public scrimmages while Washington State is always at the bottom of the Pac-12. That leaves Michigan State as the only legitimately challenging game Oregon played prior to October. When Arizona knocked the Ducks off Thursday night, it shouldn't have come as a major surprise.
For the last two weeks, college football analysts for ESPN have told us that Saturday's Alabama-Mississippi matchup will be outstanding. Mississippi is ranked 11th, but do they really deserve that distinction? The Rebels may be a good team, but we can't say that based off who they have played to date, as their last two games have come against Louisiana-Lafayette and Memphis. Surely, those are two schools that scare everyone! Memphis is 2-2 with wins against Middle Tennessee and Austin Peay. Louisiana-Lafayette has been blown out the last three weeks with their only victory coming against FCS Southern University.
Yes, I know ESPN has a vested interest in the SEC, as they are partners on the SEC Network, but please, let's be realistic with the analysis.
Friday night while I was watching ESPN, I saw on their scroll at the bottom of the screen that Stanford is playing at Notre Dame on Saturday. On the scroll, ESPN claimed that ninth-ranked Notre Dame's first game against a Power-5 team is this Saturday against Stanford. What a croc! I guess Syracuse isn't in the ACC and Michigan and Purdue aren't members of the Big Ten.
During their analysis of the Stanford-Notre Dame matchup on another show, ESPN was talking about what a great team Stanford is and how tough their defense is. Again, Stanford may be excellent, but when you look at who they played, we really don't know for sure. The Cardinal beat FCS Cal-Davis and Army in two of their games and then lost to USC. That's the same USC team that got beat by a very average Boston College squad the following week. In the Boston College game, USC gave up over 450 rushing yards.
Again, it's only October 4. Do we really know who the top college teams are this year? I've been watching and scouting college football for over 30 years and I sure don't know. Ask me in another 30 days and I will be able to give you a better answer. Why? Because starting this weekend, most of the college games we watch will be conference matchups. During conference play we will separate the contenders from the pretenders and at the end of the month I can guarantee you that the top-25 will be vastly different than it is going into this weekend.
The important games start now.
Follow Greg on Twitter: @greggabe