August 30, 2014 -
Greg Gabriel
On the hot seat
Reports surfaced Friday that veteran quarterback Kyle Orton had reached an agreement to sign with the Buffalo Bills. I tweeted that the signing was a smart move for Buffalo and that it is my belief that Orton will be the Bills starting quarterback by the fourth game of the season.
I sent out a second tweet stating that Orton will give the Bills presence, stability and leadership at the position. A few minutes later I got a response stating, "You mean the same Kyle Orton that was beat out by Tebow?" Obviously that individual doesn't know anything about Kyle Orton.
Kyle Orton was never beaten out by Tim Tebow. He was replaced by Tebow because his head coach (Josh McDaniels) was the person who drafted Tebow in the first round and was determined to see Tebow succeed. That determination eventually cost McDaniels his job.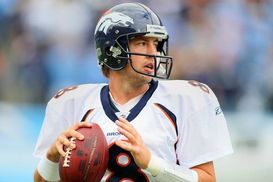 ICONOrton threw for 7,455 yards and 41 touchdowns in 29 games with the Denver Broncos.
I was the college scouting director in Chicago when we drafted Orton in the fourth round of the 2005 NFL draft. While he had a rough going his rookie year learning how to become a professional, Orton has been nothing but a pro since. He has toughness, a passion for the game and top leadership skills.
Ever since Orton was replaced by Tebow, he has not been in a good situation with an opportunity to become a starting quarterback. While I haven't talked to Orton is years, it's my belief that he wanted out of Dallas because he had no chance of ever becoming the starting quarterback for the Cowboys. Since Dallas waived him earlier this summer, I feel Orton has been waiting for the right situation.
Buffalo is that situation.
At the present moment, the Bills' starting quarterback is second-year man E.J. Manuel out of Florida State. Manuel was Buffalo's first-round pick in the 2013 draft and the first quarterback selected that year. He played in ten games as a rookie and completed 180 of 306 passes for 1,972 yards, 11 touchdowns and 9 interceptions. While Manuel showed flashes of good play as a rookie, he hardly gave the organization an abundance of confidence that he could be "The Man" in 2014.
That said, it was still thought that Manuel would show vast improvement in 2014, but through five preseason games, the signal-caller has struggled. His best play of the preseason was against Tampa Bay's second team defense last week. For most of the preseason, Manuel has been indecisive. I have not seen the improvement that you would hope he would show in his second year.
With new ownership coming aboard shortly, the Bills and Manuel have to start fast. From what I have watched during the preseason, I don't believe that will happen. While Kyle Orton may not be the long term answer to the Bills' quarterback problems, he will give Buffalo a better chance to win games in 2014. Once he feels comfortable with the Bills offense, I believe Orton will become the starter. With ten years in the league, his experience and leadership is something the Bills don't have at the position right now. It's also something that is badly needed.
Orton has thrown for over 15,000 yards and 83 touchdowns during his NFL career. His best season came in 2009 when he completed 336 of 541 passes for 3,802 yards and 21 touchdowns. The following year, before he was replaced by Tebow, Orton completed 293 of 498 passes for over 3,600 yards and 20 touchdowns. While Orton doesn't have the mobility of Manuel, he can keep plays alive in the pocket and throw on the run. He has the arm strength to throw in the late fall conditions that Buffalo offers without the wind redirecting the pass. This signing was an excellent one and possibly the smartest move made by the Bills so far this year.
Follow Greg on Twitter: @greggabe