July 08, 2011 -
Barry Dorey
Opinions while waiting for the new CBA
If the lockout ends soon and training camps open on time, the first game we will be able to watch is the Hall of Fame game with Chicago playing St. Louis. Because it's an extra game, the Bears will probably play backup QB Caleb Hanie much of the night. If you recall, Hanie played fairly well in the second half of the NFC Championship game last January.
I could not figure out why he was the third QB during the season. He clearly was more talented than last year's backup, Todd Collins. In his three years in the league he has played consistently well in the preseason, showing mobility, arm strength and good decision making. Last year when the Bears had a new offensive coordinator (Mike Martz) and scheme, the feeling was they needed a veteran backup who new Martz' offensive system in case something happened to Jay Cutler. Having never been around Hanie, Martz did not know how talented he was, and when he hurt his shoulder in preseason, the Bears went out and signed Todd Collins. Collins had proved for years that he wasn't a good NFL player and in my opinion the signing was a waste. All it did was slow Hanie's development. In the few games that Collins played during the season he was terrible! I was around Hanie for two years and I know he is a winner, a gamer and a leader. He just needs experience. I have no doubt that he can be an NFL starting quarterback in the future.
On the Rams roster, the players I want to see are Sam Bradford, receiver Mark Clayton and first-round pick Robert Quinn. Bradford was a leader of the Rams' lockout workouts and with a year of experience under his belt he should be able to take charge from the get go. Things are no longer new to him.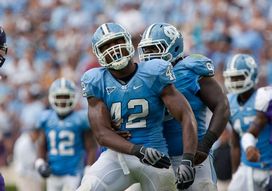 ICONRobert Quinn missed the 2010 college season, but he's an intriguing defensive prospect for the Rams.
Clayton did not get to play much last year before he was injured. He has the opportunity to be the Rams' number one receiver and be a big help to Bradford. Quinn hasn't played since the 2009 college season. In a situation like this, his natural talent and instincts should take over if he is in good condition. We know because of the lockout, he will know little about the Rams defense. I want to see what his natural pass rush talent is and he should have opportunities in this game. He probably will be going against the Bears first-round pick, tackle Gabe Carimi. It could prove to be an interesting matchup. What could prevent this matchup is after we get a new CBA the rookies are slow to sign. Here's hoping that both the agents and management work hard to get all the rookies in camp quickly.
Terrelle Pryor
I keep reading how Terrelle Pryor is preparing himself for the supplemental draft but as of now there hasn't been a date set for the draft. Of course, there can't be a date set because there isn't a supplemental draft at this time! The supplemental draft has to be agreed upon in the new CBA. I have written about this before…under the rules of previous supplemental drafts, Pryor is not eligible. He still had eligibility to play college football when he hired an agent and he did not flunk out of school; he withdrew. If the league keeps the same set of rules in place, he won't be eligible for a supplemental draft this year. The supplemental draft is in place to handle special circumstance situations. Pryor's situation is not a special circumstance. He decided he didn't want to play college football anymore and withdrew from school. If the league allows Pryor to be in a supplemental draft then they are in fact creating a situation where any player can leave school after the regular draft in April and enter the league. I do not feel the league will let this happen in part because they don't want the supplemental draft to be used like Bernie Kosar and Brian Bosworth used it years ago. The present rules were put in place to avoid situations like those. No other professional sports league has a supplemental draft, why should the NFL?