July 27, 2011 -
Barry Dorey
Orton or Kolb: who do you choose?
After a day and a half of business there are only two big-name quarterbacks available to teams. With Matt Hasselbeck going to the Titans earlier today, it leaves Kyle Orton and Kevin Kolb as quarterbacks who can be traded. It also looks as if there are only two teams with a big need: Miami and Arizona. If I was the person making the choice, the one I would go after is Orton. Granted, I was around Orton in Chicago, so I am most familiar with his skill set.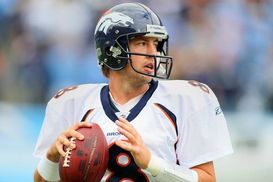 ICONMiami and Arizona would be wise to target QB Kyle Orton.
Orton has played in 62 games, starting well over 50, thrown for over 12,700 yards, 71 touchdowns and only 48 interceptions. On top of that he has a strong passion for the game, is an outstanding leader, is highly respected by both coaches and teammates and is as tough as they come. He played most of the 2008 season with a bad high ankle sprain.
Kolb is two years younger than Orton at 26 but he has played in only 19 games, thrown for only 2,082 yards with 11 touchdowns and 14 interceptions. I obviously haven't been around Kolb but I am told he also has excellent work habits and is a good leader. While he has flashed excellent skills, he hasn't shown consistency in his game.
I graded both players coming out of college and I am the first to admit that Kolb has turned out to be a better player than I thought he would. But at the same time, he was given the starting job last year and he couldn't hold on to it (yes, I know he got injured).
Let's face it, both are good players but Orton has far more experience and in the right situation can be a big winner. If I'm in Miami or Arizona, he's the guy I go after first!