December 02, 2014 -
Greg Gabriel
Outside the box
On Sunday, the State University of New York at Buffalo (better known to locals as UB, and I'm a former local) hired Lance Leipold to be their new Head Football Coach. Lance who? Lance Leipold isn't a household name outside the state of Wisconsin, but he is a damn good football coach.
Leipold has been the Head Coach at Wisconsin-Whitewater since 2007. Wisconsin-Whitewater is a Division III program, but since Leipold has been the coach, they have been one of the best, if not the best, Division III programs in the country. In his eight seasons as Head Coach at Whitewater, Leipold has posted an astonishing 106–6, win-loss record and has won the Division III National Championship five times in that period. That may well turn into six National titles as he will still coach Whitewater for the remainder of the Division III playoffs this season. Whitewater hosts Wartburg College from Iowa in the quarterfinals of the Division III playoffs this Saturday.
Why did Buffalo choose a Division III coach to run their football program? Buffalo plays in the Mid-American Conference. The MAC is not a Power-5 Conference but rather a mid-major type conference. Those schools can go out on the limb a bit more than a Big Ten school.
Danny White has been the athletic director at UB since May of 2012. Since then he has hired a new head coach for all of the major sports at UB. His last big hire was for men's basketball, when he hired former Duke All American guard Bobby Hurley to be the coach. While Hurley made a big name for himself as a basketball star at Duke, he had only been in coaching as an assistant for three years when White hired him. That hire has turned out to be a good one as Hurley went 19-10 in his first year and they are 4-1 so far this season.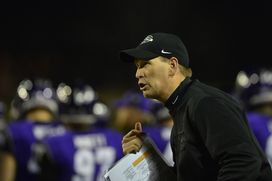 US PresswireLeipold's resume includes a 106-6 record in eight Division III seasons.
White knew midway through the 2014 football season, that Jeff Quinn, while a competent coach, wasn't the type who could take Buffalo to the top of the Mid-American Conference. By making that decision in October, it gave him a head start on putting together a list of candidates that he wanted as potential candidates. He wasn't looking for the "hot young coordinator" who was looking to use a MAC head coaching job as a stepping stone for bigger and better job. Rather he wanted a person who had head coaching experience and had run a program and was a proven winner.
White started the interview process shortly after he released Quinn, and one of the first people he talked to was Leipold. After a close to four-hour interview last October, Leipold quietly became the front runner for the job.
Leipold's resume isn't entirely at the Division III level. He spent a total of five seasons at Wisconsin and Nebraska as a grad assistant and recruiting assistant. So he has experience at the top level of college football. It was that experience that helped him build his program at Wisconsin-Whitewater. In a short time he has built Whitewater into a Division III power house.
Winning consistently is never easy. What Leipold has done at Whitewater is win 100 games faster than any coach in the history of NCAA college football. Add five National Championships to that and I don't care what level the man is coaching at, he can flat out coach! End of discussion!
Going forward, the big question will be recruiting players that can play and win at the FBS level. Being that Leipold is coaching in the MAC and not the SEC or Big Ten, it is a little harder than some may think.
The MAC schools seldom if ever attract 4-star type of players. The MAC rosters are loaded with 2-star and some 3-star type players that the bigger schools overlooked. While recruiting is important at the MAC level, coaching and player development is more important. The key to winning in the MAC, is turning those 2-star type players into NFL prospects and playing solid team football.
Leipold has already proven that he can develop players, he wouldn't have won as many games as he has if he couldn't. Just listening to his 40-minute introductory press conference tells me that he should have no problem selling young athletes on the merits of going to the University of Buffalo. Where Leipold will help recruiting, is that his ties to the Wisconsin and Northern Illinois area will open the door for UB to get recruits from that area. That hasn't happened before.
While some are skeptical that a Division III coach can make the jump to Division I and be successful, I applaud Danny White. Not only do I think this is a good hire, I think that in the near future, it will look like an outstanding hire.
Follow Greg on Twitter @greggabe