September 09, 2011 -
Greg Gabriel
Packers-Saints rookie report card
Before I get to talking about the three rookies who significantly contributed in last night's game, I have to say a little about the Packers.
The Packers offense was at the top of their game last night in their 42-34 victory over New Orleans. As good as this offense was at the end of last season when they won the Super Bowl, they are even better now.
Getting tight end Jermichael Finley back makes this offense almost unstoppable. His presence makes the receivers more effective. His speed and athleticism make him more of a big wide receiver than a tight end, allowing the Packers to create mismatches with him at any time. Having Ryan Grant paired with James Starks gives the Packers an excellent running combo and rookie wide receiver Randall Cobb is a great fit because of his hands and run after catch skills. Right now, Aaron Rodgers is the best quarterback in the NFC and in the same class as Tom Brady and Peyton Manning. Putting up at least 30 points a game should not be a problem for this club because they have so many weapons.
New Orleans had two rookies who got a lot of playing time in last night's game: Mark Ingram and Cam Jordan, the team's two first-round picks. Ingram started at running back and split time with Darren Sproles and Pierre Thomas. He finished the game with 13 rushes for 40 yards and a long run of 9 yards. I like his initial quickness and vision. He does a good job following blocks. He is strong and shows he can get yards after contact but in two key short-yardage situations he failed to get the job done.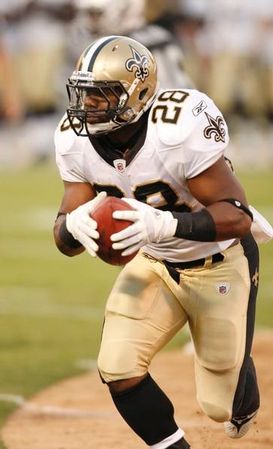 ICONMark Ingram should have some big games during his rookie season.
The obvious one was on the last play of the game where he was stopped cold at the one-yard line. In the 3rd quarter he was stopped on a 3rd and 1 at the Green Bay 7-yard line in a drive where New Orleans came away with no points. As good as Ingram is — and I feel he will be an excellent NFL back — he is not a big power back and getting the tough yards in situations like that is not his forte. Because of his inexperience and having only 5 weeks of practice in the offense he was not used in the passing game. In passing situations the Saints use Sproles. Ingram will need to develop his pass protection and route running skills before the Saints trust him in those situations. He earns a C for the game but there is not a doubt in my mind he will have some big games for the Saints this year.
Jordan started the game at left defensive end and like Ingram played in a rotation. Jordan has size, speed and athleticism and it's just a matter of time before he becomes the top Saints defensive lineman. For the game he was credited with 3 tackles and I also had him for 1 pressure. He gets off the ball very quickly and stays low. He has quick hands and excellent leg drive. He is an instinctive player who is quick to find the ball and has the hand use to shed blocks quickly.
He wasn't used that often in pass rush situations but you can see his pass rush potential. Right now he is more of a power rusher but showed a spin move and some redirect ability. Like many rookie defensive linemen he hasn't put it all together yet. This will just take experience. I like his hustle and determination, and he plays with speed. Give him a couple of more games and he will play with more consistency. He earns a B- for this game.
While he didn't get the overall playing time that Ingram and Jordon got, the rookie who had the most impact was Green Bay receiver/return specialist Randall Cobb. Cobb isn't an overly big receiver (5-10 and 190) and doesn't play with great speed (looks to be a 4.55 type) but he is a playmaker!
In the second quarter he turned a 4-yard crossing route into a 30-yard touchdown because of his running skills. In the third quarter he was stopped dead at about the 30-yard line on a kickoff return only to spin out of the tackle, stay in balance and find a seam turning it into a 108-yard touchdown return.
Cobb has great vision, instincts and balance, traits needed to excel as a return man. As a receiver he shows the ability to get in and out of cuts quickly and has excellent hands. He had 2 catches for 35 yards and a touchdown in the game. His skill set is a perfect fit for what they ask him to do in Green Bay and he will be a very valuable addition to their offense. He earns an A+ for this game.