January 17, 2012 -
Greg Gabriel
Pair of Stanford linemen set to succeed at the next level
For the last few years, Stanford has had one of the better offensive lines in the country. The Cardinal have been coached in a pro-style offense and are very physical. Two of those players who are both 4th-year juniors have decided to forgo their final year of college football and enter the NFL Draft. These players are left tackle Jonathan Martin and right guard David DeCastro. I have been able to look at three game tapes from 2011 (USC, Notre Dame and Oklahoma State) and two from 2010 (Notre Dame, UCLA). Here's what I saw.
Jonathan Martin
Martin redshirted his freshman season and has been a starter at left tackle the last three years. He was a 3-star recruit from Los Angeles and was pretty much a regional recruit having been offered by schools such as UCLA, Utah and Utah State.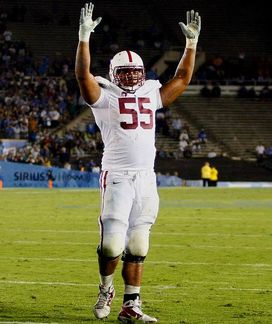 Jonathan Martin was a starter at left tackle the last three years at Stanford.
Martin has good size at about 6-5 and 305 with long arms. While he has very good feet and good short area quickness, he is not what I would call a very fast guy when he has to get out into space. Watching him run, I doubt he will be faster than about 5.50 when he runs the 40. Still, he has good balance and you seldom see him off his feet. He plays from both a 2 point and 3 point stance and shows very good initial quickness. He has been very well coached and is technique sound. In the run game he comes off the ball low and has good "pop" on contact. He shows good natural hip roll, keeps his hands inside. He keeps his feet running on contact and is able to generate movement with his blocks. He is consistent getting to linebackers and usually takes good angles. They seldom use him to pull and when they do pull him he can struggle. He lacks the speed to consistently get to the block and can struggle to adjust on the move.
The best part of his game is pass blocking. He has good feet, lateral agility and recovery. He plays with bend and shows good anchor ability. In the run game, he sets quickly, has a strong punch and is able to control his opponent. He can stop wide speed and recover when his opponent tries a counter move. In the five games I viewed, I seldom saw him beat to the outside.
Overall, because of his pass protection skills and inline blocking ability he should be a first-round type pick. His lack of top athleticism in space will cause him to be drafted lower than players like Matt Kalil of USC and Riley Reiff of Iowa. Still, the club that drafts him is getting a solid player.
David DeCastro
Like Martin, DeCastro was a 3-star recruit coming out of high school. He is from Bellevue, Washington, and like Martin was mainly a regional recruit with offers from most of the northern Pac-10/12 schools (Oregon St, Washington, Washington St, Stanford). Also like Martin he redshirted his freshman year and has been a 3-year starter at right guard and has been very productive as a starter.
DeCastro shows good snap reaction and gets to his blocks quickly. He plays with good strength and explosion and shows good natural hip roll on contact. What I don't like is that he can have a tendency to stop and restart his feet when he makes contact. While he can get away with this versus college competition he won't be able to in the NFL. I have seen him run his feet enough to know it's not a problem, but rather a technique he needs to improve on. He takes good angles and again makes solid contact. He can be a physical run blocker showing he can get movement and will pancake when given the opportunity. He has very good hand use when run blocking, consistently keep his hands inside.
Stanford uses DeCastro to pull a lot but it's always to the left. In five games viewed I never once saw him pull to his right. When pulling he shows average speed to get in front of a back and also has adequate ability to adjust on the move. I have seen a few plays where he did miss in space or not make a solid block.
As a pass blocker, he is very steady, again getting his hands on his opponent quickly, playing with bend and has good mirror skills. He slides his feet well, can recover versus moves and anchors. He consistently looks to finish both run and pass blocks. Like with his run blocking, his hand use is very good. Overall, DeCastro is a solid guard prospect who should also be able to play center at the next level but I doubt he could play outside. He has the talent and tenacity to start early in his career. While I don't like to draft a guard in the first round unless they have some special traits, it wouldn't surprise me if DeCastro went in the first. I don't see a special player but I see a damn good one.