January 25, 2011 -
Greg Gabriel
Playoffs rookie report card
Members of the 2010 rookie class made key contributions in the Conference Championship games. Here's a look.
Sam Shields – Green Bay
Shields was a rookie free-agent signing after the draft. Shields was a wide receiver during most of his career at Miami. Going into his senior year, the coaching staff had depth problems at the corner position and moved Shields there. He proved to be a quick study with some flashes of excellent play. Add to that a strong workout in the spring and he was a hot commodity in the rookie free-agent market.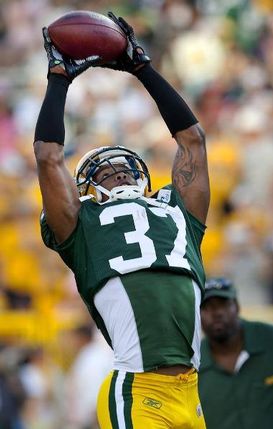 Sam Shields has proved to be a quick study at corner.
Shields had the tools to be an excellent corner, he was just raw and inexperienced. He has excellent corner size at about 5-11, 185 pounds and sub 4.5 speed. When watching his workout, he showed a quick pedal and excellent turn and run ability. He also was able to transition very quickly. Being a former receiver he needed work on his tackling skills, but also because of his receiver experience he has excellent ball skills. Those ball skills paid off in Sunday's game with 2 interceptions in very key situations. One pick came at the end of the first half and the other at the end of the game.
In the final minutes of the first half with Green Bay leading 14–0, the Bears were moving the ball and in position to get some points on the board. Jay Cutler threw a deep pass to Johnny Knox along the left sideline that looked like a sure TD. With his excellent speed, Shields accelerated to the ball and made a great leaping interception to end the Bears drive.
In the final minutes of the game with Green Bay up by 7 the Bears were again moving the ball and were in position to tie the game. On a 4th down play from the Green Bay 29, backup quarterback Caleb Hanie tried a skinny post play to Knox to get the first. Shields again closed very quickly to get the interception and returned it 32 yard to secure the Packers win.
Big plays like that will give Shields the added confidence needed to secure a starting role next year in Green Bay. He has all the physical tools needed to be an excellent corner in the league.
Bryan Bulaga – Green Bay
Bulaga, the Packers first-round pick, started at right tackle and played a very steady game. The Bears often flip flop their defensive ends, so Bulaga had to play against both Julius Peppers and Israel Idonije. Both are tall but extremely different players. Bulaga more than held his own against both players. He has excellent size and for a rookie is a very good technician. He has very good hand use, keeps good position and can bend and anchor. Because of his anchor ability he is tough to bull rush. He has the feet and balance to slide and recover versus counter moves.
Bulaga had an excellent rookie season and when Chad Clifton retires, Bulaga will probably move over to the left side. He has the skill set to be a winning left tackle in the league.
James Starks — Green Bay
Starks continued his outstanding late season/playoff play. The 6th round pick out of the University of Buffalo finished the game with 74 yards on 22 carries and a touchdown. Starks has great size to go along with speed, power and run instincts. What I really like about his play is the way he finishes his runs. He attacks and consistently gets yards after contact. To go along with his power he has the quick feet needed to make people miss both in tight and in the open field. I see him as a consistent 1,000-yard rusher in the future. Starks was a great pick for the Packers.
Emmanuel Sanders – Pittsburgh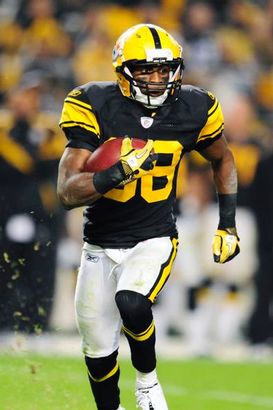 ICONReceiver Emmanuel Sanders has improved throughout the season.
Sanders only had 1 reception in the game but it was a big play. With the Steelers up 10–0, they had a 2nd and 7 at the Jet 39. Sanders ran a deep route along the left sideline and made a nice catch for a 20-yard gain to the Jets 19-yard line. That play set up Pittsburgh's touchdown 3 plays later giving them a 17–0 lead.
Sanders has shown continued improvement all season long and with his speed, hands and route-running ability he will be a big part of the Steelers offense for years to come.
Antonio Brown – Pittsburgh
Like Sanders, Brown caught only 1 pass in the game. And like Sanders it was a big play. Late in the game, with the Steelers holding onto a 5-point lead, they had a 3rd and 6 at the Jets 40. A first down would enable the Steelers to run out the clock. Brown came up with a big catch and run for a 14-yard gain giving the Steelers the needed first down at the Jets 26.
Brown also continued his excellent return play with 3 kickoff returns for 68 yards. I doubt Brown will ever be a starter but he is going to be a key role player for Pittsburgh. With his speed and run skills he has very good big-play ability.
Last thought
For two days, I have been reading about Jay Cutler's lack of toughness for not finishing the game Sunday against Green Bay. What BS. I was around Cutler for a year in Chicago and if there is one thing you can be certain about, it's his toughness. He may not be the most likable person, but he is one tough dude. If the Bears doctors ruled him out, then the knee injury he sustained was serious. I have no doubt that if he had been able to play he would have. The players that publically criticized Cutler better hope they don't get hurt in the future and have to come out of a game. They are setting themselves up to be criticized if in fact they do get hurt. What goes around comes around.
Want to work in the NFL? Click here to sign up for the NFP's "Chalk Talk at the Combine" Seminar February 25 in Indianapolis.