August 06, 2010 -
Greg Gabriel
Possible effects of new CBA
Sometime in the next 10 months, there will be a new Collective Bargaining Agreement with the league and the players association. It will have a dramatic effect on the business side of pro football. Over the next few weeks, we will talk about some of the potential effects. Today, we will focus on the relationship of agents and their clients starting with potential clients in college.
As you have seen the last few weeks, there have been a number of investigations on college campuses concerning the relationship between agents and college players. For years there has been a lot of under the table dealings between agents and prospective clients. This has happened because of one thing: money. In today's NFL, the top 15 picks in the draft get a huge amount of guaranteed money. In many cases, the agent is getting around 3 percent of that money. So as you can see, it is a very competitive business. Unfortunately, some agents will break rules and deal under the table to get a player to sign with him. It is a sad, but true, part of our business and something that happens every year.
It took awhile for the NCAA to start dealing with these abuses, but they are now dealing with them and the penalties have been severe. The one objection I have is that the NCAA is penalizing the school when in many cases the schools don't know what is going on. The players who make deals with these agents are doing so in private. It's the player that should be penalized not the school. With that being said, a new CBA with a rookie wage scale in my opinion will do away with many of these abuses. Why?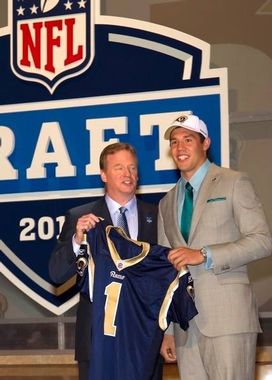 ICONWith a new CBA, the money that top players in the draft receive will be drastically reduced.
As I stated above, it's because of the huge amount of money that a player receives in his rookie contract that these abuses of the rules occur. Once we have a new CBA, the money the top players in the draft receive will be drastically reduced. The reduction of money means the agent will get a lower commission when the contract is worked out. This will have a domino effect. Why? If the agent is making less money on a player then he is not about to spend as much money on that player to secure him as a client. He also loses incentive to break the rules.
In the past 12-15 years, agents have spent a great deal of money sending players to workout camps to get them ready for the combine and pro days. They have done this because they know if a player works out well it increases his chances of getting drafted higher. These workout camps are not cheap. It can cost an agent in the area of $1,500 or more a week to get a player ready for the combine. The agent figures that these costs are a part of doing business, and so he absorbs the cost. He makes up for it if the player gets drafted high and his commission is high.
In the last few years the number of underclassmen entering the draft has risen because in many cases, agents have told these kids that when a new CBA gets worked out the big payday for a rookie will end. You better leave now and get the big pay check. This factor alone has led to widespread abuse of the rules. It is my thinking that when we have a new agreement, the number of underclassmen leaving college early will be drastically reduced. The big money incentive will no longer be there and agents enticing kids to leave early will slow down. This alone will make the colleges happier because they will have a better chance of keeping their players for four years. Of course there will be some kids that leave early but I think the number will drop by almost 50 percent.
The new CBA will change how agents are now doing business. They may gear their business toward veteran players who are working on their second contract because that's where the money and commission dollars may be. I had one prominent agent tell me this week that he feels he has done his last big rookie contract. He is now rethinking how he will handle his business going forward.
At this point, no one knows how the agreement will finally end up, but it makes for interesting conversation discussing what may or may not happen in the future. One thing is certain: it will not be business as usual in the NFL.
Ready for fantasy football? Click here to purchase the 2010 Total Access Pass/Draft Guide from the NFP.